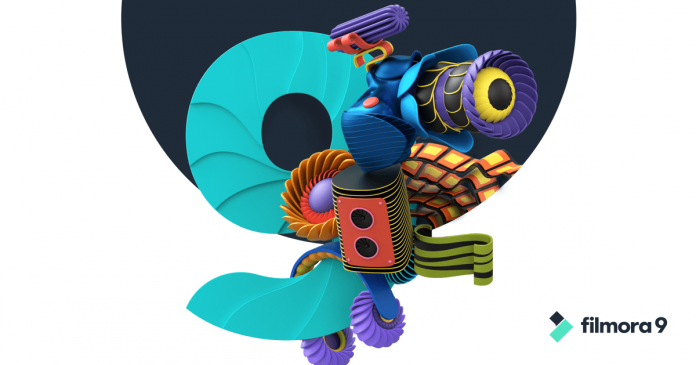 Focussing always on providing users a better exposure, Wondershare Filmora is back again with its newest and enriched release – Filmora9. Along with bearing in mind the video editing functionalities, the team has put great efforts in the contribution to the performance and audio quality features as well. Not being biased for tech-savvies, Filmora9 has considered the needs for all, from novice to experts and created the program's interface in a very understandable manner. To make you fully familiarized with Filmora9, here is the appreciable features' list of it. Have a glance on it.
Discovering the Magnificent Editing Features!
As many as 100 Video Tracks
Producing limitless creativity has become much easier with Filmora9 as via this feature, you get the privilege to get your files organized up to 100 tracks. With numerous filters, overlays, transitions and even putting titles as per your preference, your imaginativeness will know no bounds.
Speedy Importing and Exporting with 9th Edition
When working with Filmora9, you will experience the importing and exporting of your media files being done in a blink of an eye. So, be at ease now! You are not going to lose your temper as those slow importing and exporting of files to other locations is now a thing of past. It can be accomplished in ultra high speed and in one click.
HD Previews and Snapshots Benefits
Filmora team has come a long way and with the Filmora9 release, they are introducing higher resolution still frames capturing facility as well as enable you to preview your videos in higher quality and more clarity. Thus, crystal clear snapshots and super fine videos are no more a pain when you have Filmora9.
Chroma Key Function – Revamp Compositing
Here comes another productive feature with Filmora9. When you want to composite two frames and carry out the replacement between the frame colours with each other, the green screen tool helps you attain the results. This tool replaces the scene background of one frame with another frame's background thereby enhancing your creativity.
Upgraded Video Stabilization
How would you feel when you spent much time capturing your favourite beach view or your near one's birthday video and later come to realize that most part of the video is shaky? Disappointing and agitated, right? Well! With Filmora9, this agitation can be eliminated as you can stabilize your videos in no minutes. With the stabilization tool, one can simply smooth out the shaky footage. So, your videos will no longer be useless.
Playback Quality – Now Adjustable
Well! Filmora9 is flexible enough to let you adjust the playback quality. One can simply get the resolution reduced ultimately enjoying the smoother editing experience. Not to mention, all this while, your exported video quality will not be hampered.
Cross-Compatibility: Not a Problem!
How often have you been in situation when you have to switch between Mac and Windows PC? While having Filmora9, there's no headache of cross-compatibility. Stating differently, if you've started working on Mac and then have to switch to PC, you can easily carry on the same work sans any complication.
Say Hi to Innovative Audio/Sound Tools!
As Filmora9 itself comes with a saying – "Never Miss a Beat", the apparent waveforms are there helping you editing your soundtracks in much better way. So in actual, you are never going to miss a beat. The waveforms are going to be in more visible way eventually allowing you to adjust the tracks your way.
While working with audio files, you can get the volume of your clips adjusted within the timeline. With the help of keyframing, you can put into practice the multiple settings and adjustments in a single audio clip.
Filmora9 gives you the power to organize your audio projects including music, dialogue files and the like. These files can be well organized in up to 100 timeline tracks.
Interface – No Sweat!
Speaking about the interface, the adjustable track size takes the centre stage. There are three track sizes to choose from namely 'Small', 'Normal' and 'Big'. One gets the flexibility to choose any track size, we would however suggest you to take the larger tracks when it comes to better audio editing results. This is because the larger tracks will provide larger waveforms and you will end up getting desired result in the long run.
Clips Adjustments within Video Preview
The video preview window is not merely for adjustments of resolutions. With Filmora9, you can also exercise other things within the video preview like flipping, rotating or moving the video clips or images.