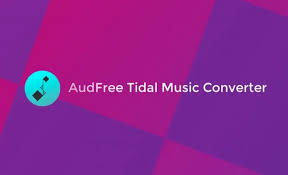 TIDAL Music is one of the streaming services with high-quality music collections. This service is known for its High Fidelity Lossless Audio and Video Quality to simply improve your streaming experience. Based on the official website of TIDAL, they claim to have more than 40,000 songs and 580,000 users all around the world. Sure, you can enjoy it on various platforms.
However, converting music files from one type to another is not as easy as it seems. The conversion program has not been available yet in Tidal. Therefore, you need to use another program as an extension. For this matter, Audfree Tidal Music Converter is the best choice. Audfree is a music downloader and converter from Tidal no matter what type of Tidal you use currently, whether it is Tidal Premium or Tidal HiFi Subscription.
It is compatible with all types of files including FLAC, WAF, MP3, AAC, and more. The processes of extraction and conversion are very fast and easy. Additionally, it is good to maintain the music quality as well as if you want to improve them. With Audfree, you can freely listen to songs from Tidal on the Windows program.
Features of Audfree, the Tidal Music Converter
Some features available in Audfree is basically to help you convert and listen to music from Tidal on other devices or platforms. Later, if the condition is impossible for you to stream, you can still listen to your favorite music offline. One of the features available is converting Tidal music to common audio formats. This way, you can play the music you have converted to other music player platforms.
Another feature is to download Tidal songs for playback even without the Tidal app itself. You don't need to install Tidal app. Since Audfree is indeed designed for Tidal, automatically, the list of songs available in Tidal can be simply seen in Audfree. Then, you can choose the songs to convert and save. The conversion and saving processes are quite fast, only in some seconds. You can prepare space on your local computer where the songs are saved.
The conversion is possible to do offline. To enjoy this feature, make sure to go to the default Tidal Converter for Windows. Some actions are to be done here, not only downloading Tidal songs for offline playback but also converting them to other formats including MP3, WAV, and many more. You should not worry, the audio quality is not changed at all.
How to Use Audfree to Convert and Save Tidal Music
Using Audfree to convert and save Tidal music is very easy. There are some steps to do. First of all, download the app. Yes, you only need to download Audfree without downloading Tidal. The app can work with or without the streaming service anyway. Click the download button and the app can just be simply installed. Choose 'Register' to submit your data. Then, get the code to activate it.
Second, it is dragging and dropping songs to the converter. After the app has been installed and activated, you can launch it. You can simply discover songs from Tidal to be converted. If you use the default version, the songs may not have been updated yet. Drag and drop songs you want to convert. Click Copy Playlist Link option so that the link of Tidal music is copied and pasted to the search box of AudFree.
Third, you can navigate to the top menu bar and choose the Preferences option. Click the Convert button and. There are some options for the format including MP3, WAV, AAC, M4A, and more. Customize them using some audio parameters to improve music quality. There is a feature of Achieve Output Tracks if you want to export and group songs from Tidal based on albums, genres, or artists.
Fourth, press the Convert button placed at the bottom-right corner of the window. It takes only some seconds and after that, save the songs to enable you to listen to them offline. To make the songs saved neatly, prepare the folder first.
While the process is indeed easy, since the beginning, you must make sure that the formats chosen are compatible with your devices. Besides, once the songs have been downloaded to your devices, it cannot be re-uploaded to convert to other formats. Yes, the conversion app is only for music that is available on Tidal.
Benefits of Using Audfree Tidal Music Conversion
Tidal is well-known as a recommended platform that provides music streaming services. Of course, it is very good if you have downloaded it and stream qualified music every day through it. But sometimes, listening to music offline feels more flexible since you can do it anytime no matter the situation.
Audfree is designed especially for Tidal. It is lightweight and easy to use. You can also download and convert music collections on Tidal on various platforms. The songs that have been converted and downloaded can just be saved in your device to listen to every day. The conversion process is very easy as well as it doesn't change the quality of music at all. Although you can improve the quality of this platform, well, you may not need to do that. Tidal it guarantees that the music collections have been great.