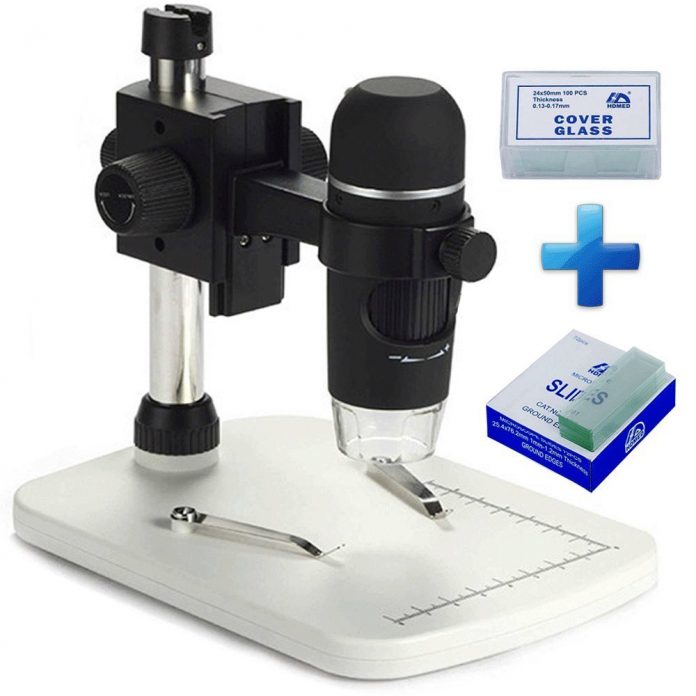 If you are an elated but nervous student that is about to start college or high school and require a microscope for your biology projects then you will need to choose the right microscope from a wide range of usb microscopes. If you are a petrified parent of such a student and are worried about spending a fortune on such a microscope then you should feel relieved since there are several moderately priced microscopes that can suit the requirements of your child as well as your pocket at the same time.
Microscopes have retained their traditional shapes for several years along with their list of features too. There were however, several improvements such as better magnification and clarity levels due to the use of improved lens and better technology. However, the digital revolution heralded in by the entry of computers in daily life has truly changed the very nature of microscopes and the introduction of the USB microscope now allows these massive magnifying machines to communicate with your desktop computer or laptop simply through your USB port.
For years biology students have strained to look at different viruses, bacteria, and other micro-objects while researchers and lab technicians have done the same to seek out hidden diseases and their cures. Several other industries such as engineering industries as well as computer hardware manufacturers too have used microscopes to locate minute faults in products that would not have been visible to the naked eye. However, it would certainly have been a tedious job to manually seek out viruses, bacteria, or manufacturing defects while preparing written reports for observations made under a regular compound or stereo microscope.
Although a regular microscope is good enough for small children, you will certainly need a sturdier model with better amplification, resolution, as well as images and videos that can be transferred to a computer in an instant. This will not only allow you to observe usual objects such as various types of bacteria and bugs, but also allow you to closely observe your dissected creatures including frogs, mice, and other types of creatures that might be required during the course of your studies. You can quickly zoom in on the required samples as well as click still photos or even capture moving videos to turn them into impressive presentations during your project assignment.
You can opt for a compound mono or binocular usb microscope that also feature a third port suitable for capturing photos and videos that can easily be connected to any desktop computer or laptop with the aid of a USB cable. You will also receive matching computer software to help you look at and click still photos as well as save them on your computer. You can now view the desired samples through single or dual eyepieces as well as magnify your intended sample to up to 1600 times with the help of a magnifying lens as well as zoom facilities in your camera. Most models have a separate lens with an internal or external camera that can allow you observe your samples through the eyepiece or eye pieces while clicking photos or capturing videos as the same time.
While there might be several types of usb microscopes recommended by your school or college, you need to make an informed decision to end up with a microscope that takes care of your current and far future needs as well as fits comfortably within your budget. Your usb microscope needs to be sturdy as well as be equipped with a lens that caters to or surpasses your current requirements. The camera too should have adequate resolutions as well as maintain clarity even during extreme amplification of your samples. The software too should be easy to comprehend and use, and the entire microscope should be enclosed in a sturdy carry case that can help you to easily carry it around in your school or college.
If you are an anxious high school student or a parent of any such student then you need not worry about paying thousands of dollars on a usb microscope. Newer models of usb microscopes offer better features at lower rates and several online stores offer extremely competitive rates to allow you or your child to happily peer through the eyepieces while clicking away to a bright future.