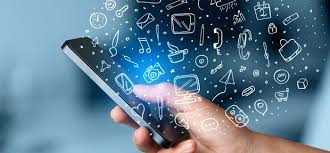 Technology has greatly influenced modern businesses. Gone are the days when a business manager had to sit in the office the whole day and run the show. Today, business executives rack up flier miles hopping between conferences in international cities and satellite offices in all parts of the world. The idea of a global village has come to pass as technology has eased interconnectivity.
Leveraging Apps for Efficient Management
Mobile applications have emerged as essential components in this new age of business management. In 2018, there were 194 billion app downloads, with 50% of these being social and communication apps. Running a business in contemporary times is tough, and entrepreneurs and managers have resorted to apps for help.
These professionals have to juggle local and international client meetings, interviews, internal affairs, among other hectic tasks. They have to track everything that goes on in their organizations even when thousands of miles away.
This is where mobile apps come in handy. If you are a business executive always on the go, below are some essential mobile apps that can make your work easier.
1.   Hootsuite
Social media is now an integral part of business communication. Most brands are on social media, and a business executive has to stay in touch with the conversations on these accounts. While it is not advisable to control all your social media accounts, Hootsuite helps you monitor what's happening. You can monitor all your company's social media accounts as well as your private ones from your smartphone or tablet.
2.   Asana
Project management is one of the most difficult organizational tasks. You have to manage a team of workers and run all the operations. In the modern business environment, project management happens remotely. Asana comes in handy to organize your team. You can assign tasks from the app through emails, send notifications, receive alerts, and monitor the progress of the project.
3.   Documents to Go
Many organizations rely on Microsoft document processors, and these are problematic to edit or use on a smartphone. Documents to Go app solves the problem by allowing you to view, edit, store, and share files with PC users.
iPhone users have a big problem handling Microsoft documents as there's no Microsoft Office app for iOS yet. This mobile app is ideal for document-heavy organizations.  It allows light edits on the go and you can sync with cloud-based services like Google Drive and Dropbox.
4.   Evernote
When on the go, there's a lot of work you need to complete on your smartphone, tablet, or laptop. Managing all the documents on a small device is not easy, but the Evernote app can help you. It is like a digital cabinet where you can manage all your work from written notes, emails, videos, web pages, voice recordings, tweets and everything else. The app can sync across all your devices and platforms, and you can retrieve and share any material you store easily from the app.
5.   Google Analytics App
Most businesses now have online platforms, including websites, blogs or eCommerce stores. Businesses need such an online presence to compete in the contemporary business landscape. After all, half of the world's population is now online.
However, to leverage these online platforms, you have to track their performance. Google Analytics is one of the most effective tracking apps and you can use it on any internet device. It provides real-time website data, acquisition data, audience insights, consumer behavior, bounce rates, and conversions.
6.   Salesforce Mobile
Salesforce is a powerful business software that every successful marketing team should use. With Salesforce Mobile, it is now possible for business owners and marketers to manage their CRM while on the move. The app helps unify your marketing, sales, commerce, service, and IT teams. You can also track your company's sales performance from any location in the world.
7.   TripIt app
If you are a business executive who is always on the move, you appreciate how difficult it is to streamline your travel plans. There are multiple emails from your travel agent, airline, hotels, cab companies, hotels and all these can overwhelm you.
With TripIt app, you now have a single platform for all your travel details. The app also gives you a heads up through alerts and notifications about the next flight and everything else in your itinerary.
8.   LinkedIn Pulse
When on the move, you need to keep abreast of all industry news and information. LinkedIn Pulse is the best app for this purpose. It provides daily news powered by your professional world.
You get relevant news bites depending on your current LinkedIn profile, interests, selected sources, and influencers. You can join in conversations about these topics through likes, comments, and shares.
Conclusion
A decade ago, managing a business while traveling was an arduous and costly affair. Today, traveling is no longer an option but a necessity for the business executive. They have to find a suitable way to work on the go. These mobile apps ensure the business owners and managers stay in touch with their companies whenever they travel. The apps ensure continuity and boost performance in a highly competitive business environment.
Floyd Davis is a freelance content writer for NoStop Content