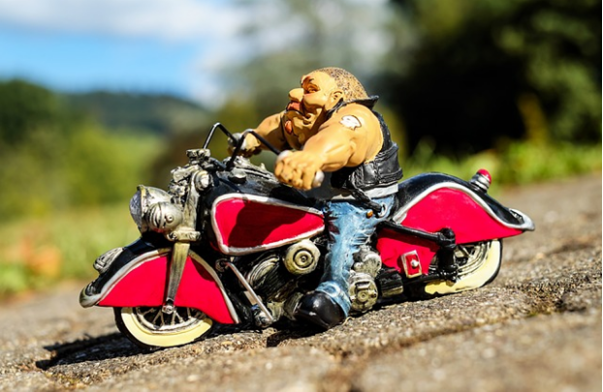 Do you own a motorcycle?  After buying one, you probably want to roam the streets like a movie protagonist. However, there are some things that may ramp up your riding experience. Loads of motorcycle gadgets are available in order to give your vehicle that little bit of "oomph" factor. These don't have to come with a huge price tag though. We know the struggle of saving money on gas, bike servicing, insurance, etc. so, we have collected some cool items to be perfect partners for your bike.
Tire Plugging Kit
Plus, trimming is something you might have to endure on your bike owning journey. This kit comes with all sorts of different material to help you. Patches, glue and even a plug insertion tool. The kit covers tubes and even allows tubeless tire repair as well. The best thing is its flexible air-line also included in its features so as to reach difficult valves. Bikes are obviously loading of fun to ride. But you are likely to have a flat tire at least on one of those fun times. If you're looking for something to help you with tubeless tire tragedies, this is the product for you.
The BikeMaster Multi-Tool
This incredible multi-use tool comes with a socket too! This gadget will come in handy for all those emergency fixes you might need to do on a long drive. The Multi-Tool has six different wrenches. The tool is also very compact, rounded and very portable which is every biker's dream. It will fit easily in your fanny or backpack and you won't have to worry about carrying huge Mechanic like gadgets for emergencies. Want to know more Bike related awesomeness? Head on to Bikers Basics.
Battery Tender USB
This is the handy gadget you always rendered as useless but when it comes down to it, is really amazing. What makes this battery gadget so handy is that it connects to the quick-disconnect plug on your bike that you may be familiar with. If you're not, the quick-disconnect is on the battery tender that's mounted onto your vehicle. This way, you can charge your phone or any USB compatible device with the utmost ease. If you don't have one already, it's something you should consider investing in.
The Icon Tank Bag
Who said accessories aren't important? Although this bag poses not only as a tank bag but as a helmet carrier too, it is extremely compact and aesthetically pleasing. With a black, grungy design, the Icon bag's main feature is the fact that it is a magnetic mounting tank bag. Cool eh? We think so too. Every biker has the concern of storing their essentials after parking somewhere. This bag is your hero that saves your wallet, keys, helmet, etc.
The Sena Bluetooth System
This gadget may seem like it's all looks and no work, but you'll be surprised. 'Don't judge a book by its cover' was never so true. The Sena 20S Bluetooth Communication System is a specialized device made for motorcycle riders and sportspersons. Its easy-to-use dialing pad allows for safe use of modes while riding. You'll be in for another shocker, but this gadget is one of the most technologically advanced Bluetooth devices on the current market. Another cool feature about the 20s is its advanced noise-control feature. Do you have to handle traffic-filled streets every day? Well, this Bluetooth gadget can help you make things a bit easier.
The Ram Mount X-Grip
It is common for bike-riders to need their phone either for calls or more importantly, GPS navigation. The Ram grip is a great gadget to help hold your phone up on the vehicle when you're on the move. This one, in particular, is great for holding phones on ADV bikes. The gadget is light and quite compact making it great to carry around. It also works great as a holder despite its simplicity in design and aerodynamics. Another great thing is that you can choose whatever size you're comfortable with. This way, people won't be confused looking at a large holder on the front of your bike!