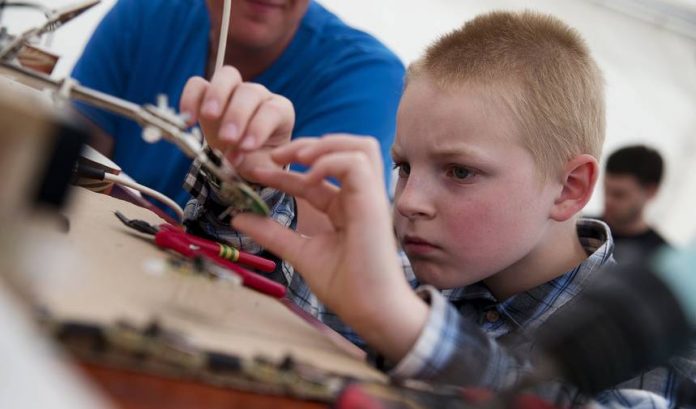 Children constantly search for new things to do during their free time while parents always want to educate their kids. Fortunately, DIY tech projects offer entertainment and educational elements at the same time. Parents can introduce their children to the technology field with just a few tools at home. As your children build their own gaming machines or robots, you can teach them about hardware, software and programming. The educational opportunities are never ending with the following fun DIY tech projects to make with your kids.
Tin Can WiFi Antenna
One of the best DIY tech projects to make with your kids is a tin can WiFi antenna. Children today use the Internet just as much, if not more, than their parents. They play video games and use social media apps on their smartphones regularly. Their hobbies and free-time activities rely heavily on WiFi signal, making this project worth their while. When you experience Internet downtime, your make-shift WiFi antenna can save the day. Plus, you can purchase all of the materials you need with just $5. The necessary materials include a drill, a tin can, a ruler and a soldering iron. Collect a permanent market, internet modem and a 12-gauge copper wire as well. With the right materials, you and your kids can create this fun DIY technology project easily.
Paper Circuit Cards
Many parents and children enjoy creating paper circuit cards together as well. This top DIY tech project works well for families preparing for holidays or birthdays. Your kids can create their own, magical cards using a few household items. Find card stock paper, copper tape, scissors, 3V lithium button batteries and 5mm LEDs to get started. For a particularly exciting creation, collect 5mm LEDs in various colors. That way, your kids can learn about technology and let their imaginations run wild as well. Teach your children how to make a simple closed circuit with the materials. Then, instruct them to get creative with a card. Create a cake with candles for a birthday card. Consider using the circuits to build a festive Christmas tree with lights for the holidays. Regardless of the design you choose, this project is both fun and educational.
Radio Control Paper Plane
Furthermore, children who love paper planes enjoy building radio control paper planes at home. This project takes the traditional paper plane making activity to a whole new level. Your kids can actually control their make-shift planes as they would electronic toys. A few of the materials you need for this DIY tech project include scissors, screwdriver, hot glue, a foam board and a Nano sized quadcopter. For additional hand tools and electrical supplies, this electronic parts database has all the hardware and materials required. Gather tape and paper laying around your house as well. This project particularly works well for younger children. Unlike other electronic projects, this one does not involve soldering. Thus, it makes for the perfect family weekend activity.
Toy Block CD Changers
If your kids have boxes of the small toy blocks laying around, consider making a toy block CD changer with them. This DIY technology project allows you to put your old CDs to use. Take the opportunity to teach your kids about the technology you grew up with. The toy block CD changer acts as a jukebox. This modernized do-it-yourself version of an old-time favorite can find discs from its library. It finds CDs by using a black and white encoder strip. Once it finds the CD you want, it places it into the drive. Complete this DIY project one day and then create a Lego record player the next. By the end of the weekend, you and your kids will have created an impressive sound system.
Scrub Bots
Finally, build scrub bots with your children as a fun DIY tech project. This is a cleaning machine made from simple supplies. Collect a Frisbee, a few scrubber brushes and 2 computer fans for this project. Then, gather multiple small zip ties, bolts, nuts, a 9V battery, a 9V battery connector and adjustable tracks. With these items, create a self rotating bush under the frisbee. Then, drill some holes in your Frisbee and place the battery-fan contraption underneath it. Your final product is a floor cleaning machine. This project teaches children about technology and keeps your house clean.
Give your children something fun to do over the weekend with a quality DIY tech project. Consider creating a tin can WiFi antenna to use when your Internet goes out. Paper circuit boards are fun for children who need to create cards for the holidays. Moreover, try building remote control paper planes with younger kids. Toy block CD changers work well for parents who want to teach their kids about technology and their favorite gadgets. Put scrub bots together for an educational, exciting and helpful activity. These fun DIY tech projects to make with kids do not disappoint.