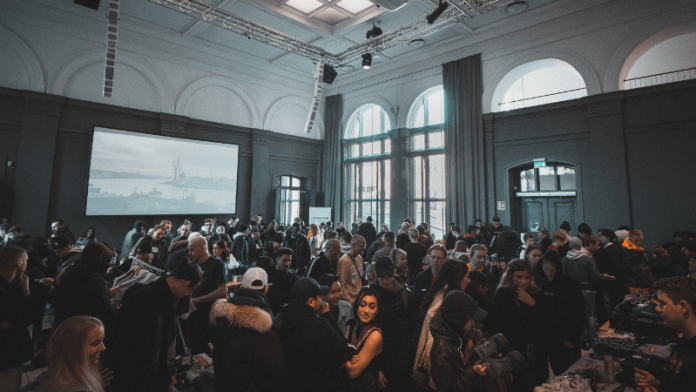 The organization of corporate events demands complete planning that goes from setting a goal to final arrangements, such as those related to the structure, personnel involved and dissemination. We have prepared a step-by-step list for you to organize your corporate event.
1. Set a goal
It is not possible to start organizing a corporate event without having an objective in mind. After all, holding an event is also a market strategy and, therefore, needs to have a purpose.
The objective may vary:
Bring the brand closer to customers,
Disseminate a new product,
Get market partners,
Place the brand in a prominent position,
Educate your audience.
2. Define your budget
The second step is to define the budget; that is, how much the company is willing to pay for the event.
This is essential because the cost varies according to the type of event, duration, place, number of guests and contracted speakers, among other details that you need to define, such as food and cultural attractions.
3. Choose date, place and time
The date, place and time of the event should be thought in advance and mainly to provide the best result for both you and who will participate in your event.
If the event is in an open environment, for example, the date must be aligned with the weather forecast. In the end, everyone wants to avoid rainy days.
At the same time, it is important to think about the public, so that you can prepare if you have to travel or change the schedule of a workday to participate in your event.
4. Find the perfect speakers
What will define the number of speakers of your corporate events is the budget available since the quality cannot be questionable here.
Of course, it is important to involve well-known people in your market to discuss the topics you have defined! After all, this draws the attention of the public, mainly when we plan corporate events for our audience.
But don't worry about calling famous people.
Your speakers can even be people who have already worked in your company, have advanced knowledge in the area they work and want to share their knowledge.
5. Create outreach materials
Do you know that old saying that says propaganda is the soul of business? It also applies to corporate events, mainly when they are directed to the external public. It is necessary to implement several dissemination strategies, such as social media publications, emails and others that you already know will reach your audience. Never ever forget the business cards as it is a must-have.
Do you know what the most common mistakes made in the organization of events are?
Corporate events are a key piece in the marketing and communication strategy of many companies, as they are an excellent tool to strengthen the corporate identity of companies, allow to improve relations with customers, suppliers and employees, offer the opportunity to give to know the products or services of the brands, arouse the interest of the media for the company or help to improve sales.
There is a great diversity of corporate events so that each company must adapt each format to its needs and objectives. Among the most common are congresses, fairs, conferences, conventions, conferences, meetings, seminars, Workshops or workshops, breakfasts, lunches or company dinners and Team Building.
If you dedicate yourself to the sector, you will know firsthand the hard work of organizing an event so that everything goes perfectly. It takes a lot of dedication, good planning and being very attentive to all the details, since companies invest significant amounts of money to be able to carry them out and, it is a great responsibility that everything works as planned. If you find yourself in this chain as a rental company, you need to make sure you are a reliable piece of the puzzle. You can utilize Rentopian to monitor everything and improve your business.
As much experience as you have organizing events, the truth is that sometimes things get complicated and mistakes are made that can throw away the work of months. Therefore, today we want to analyze the most frequent blunders that are committed when planning an event so that you take them into account and avoid them.
Bad choice of date
With clear objectives, the following is to establish the date of the event. A very common mistake is to choose the day of celebration without having a calendar in front and, once you have started communicating it, realize that it coincides with a holiday, that it is close to a holiday period or that it coincides with another important event that goes to subtract prominence from yours.
If you do not want your event to be a failure of attendance, when setting the date, keep in mind, national and local holidays, major events in the sector and sports and avoid vacation periods.
The day of the week can also influence the greater or lesser attendance at the event, so keep in mind that Mondays are the worst day, because they usually reserve to plan and organize the week. Wednesdays, Thursdays and Fridays are considered the best days because they do not break the work routine.
They don't define the target audience
Another of the fundamental aspects when you are going to organize an event is that you are clear about who you are addressing: employees, suppliers, customers, sector professionals, etc., and adapt both the format and the content to your target.
It is important that you be clear that each segment has its characteristics and needs, and therefore, the way to communicate with them is also different. You will have to adjust the content and tone of the event, as well as the tools to be used (online or offline media) so that your message arrives effectively and you achieve your goals, if not all your effort and resources will be in vain.
Overlook the budget
When you start organizing an event, it is normal for you to come up with many ideas and think that such action or activity would be great. But the reality is that it is normal for your company to allocate an economical item for your event and that many of your brilliant proposals have to be discarded due to lack of budget.
Remember that you should always organize your event without losing sight of the cost-benefit ratio since these are organized with the intention of fulfilling certain objectives, but if those objectives involve investing more money from the results obtained, you will be committing a serious error.
They don't choose the right place
Once you are clear about the objectives of the event, when it will be held, who you want to address, and what budget you have, the next thing is to decide where. The celebration space also has to go according to all these factors and has to be able to respond to your needs.
A bad choice of venue can contribute in a resounding way to make your event a failure, so it is very important that you spend time choosing the place very well.
Keep in mind the type of event you are going to carry out since it is not the same to choose a space for a meeting, training, a fair or a congress. Also, do not forget to pay attention to details such as the number of attendees, the technical and audiovisual services you have, if you have your own kitchen or you have to hire catering and if you offer to park. There are venues that adapt better to each type of event and choosing it well is key.
Another fundamental issue to avoid making mistakes when choosing the space is to take into account people with reduced mobility and, therefore, we recommend that you choose a place that meets the accessibility standards.
Logistics is another aspect that you cannot ignore when choosing space. Make sure it is a venue with good communications, that has parking and loading and unloading areas in case the event requires it.
Forget requesting permissions
Not having the necessary permits to develop all the activities planned in your event is a mistake that can have serious consequences, since you may find that the authorities do not allow you to develop it. Therefore, it is essential that you pay very special attention to this issue and request all necessary permits and licenses in advance. Learn more about what you should do and what you shouldn't do in corporate events.
Conclusion
If your work is related to the organization of events, and you have been identified in any of these points, we hope that our analysis will help you improve your mistakes and achieve more and more successful corporate events.