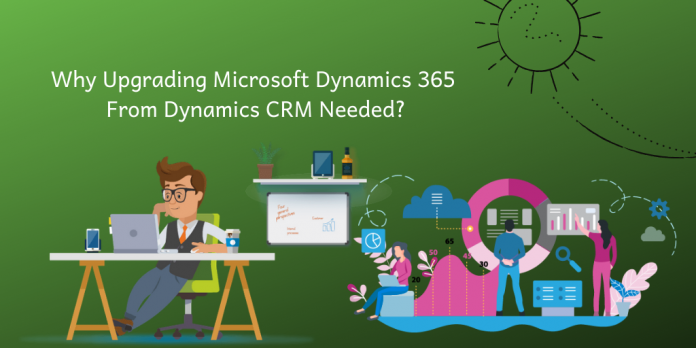 Microsoft ended its support for Dynamics 4.0 and CRM 2011 on April 9 2013 and July 12 2016 respectively. Organizations presently using Dynamics 4.0 or CRM 2011 need to migrate to the higher versions of MS Dynamics since no support will be provided by Microsoft if there is application break down or release of any patch to solve an issue. In fact, Silverlight framework will also no longer supported, neither customizations made on top of it will be supported by updated OS and browsers. Developers need to rebuild them using OData, JavaScript web resources, HTML. 
Before coming to the reasons for upgrading, first understand the basics of Microsoft Dynamics 365 services. 
Dynamics 365 is neither a whole new product, nor just single software. It is rather repackaging of a few Dynamic suite products that are now available in Dynamics 365 services. The apps are still separate products, however, with an upgrade, developers can integrate them using MS common data service for apps (data repository). 
The updated Dynamics CRM is now Dynamics 365 Customer Engagement Plan. It includes six different yet relevant applications, i.e. Dynamics 365 for Sales, Marketing, Customer Service, Project Service Automation, Field Service and Social Engagement. Developers can get these apps at certain cost separately, or get Dynamics 365 Plan that includes ERP apps. 
Microsoft has updated the platform with latest technologies like ML and AI. Those who are really interested in latest features and want to use software updates can upgrade to Dynamics 365. However, the steps involved in upgrading to Dynamics 365 seem challenging for them. No worries, because Dynamics 365 consultants will assist them in getting the work done with minimal disruption. 
Inside MS Dynamics 365
The updated versions of Dynamics CRM 2016 have introduced tweaks in three applications – Dynamics 365 for Sales, Dynamics 365 Customer Engagement, and Dynamics 365 customer service. 
However, developers may find them closely based on original Dynamics CRM software. Lots of changes and new features have been added since November 2016. The most recent is October 2018 release that includes new functionality and new app – Dynamics 365 AI for sales. The app uses machine learning to provide data-driven insights and help companies in making sound decisions. 
Some key functions and integrations to Dynamics 365 are as under-
Microsoft releases a new interface in late 2017 for Dynamics 365 services, named as Unified Interface. This unified interface can be used for data surfacing, interface standardizing throughout the apps. It also delivers mobile-friendly interface that is easily adjusted on different devices and screens. 
In Microsoft Dynamics 365 services, applications like LinkedIn, PowerBI, and Office 365 can be easily integrated which further enables developers to share data between platforms and gives a detailed image of business processes. 
Dynamics 365 includes two new tools – MS PowerApps and MS Flow that help users to create apps and then connect to both MS and third-party apps and customize workflows with zero coding. 
The latest ML capabilities bring more intelligent insights, contextual data analysis and predictions. The update can also automate certain business processes, which saves a lot of time of the users. For instance, Dynamics 365 services for Sales has the relationship assistant, which tracks behavior, generates action cards automatically after analyzing data to help keep workflow moving. Relationship Assistant has ability to evaluate relationships with customers and provide next steps like set reminders for upcoming activities to alert users, suggests re-engagement with an inactive contact, etc. 
Mobile app of Dynamics 365 includes new features like access to cameras and geolocation to help make operations seamless for individuals working in the field and improve CRM functions access on the move. 
While Dynamics CRM developers can avail free development sandbox for accounts with 25+ licenses, users get one by default. This offers extra space for customization, innovation, and testing to developers with which they can make the dynamics apps more productive and stable. 
Cloud computing involves fewer overheads and less infrastructure to maintain. However, dynamics 365 users (without onsite hardware) do need storage space for data. Dynamics CRM online offers 5GB per user and an extra 2.5GB per every 20 full licenses up to 50GB. 
Experts from the industry find it unreasonable to make any statement about if and how much money will be saved by Microsoft dynamics 365 services for business. With more number of apps, packages, and licenses types on offerings, there are multiple factors that determine cost-effectiveness of the Dynamics 365. Still it may work out cheaper than Dynamics CRM in terms of license price, running a cloud-based platform, and single app purchase. 
If you think you need assistance for MS dynamics CRM development, you can connect with the professionals like Aegis Soft Tech. Experts working in the company have quality experience in CRM development and have delivered premium solutions to the multiple industrial clients.