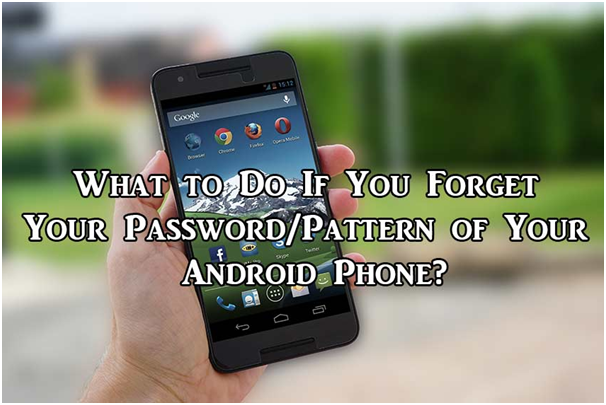 Everyone who has an Android phone would dread the moment when they forget the password of their phone. Moreover, it is quite common than we believe. Android phones have a slew of security features to protect your data, and that includes password protection or pin lock.
In order to enhance security, we tend to set passwords that are complicated and long, which is generally advised. However, the downside to this habit is that they can be easily forgotten. If you are in such a situation and need to unlock your phone without losing your data, then this blog will help you do that.
Note: Before trying to unlock your phone with the following method, you should back up your data. Thus, the first priority will be to extract and store the data so that you do not lose any important information.
Backing up or extracting data without opening your phone might seem impossible. However, with the help of reliable data recovery software, it is possible. One of the most trusted android data recovery software is the FRP bypass apk for Android. This software will assist you throughout the process of extracting and backing up your data.
The only prerequisite is that your phone must be rooted (see how to root Android phones & devices) to enable the app to work without any hiccups. Once done, you can download this software and extract and back up data of your android phone.
Step 1: Download and install the EaseUS MobiSaver for Android software on your computer and connect the phone you wish to unlock with the help of a USB cable. Once the device is properly connected, click on the "Start" option to allow the software to detect and accept the connection of the device. The software will only detect the phone if it is rooted and thus you need to ensure that the phone is rooted before connecting.
Step 2: Once the device is connected, the software will automatically scan and find existing and deleted data on the phone. The software also allows you to find deleted or lost data by selecting the appropriate options.
Step 3: Once the software scans the phone, it will display all the files. From there you can choose to select the files you wish to keep. You can also select the option "Only display deleted items" to show all the lost files. Once you are done selecting the files, you can simply click on the "Recover" option to get the files.
These are three steps you need to follow to safely extract and back up all the data of your phone. This is an important step to unlock Android smartphones or tablets. These steps are followed by unlocking the phone by removing the password or pin.
Remove Pattern Lock or Password On Your Android Phone:
There are two parts in this section, and anyone of the options will help you unlock your phone easily.
Method 1: Removing Password/Pattern Lock by Resetting the Device
Switch off the device and then long-press the power button and the volume down button together.
Keep them pressed till the phone turns back on.
This will compel the phone to boot up in recovery mode. To control the options, you will have to use the volume up and down buttons.
Move to the "Factory reset" option and select it by pressing the power button.
A popup will be visible asking for confirmation.
Once you confirm the popup, you need to wait for your phone to reset.
This process will erase all data, and the phone will be reverted to the initial settings.
Method 2: Unlocking Through Google Account
All android phones have a Google account linked with them. The google account has a lot of privileges that can help us unlock the phone. The following are two options to do so without resetting your phone.
Option 1: Recovering Password Using Forgot Password Link
Keep entering the wrong password till you are prompted with the "Forgot password" prompt.
Click on it, and it will assist you throughout the process of recovering your password.
When prompted, enter your Google authentication credentials to gain access to your phone.
Option 2: Resetting the Password When You Forget the Google Authentication Credentials
In case you have forgotten your email id and password for entering your account in Google, there is a way to reset the password. This option is viable when the earlier option fails.
When Google prompts you for your password, click on the "Forgot password" option.
If you have a recovery mail set, then Google will facilitate the process through that.
If you have set no recovery mail, then Google will ask some security questions.
Once you correctly answer those questions, you will be asked to enter a new password.
After applying a new password, you can easily follow option 1 to unlock your phone.
These are the basic steps to extract your data and unlock your phone. All android phones are similar be it the Samsung Galaxy or phone from Huawei, HTC, Xperia or Sony. They often keep updating their security features, and with regular security patches, the protocols are updated.
This gives various ways in which we can protect our phone and remember our password. One method is to enter a password or pattern that is exclusively familiar to you. This will prevent you from forgetting the password. Several users often keep complicated patterns that may be confusing.
Try connecting most dots. If we compare the pattern lock to the pin lock, then a pin lock has more combinations and thus is more difficult to crack. To secure your Google account, always enable two-step authentication and a recovery mail, in case of emergencies. This will make sure that you are easily able to reset or recover your password if you forget it.
You can also use a password manager to store Google passwords. With the help of password managers, you can keep all your passwords secure at a single place, and you will only need to remember a single password. Keeping your phone secure is necessary, and the best way is to use passwords or patterns cleverly.