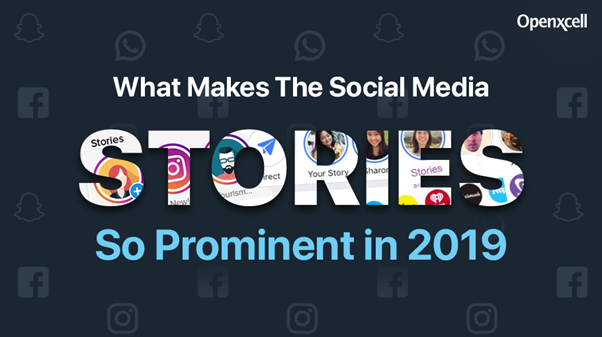 Impact of stories is there since our childhood. In today's time, the millennial generation has taken this format to the social media world. Snapchat started the concept of social media stories in 2013, but from mid-2017 onwards Instagram has created a burst and is making social media stories prominent. After Snapchat and Instagram, other social media platforms such as Facebook, WhatsApp, and Messenger has joined the world of social media stories.
Social media stories communicate the moment and current phase of the individual making it. Using social media stories is a platform of opportunity to explore branding; many industry's marketing teams have started working on it. The young generation has reacted smartly to the advertisements given in olden ways and ignored. Today's generation needs something more appealing and quick in its medium of entertainment. Thus Instagram stories have surely made it possible to reach out this requirement.
According to a survey, there are more than 450M active daily users combining Snapchat, Facebook, WhatsApp status.
Benefits Of Social Media Stories
1) Communication friendly:    
The significant part of the conversation is to be simple. Any communication which is simple, easy yet powerful can be considered as ideal communication. Same is the case with social media stories, Snapchat being the pioneer doesn't have a market like Instagram. The use of Snapchat stories is a little complicated, and Instagram's format is user-friendly & easy to communicate.
2) Time saver:
In today's busy world, no one has time to go through different feeds and look at an individual's post. Facebook noticed the same thing, and it then started with stories. Stories quickly say your moment and communicate in less time.     
3) Cost – effective:
The most economical way to communicate your words is by sharing a story on social media. Without charging any cost, it helps an individual to share his experience. One can share their words and memories through stories and in a way can build cost-effective communication. The popular brands have taken advantage of this and have gained their economic value by advertising their products through stories.
4) Creative & Engaging:
Once a social media person will always stay a social media personality. It is damn appealing. Not a single day can be passed without getting into the social media touch, as it is very creative and entertaining. You get a perfect opportunity to explore an individual's creativity. Nowadays, people upload the most engaging and entertaining story across social media platforms.
Impacts Of Stories On Brands & Industries
1) Investing in Creativity:   
Any brand or industry in the social media story making needs to invest in creativity. Creativity makes it look different from other content, and hence the target audience gets attracted resulting in the massive amount of sell.    
2) Eye-catching Content:   
Stories across social media catch the audience's attention as they are like they get highlighted differently. This makes stories the best way of advertising for any brand or industry.
3) Entertaining:  
Social media itself is a medium of entertainment. Thus anything or any story presenting your brand and industry is not enjoyable than it's of no use. In other words, it should make an individual connection with your viewers. Any engaging advertisement on stories can surely increase its recall and help to build a brand name.
4) Educating:   
Your brand should be teaching about your product to the consumer in a smartest and shortest technique in social media stories. This type of brand advertising has ruled the story people and resulted in sure sort of sale.    
5) Targeting youth:   
Social media storytellers are majorly young people; thus branding should be done by keeping millennial crowd's opinion and thoughts in mind. At the end it's not always about selling a product, sometimes it's necessary to acknowledge youth about something.
Difference Between The Features of Stories of Top 4 Social Media Apps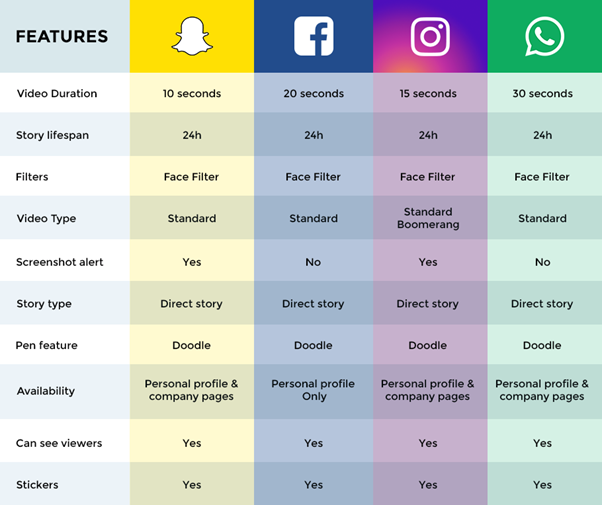 Conclusion:  
Social media stories are going to be more in the trend in 2019. Stories have changed every means of advertising and selling. In January 2019, 500 million active Instagram story users were noted. In time duration of 60 seconds, 2.1 million user snaps in Snapchat. Almost 0.6 billion user views Facebook stories, and 450 million uses WhatsApp status.
You can come up with a new marketing strategy and create your own social media stories. To explore more information about social media stories or to get such a feature for your business or to have your digital marketing strategy, contact the digital marketing team of OpenXcell.