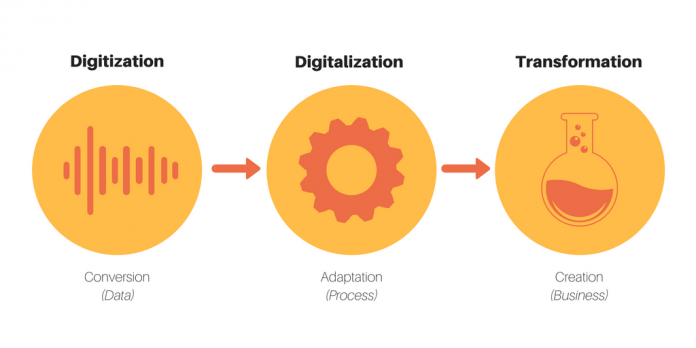 Digitization and Digital Transformation are the words used together and are interchanged often, which is an error. Both the terms carry different meaning but sometimes providers also give an up in the air definition and then it deteriorates into a buzzword. In this article, you will understand the difference between Digital Transformation and Digitization.
To understand the difference between Digitization and Digital Transformation, we must be known to the actual definitions of both the terms.
Digitization
Digitization refers to a process in which physical information is converted into digital form. In this configuration information is compiled into a discrete unit of data called bits. This information can be Films, Images, etc. For example, scanning a paper document and storing it into the computer by converting it into a PDF. Digitization is not replacing the original document it is only creating a digital copy of the document.
 Digitization defined in the context of the process
Physical information carriers, such as paper documents or analog, printed images, etc. are Digitized with the use of document scanner. These scanned files are the digital representation of the scanned physical documents. In business many documents are to be circulated to give the desired information, digitizing that document makes it easy and convenient to share the respective information to the desired person. Digitization makes the work and information flow easy in organizations, schools, colleges, government offices, etc. Digitization leads to the development of digital business strategies.
 Digital Transformation
Digital Transformation refers to the best possible use of technology or digitization in business activities and processes. For example, moving the data from google search into an app that will analyze the data. The main motive of Digital Transformation is to improvise work efficiency and risk taken in any business. Digital Transformation is not about simply adapting the new technologies it goes much further, it is about problem-solving and giving a new point of view to the customer. It provides new market opportunities and challenges, which leads to a new economy. Many companies only take an overlook at starting areas of Digitization and try to fix their issues with existing processes. But they do forget new opportunities, challenges, and technologies in order to fix the issues effectively.
Many people do not use Digital Transformation efficiently. An acceleration in Enterprise Digital Transformation is a must in order to use Digital Transformation efficiently. Digital business is an outlook of Digital Transformation.
Difference between Digital Transformation and Digitization
Digitization is converting the physical data into digital form and Digital Transformation is all about doing things in an innovative and digital way. Digital Transformation is vaster then understanding Digitization. Digital Transformation and Digitization leads to a new market and consumer-business man relationship. Digital Transformation through light on all aspects of business, growth strategy, Digital Enterprise, etc.
Wrapping up
Digitization is all about converting the physical data into bits whereas Digital Transition is all about using technology at its best in a new and innovative way. Digital Transformation needs both Digitization and Digitalization side by side in order to build a Digital Business. The Digital era has just set about and bringing transformation in how a business operates. As time passes there will be many more innovations in Digitization and Digital Transformation. For a successful digital business, a person should be up to date in the field of technology and do not restrict himself to the existing processes of solving problems. He must innovate his ideas and problem-solving techniques. You might also need help from reputed Digital Transformation Consulting firms to help you with your Digital Transformation Imperatives.