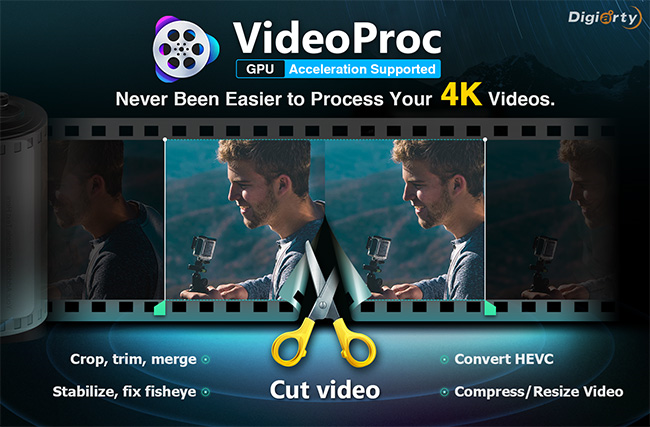 For travel or adventure enthusiasts, it's essential to have a high-end camera like GoPro, DJI, DSLR or other 4K cameras to capture the exciting moment. Provided that you're well equipped, here comes the next question: what makes a good video? There are lots of them. The recording techniques, lighting, the location where you take the video, and others, affect the quality of the video. However, we can't forget one important step that will perfect a video result. It is the post-production step. The video editing process has a big role in creating a nice and smooth sequence of every scene in a video. The result is a video that everyone can enjoy. The importance of this post-production step makes everything that's involved in it become important as well. And a powerful video processing software could make you get twofold results with half the effort. Here, we'd like to introduce a new video processing tool, the VideoProc. Let's take a deeper look at this software to find what you can get from it.
The Features
The most important thing about video processing software is the feature. With the useful feature, you will have an easier time to edit your GoPro video like what you want. And, VideoProc has a lot of useful features that will help you a lot. Here are some of them.
– Easy to Use
One of the best features of VideoProc is easy to use. It doesn't matter which gadget you use this software. You can do the same on all of those gadgets. Basically, the trim, merge, add captions, Advanced Toolbox, apply all effects, remove fisheye, and other features can be used on all gadget. Plus, you also can use it for HD and even 4K video editing.
Moreover, you also can easily share and save the result directly from the VideoProc software. Do you want to share it on your social media? Do you want to save the video on your hard drive or cloud? Take it easy! You can do them all with VideoProc.
– Fast
Compared to other video processing software, VideoProc can be categorized to be one of the fastest video editors you can find today. This software supports the Level-3 Hardware Acceleration, which can help to boost the speed to 47 times faster than any other video software you can find.
This capability is very useful when you try to edit GoPro 4K video. The higher fps, as well as resolution, makes the standard software work harder. But, VideoProc that's supported by AMD, Intel, and Nvidia GPU can do that easily. It's very smooth, so you can easily edit and make any changes to your 4K video. The encoding and decoding process is very fast, and it also can keep the quality of the video in the best condition.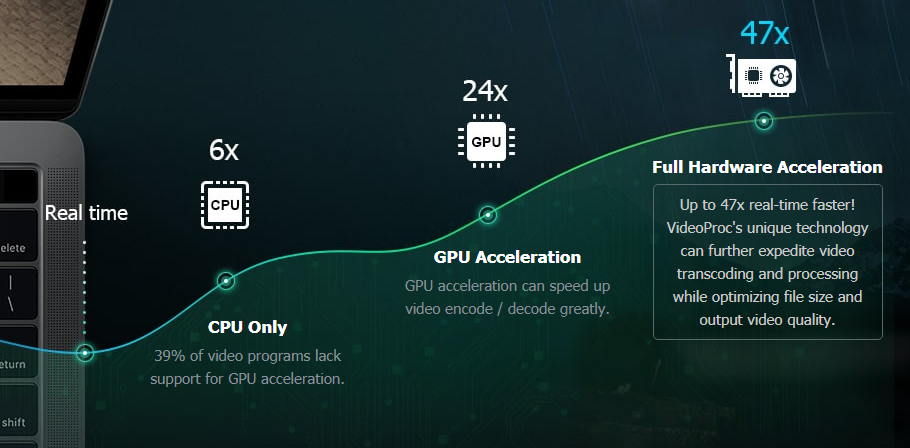 – Media Converter
VideoProc also has a nice media converter feature. You can use it to convert many different formats into a different format easily. Plus, it's also suitable with more than 370 codecs as well as 420 video formats. For example, if you plan to change your MKV video into MP4, or convert 4K HEVC to H.264, you can do that with VideoProc.
How about the result? It's not quite disappointing. In fact, we can say VideoProc deliver a great converting process that keeps the quality on an acceptable level. The great thing, you can even compress the size of your big-size-video into the 90% of its size without losing its quality too much. If it is different, it's the only pixel-level difference, which won't be able to see clearly, expect you use the software or high tech tool.
Click here to see how to resize GoPro 4K video losslessly with VideoProc
– Screen Recorder
We said it as one of the best video processing software. However, you also can use it to create a video with the Screen Recorder feature. You can use it for many purposes. For example, if you want to create a video where you play video games, you can use this feature to capture the image on your monitor. The result is really good, so it will be a great tool for you who have a tutorial video channel or for you who just want to share it with other people.
–  Online Video Downloader
We have to say that this is one of the best features that VideoProc has. With this feature, you can download and record the online video from more than 1000 video streaming website. It's not only downloading them. You also can convert them into many different formats, such as MP4 or if you just want to record the audio, you can change it into MP3 format.
Who Can Use VideoProc?
The answer is simple. Anyone can use and get benefits from VideoProc software. Basically, you can use it for many purposes, such as:
–       You can make a personal documentary with this software, such as your wedding, birthday, event and other. Just record them and edit it on VideoProc to make it perfect.
–       For a teacher, VideoProc will become a very useful tool to create material for the students. You can use it to make a video tutorial, training video and many more easily.
–       With so many features in VideoProc, this software is perfect for business. You can create promotion video, company identity video, and many more. The flawless editing flow, plus you can easily add watermark in your video, make you easily create a high-quality and valuable video. Moreover, you also can use it to create a video for a presentation or job resume.
–       For you who like adventure and capture your exciting moment with GoPro camera, VideoProc will be very useful for you. It can process the high-quality video from that camera easily without losing its quality. You also don't need to worry about the size, because VideoProc has amazing video converter and compressing feature, like what we mentioned above.
Conclusion
Video editing process is an important step in order to create a video that you can watch, share, and keep as a record of the special event. Therefore, VideoProc will become the most important tool you must have. It has everything that you need in order to create the best quality video that worth to share, watch, and keep. Moreover, it also can provide the best workflow, which helps you to create a better video like professional. And for a professional, you also can save your time and energy by using VideoProc.
VideoProc New Release Celebration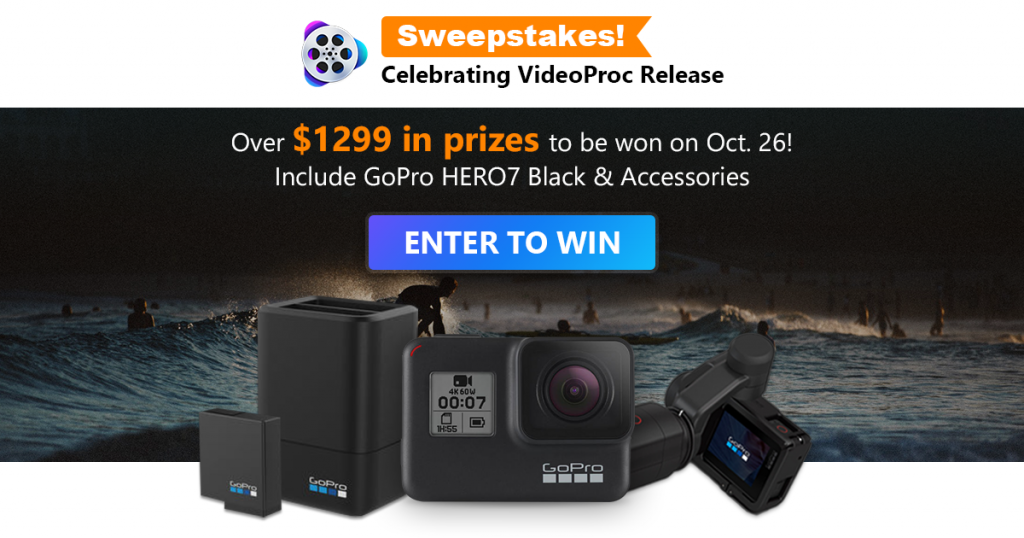 If you're interested in VideoProc and want to download and try it in person, luckily, its developer Digiarty is launching a new release celebration event that everyone can get VideoProc 15-day trial license key for free as well as have a chance to win GoPro HERO7 Black and its accessories. The celebration will stand until October 25, 2018. So participate the campaign now and wish you good luck!