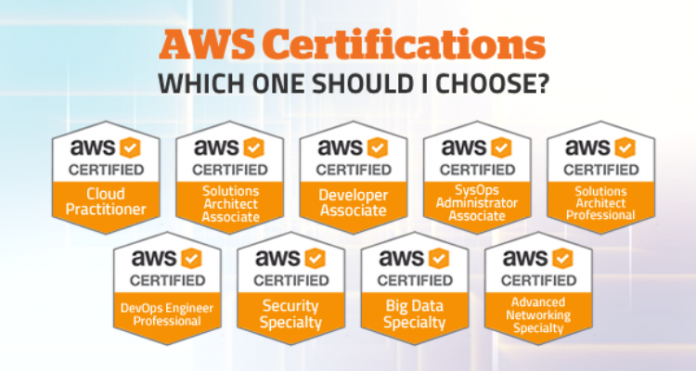 Right now Amazon Web Services is one of the most widely used cloud platform available in the market.  Even the top companies in the world like apple, Adobe, Netflix and many others use this platform and hence AWS certification is one of the most valuable certification that you can achieve today.

This certification will help the professionals gain expertise and the skills which are in demand. The best part about it is that there are diverse set of examinations available which you can select by role and speciality. Each individual with their unique goal can apply for the role that appeals to them the most.

Benefits of AWS certification

An interesting fact for you to know that the top 3 highest paying certifications in the US are provided by AWS. And the salary packages offered to AWS certified it professionals is quite decent.

Each of the certifications available is designed to help you gain expertise in the AWS cloud Technology. So before appearing for any exam, you need to have hands on experience. However Amazon also provides the exam guide for each certification directly and the sample questions in the guide will be helpful for you to get prepared for the exam.

AWS certifications

The available certification are divided into four categories-  professional, associate, speciality and foundational.
The professional certification is of 2 years duration with complete experience designing, operating and training to troubleshoot solutions using AWS cloud. The different available professional certifications are-




1. solutions architect.




2. DevOps engineer.

The associate level is of one year duration and will help you to gain experience in solving problems and implementing those solutions through AWS cloud. The available associate level certifications are-




1. solutions architect.




2. Developer.




3. SysOps administrator.

The foundational course is of 6 months duration and you will receive fundamental knowledge about the industry.

The speciality certification will help you gain technical experience in the domain. Amazon provides various speciality certifications in different skills like-




advanced networking.




Alexa Skill Builder.




Security.




Machine learning.




Big data.




Database.
Training for AWS and certification courses.

It has already been discussed why AWS certification is one of the most valuable credentials in the market today. Once you become an AWS certified IT professional in the industry, it opens up a lot of opportunities for you and you will also receive high salary packages.

RPS Consulting is an APN authorized training partner for AWS. We help you to build your confidence, competence and credibility by engaging you in practical cloud skills which will help to kick start your future in the industry. You can opt for online training, self paced training, corporate training and event classroom training in a location of your preference.




The AWS certified cloud practitioner course will give you an idea about the importance and function of AWS cloud and the key services that are provided on the platform. You'll also learn about the basic security and the core characteristics of deploying and operating in the AWS cloud.




AWS certified solutions architect is another certification course which will help you to gain expertise on making architectural decisions based on the core AWS architectural principles. You will learn how to make it more efficient so that you can receive increased performance with minimal cost.




AWS certified developer certification course will help you to learn the importance of AWS SDK in the development of secure and scalable cloud applications. It focuses on interacting with AWS and you will also gain in depth information about the key concepts, practices which will give optimum results and tips for troubleshooting. You will also learn how to use Amazon cognito for user authentication.




AWS SysOps administrator is an interactive course after which you will receive an industry recognised certification. This certification course is specially designed to give an approximate idea about the AWS infrastructure related to system operations like Global infrastructure, core services and account security. You will also learn how to build virtual private networks with Amazon vpc and to monitor the health of their infrastructure using services like Amazon cloudwatch and more.





There are different exam preparation resources available online which will help you with the materials required for preparing for the exams. You can apply for any stream that is most compatible with your skills.



Conclusion

Competition in the IT industry is quite high today and you need to validate your skills and knowledge in the Cloud Computing platforms. AWS certified professionals are one of the top paid people in the industry and this certification will also help you to keep up with the ongoing trends in the market.

Every big company in the world is using AWS Cloud Computing solutions and the business is ever growing. If you want to be a part of it, RPS consultations is the perfect choice for you and we provide training in different locations across the country like Bangalore, Chennai, Pune, Mumbai and many more. You can check our official website for more details.