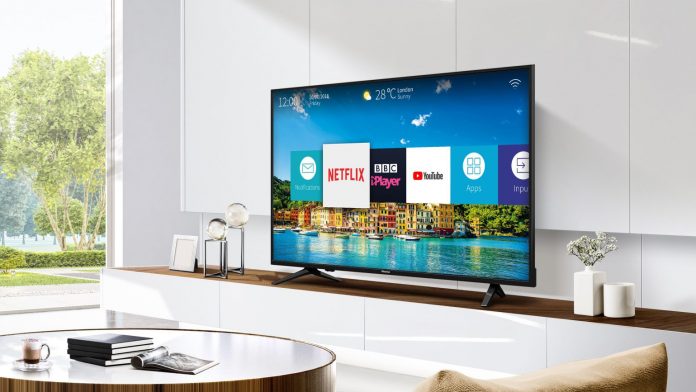 I think you are tired of watching movies, news, sports and other kind entertainment on small screen LEDs, that's why you are here. Well currently this is the time of 75-inch screens and you are looking for the best 75 inches LED TV. Here we have listed top 5 75-inch LEDs and QLEDs
1. TCL 75R617 75-inch TV
In my career, I have never tested any 75-inch screen with a high-resolution quality at cheap prices. The TCL 75R617 was released in 2019, this 75 inch TV was a member of the R617 2018 model series. This TCL screen is the best option for those who want to buy the best 75 inch TV under 1000. It is well manufactured, full array dimming supports it in running circles around any other TV at the same price.
2. Vizio PX75-G1 75 inch screen TV
No doubt the TCL has amazing picture quality, but if you can spend more money then Vizio PX75-G1 will be top of the options. The P series Quantum X technology is used in this TV, and according to our testing, this Quantum LED has smart features than TCL. That's why it is more expensive than TCL. On this screen, you can watch HDR videos and images more clearly, and according to its features, the price is nothing.
Make sure to have a look at TodayTVSeries.
3. TCL 75Q825 non LED 75-inch TV
The picture quality you will find in this TCL tv, seriously you will not find in other TVs. I am talking about the current situation and that in the future you will get much better quality LEDs. It's amazing brightness and contrast outdate the Vizio. You can watch this TV from any angle (except standing back of the TV). On this TV you will find HDMI port, USB 3.0 port, and Dolby Atmos. Its cost is very less if I compare its features to other TVs.
4. TCL 75R425 75-inch screen TV
If you love to watch Netflix, Roku and other streaming platforms on TV, then you should think about this TV. This TCL LED Tv is perfect for watching the 4K movies, series and seasons. No doubt this TCL has a lower resolution than other LED TVs listed here, but it is perfect for enjoying Netflix. The reason for adding this 75-inch TV, it is the best option if you want to enjoy the best quality at low prices. 
5. Samsung Q70R 75-inch QLED TV
This Samsung QLED TV is a fancy looking TV, so don't compare it to the OLEDs. The Samsung Q70R has an amazing HDR picture and video quality. The design and features of this Samsung LED have a higher worth than the cost of this price. If you can afford the TCL then you can easily afford Samsung Q70R. I know Samsung is a more reputed brand than TCL and I am 70% sure you will think about this QLED more than others. So I will suggest that if you are interested in this QLED TV then please go with it, you will never regret your decision.