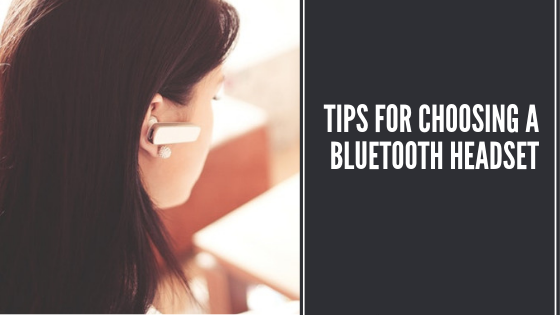 Bluetooth headsets are fast becoming some of the most popular tech gadgets among salespeople and for good reason.  Seeing as how you constantly have to be on the go when you're in outside sales, being able to make and take calls at any time is vital.  However, when you're in sales, you'll also be driving a lot, or need to take notes while on the phone, which is why using a Bluetooth headset is so important.  But, before we get into why they are so valuable in 2019, let's take a look at how they work and a brief history into these popular gadgets.
The technology is capable of communicating two devices with each other via low-frequency radio waves within a range of 2.4 Gigahertz. The advantage of this technology is the fact that there aren't cables or wires needed, giving people free use of their hands while communicating.  However, this technology does have a range restriction, which is approximately thirty feet (9 meters/360-inch).
Lately, this technology has been integrated into numerous mobile phones and tablet PCs available for sale. The technology has been specifically utilized internationally for wireless music streaming, exploring the internet, transferring data, making and receiving a phone call, as well as enjoying your favorite music. If you plan on using it for listening to songs, the technology ought to be associated with the Advanced Audio Distribution Profile (A2DP) functionality, which is a popular feature among most wireless headsets. It enables audio streaming through a stereo headset so that users can listen to their preferred songs wirelessly. Some of the popular tech companies that have utilized this technology include Apple Inc., Samsung, Sony Ericsson, Nokia, BlackBerry, and Motorola.
Things to Consider Before Choosing a Bluetooth Headset
Now, there are several things you should consider before deciding to purchase a Bluetooth headset for your mobile device. Those things consist of audio quality, style, design, power supply, range, and price. The sound or call quality should be the main concern when selecting a headset if you're in sales, because you want to be able to hear and communicate effectively with your prospects and customers.  While choosing a headset with great style is important, functionality is what you should really be focusing on.
Things like battery life, sound quality and range should be at the top of your list. It's pointless if you purchase headphones with below average sound quality. One other thing to consider is going to be the range that the earphone can handle. Search for the headset that's capable of achieving the highest distance or even up to thirty feet range.  You need range so you don't have to have your phone on you at all times.  You can set it down at your desk or a table, and be able to walk around while making your sales calls, without having to worry about dropping the call.
Finally, another thing to think about is the cost of the headset. While saving money is important, in the end you're going to get what you pay for.  Take a look at some product comparisons, such as AMP Payment Systems list of Bluetooth headsets, which reviewed the top-rated headsets of the year.
On the whole, the decision to select the type of Bluetooth headset that fits your requirements relies on the way it correctly suits your needs. In the end it comes down to getting the most bang for your buck.  So, don't get caught up too much in how they look, but focus more on how they operate, and you'll be in good shape.
References
-https://www.makeuseof.com/tag/the-beginners-guide-to-buying-the-right-bluetooth-headset/
-https://www.itworld.com/article/2753966/personal-technology/choosing-a-bluetooth-headset–7-must-have-features.html
-https://www.jabra.com/blog/headsets-and-headphones-buying-guide/