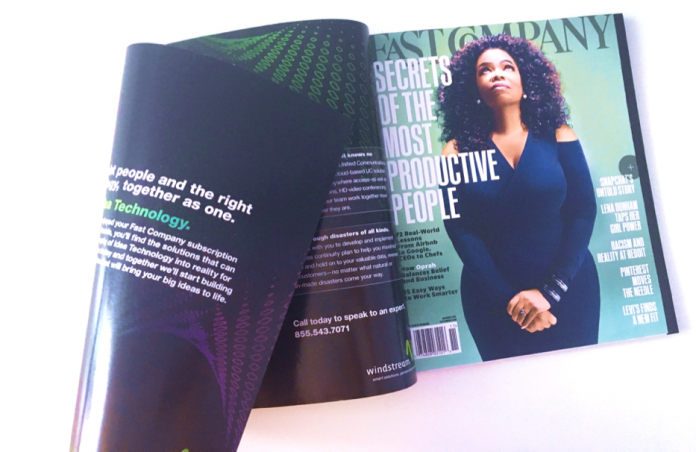 Ever heard of the phrase, "microwave generation?" I'm sure you have but if you haven't it refers to the type of fast-paced society we now live in that has conditioned us to think that everything we do should be instant and yield instant results.
With a good number of consumers in the worldwide population of 7.5 billion, advertisers have had to pull up their socks to deliver a message that is fast, effective and measurable to a target audience which they know will make a positive difference to their bottom line. In the avenue of print, magazines have taken to using cover wrap advertising to do exactly that.
Cover wrap advertising is sponsored ad messages bound to the physical spine of a magazine which may consist of anything from 4, 6 or 8 pages that surround the magazine on copies being distributed to a unique and well-researched audience.
Advertisers have identified two targets that may benefit their pockets. The first is B2B magazines which would be geared toward decision-makers and or anyone in the company's trade channel. It is one to one and is an extension to a sales organization that the said company has difficulty reaching.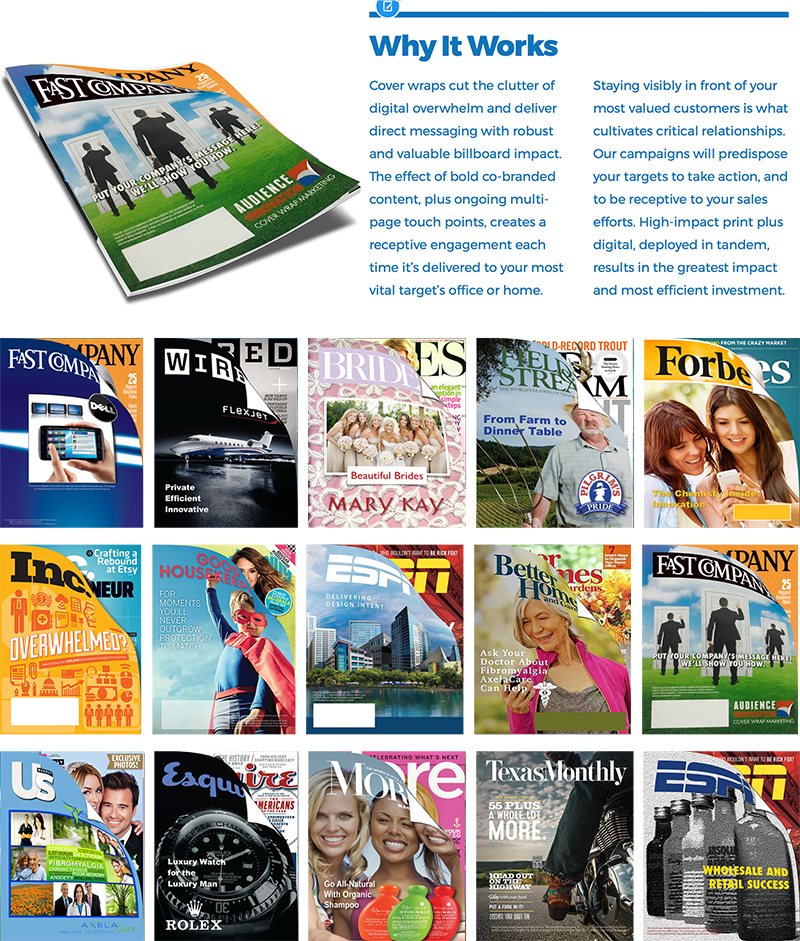 The second can be a public place which uses the same components of the B2B style but is aimed at being distributed to public places where waiting for service is almost always a guarantee. Such places could be at a doctors room or a vet where the reading material would impact the reader in the area of their most pressing concern at that time be it theirs or their pet's health.
The aim of cover wrap advertising is to attract a new audience, drive awareness, educate, build and strengthen the brand, cross-sell, create repeat business, public relations, branding identity, market research, lead generation, positioning campaigns as well as of course, advertising.
The advantages of a cover wrap are that the magazine's shelf life which can be between 30 to 120 days giving it convincing staying power. Another is, cover stories are designed to demand attention with the high-quality images and graphics with colors used to engage the senses and create a visual experience giving customers a WOW factor.
Thirdly, it has been proven to have the highest readership and is a valuable research tool. It is no wonder that popular magazines like Texas Monthly, Fast Company, Forbes, Robb Report, Saveur, Wired, Inc., Good Housekeeping, and US Weekly to mention a few, use cover wraps to reach new audiences and do so successfully.
Cover wrap platforms for magazines has proven its staying power with research which shows that 98% of their readers find them valuable and, there was improved customer retention of 40-70% say the information they received from the sponsor was well-worth the read and as a result, advanced their customer relationship with the sponsor company.
Cover wrap advertisers have even gone as far as using NFC technology in the form of a sticker which houses a chip that connects the customer to their website with a tap from their mobile devices. In a time when online overwhelm is challenging, these co-branded direct platforms cut through the clutter with key messaging for sponsor's most vital targets.
In this information age, it would appear that if that is indeed the direction all magazines will take, magazine cover wrap advertising is here for the long haul.