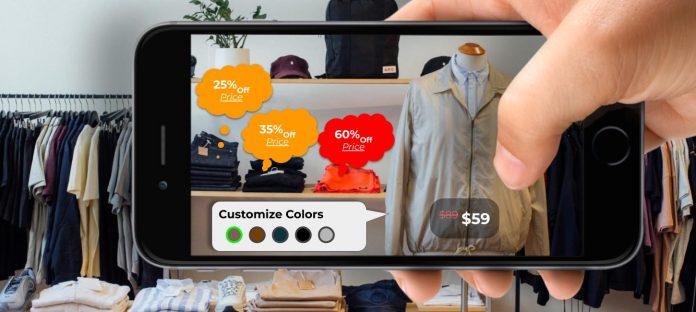 Augmented reality represented by virtual reality agency improves the purchasing process by generating greater interaction with the customer through digital means and personalizing the product offering. This technology can make every shopping experience more enjoyable than before. Using virtual elements is the key.
Augmented reality allows virtual elements to be superimposed on our vision of reality and it is expected that by the end of 2020 it will represent more than 100 billion dollars. What a fantastic fact!
Within the different technologies on the market, augmented reality can significantly innovate in the purchasing process and achieve a new shopping experience with the customer.
In the retail business, customers are always looking for more convenience when buying products and spending as little time as possible. An example of the use of this technology is the smart mirrors that allow the user to see on the screen how the clothes would look without having to try them on.
On the other hand, in many retail stores screens are used that interact with customers and show them the different products as well as purchase options within the premises.
Improve the online experience
Just as the experience in the physical store is important, the constant updating of e-commerce in companies thanks to augmented reality drives sales growth in this channel.
One of the retailers that have used this option has been Walmart that offers a virtual shopping tour in 3D showing nearly 70 items to buy in an innovative way. With this option, the client entering the company's website can view a department where different products are for sale and only by clicking can they know the price.
In many cases, the benefits above can be represented by AR devices such as Remote Support Realwear. This is a kind of smart glass that was created specifically for AR remote support with Argus. No need to operate by hand, this tool supports high-quality audio and video, even in very extreme conditions. This device is equipped with noise reduction and can be operated with voice commands, a reason why it can be operated "in hands free mode". Also equipped with a full HD camera, every video and screenshot taken will be of high quality even in low bandwidth conditions. Do not care about the extreme conditions encountered; hot, cold, dusty and so on, this tool can work optimally.
Back to the retail activities, the use of AR tools like Remote Support Realwear above, the customer has the possibility of seeing how the products are left in his department without having to buy them. Likewise, the information obtained from customers when they use these options helps the company to create more personalized offers. It seems that AR and VR technology will become a necessity for every retail company to continue to compete in the future. This is about how; an artificial virtual experience will enhance the shopping experience. Hopefully this article provides useful information for you. Thank you for reading.