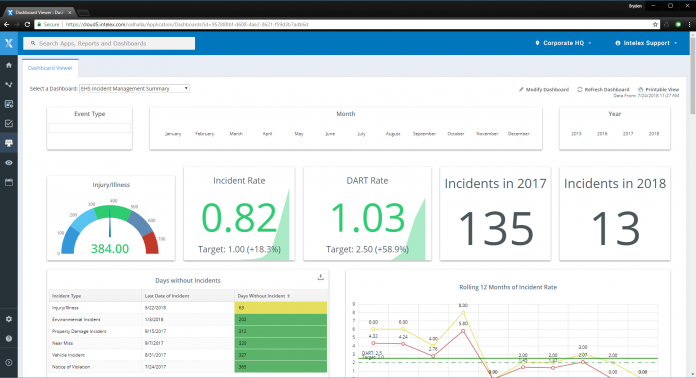 It only takes a split second for a workplace injury to occur. Just imagine. An employee slips and falls over a tool that hasn't been properly stored. In cases, like this the employee is legally liable which means they are responsible for the damages the worker incurred which can include paying for hospital bills, lost wages and any other damages. Workplace injuries cost business several thousands of dollars each year. Most small business don't survive such a setback. What's the solution? EHS software can be helpful in mitigating risks.
What Is EHS Software?
What exactly is EHS software? Environmental, Health and Safety software is a database driven application that helps managers and business owners important components related to compliance and regulations. This data manage by solution provides establishments with the necessary tools to put measures in place that will help avoid workplace incidents as well track incident reporting.
At its core it can drastically improve reporting capabilities, allows for easy data collection and provides a mode for detailed recording and analysis of incidents. In addition, it is the perfect tool to boost overall environmental performance and audit tools. EHS software has a wide range of function that are geared towards compliance.
Manufacturing companies and warehouses have been relying on EHS application for decades. Over the years this software has undergone numerous enhancing making it a much needed tool to effectively carry out compliance and training duties.
Why Do Companies Implement Environmental, Safety and Health Enterprises
Integrating a EHS enterprise is an investment. Why is implementing such a software imperative? Workplace safety is why many business choose to invest in a EHS software. Employee safety is priority since they are the main asset. Keeping your workers safe requires analyzing safety standards set in.place by OSHA as well as company mandates health policies and ensuring that they are adhered too. By being proactive in injury prevention companies  can reduce workers comp payout and recruiting costs involved with replacing injured workers and lets not forget the likelihood of lawsuits.
What are some additional benefits of implementing EHS solutions:
Control Insurance Costs
Unfortunately, workplace accidents and negligence incurs hefty insurance fines. If workplace injuries are a common occurrence this will cause your company's insurance premiums to increase raising operational costs. Insurers view companies who have difficulties maintaining compliance as a risk. An EHS application will ultimately reduce accidents which in turn reduces insurance premiums.
Aids in Sustainability
These days corporations are making an effort to be environment friendly. Being sustainable reduces your organization's carbon footprint which in the end can aud in saving on energy costs. EHS software gives employers an opportunity to implement a sustainability plan based on clear data and actionable intelligence. The Environmental Protection Agency is a federal agency that regulates environmental compliance. The role of this agency is important because they work to control the effects of climate control. EHS enterprises provides businesses with tools to make sure they're organization adhere to guidelines mandated by the EPA. The Environmental Protection Agency regularly updates compliance policies. The right EHS software package can handle everchanging data for audits, regulations, and compliance.