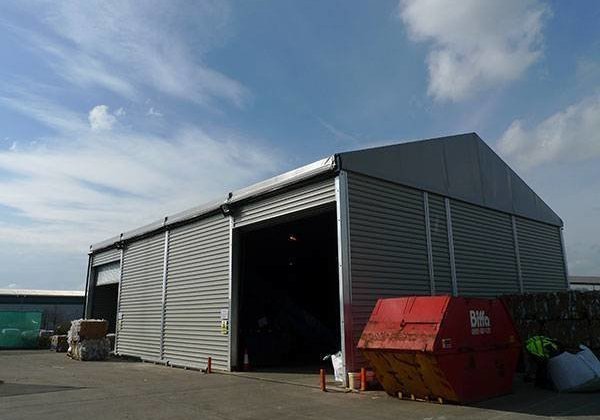 Temporary buildings have long been viewed as the perfect alternatives for space solution. This is because they provide speedy and cost-effective solutions when you are in need of space fast. Therefore, if you need more space for your recycling or waste storage needs, then a temporary structure is what you need to consider. If you are looking for a quick yet efficient way to get rid of your waste, then a commercial dumpster rental is the best option for you. Just by making a call, they will go to your location to pick up your wastes and adequately dispose of them.
Modular structures are also essential when you need space for a short period of time. A temporary structure takes a shorter time to construct and erect in comparison with its permanent counterpart. It also costs a lot less.
What is a waste storage building?
A waste storage building is a structure built for the storage of waste so that it is kept off the ground and away from the reach of the public. It may be stored in containers or even under cover to prevent leakage to the ground.
The beauty of temporary buildings is that they take days to transport and install on their new site, which means they are ready for use in record time. This is because there are no ground-works needed if the site is level. Waste storage buildings are available in a various sizes and you can choose the most appropriate size according to your needs.
They are also built with enough space to accommodate equipment such as auto balers. Temporary waste buildings can be leased on long or short term basis.  You may also opt to own one for use instead of building a permanent structure for the same use.
Features of a Temporary Buildings for Waste Processing
Temporary buildings used for waste purposes come with the following features:
        They can be used for short or long-term projects in place of permanent buildings

        The client has the choice of wall or roof cladding that is appropriate for wet weather

        It comes with options for alternative power providers such as generators, LED lighting, mobile heaters or electrical fittings

        The temporary structure can be linked to existing permanent ones

        It takes as little as a week to be installed on-site as no ground-works required

        It ranges in size from 3m- 6m eave height, to 5m-30m width. The length is open.
Processing and Storage of Waste
Smart Space Temporary Buildings offers a fast and simplified method of installation that saves you time and money. In addition, the designs that are presented for your approval are also created with intention of cutting costs and time.
You also have the choice to rent your temporary structure and you can get to have a feel of it before you commit to owning one. The buildings are versatile and flexible. If you need modifications, Smart Space will be at your service to provide the changes you need as your needs change. It can also be relocated or dismantled as easily as it was put up.
Specifications
The most important thing is to have a building that is high enough for an auto baler. Once that is achieved, then the constructors can go for non-insulated cladding. A canopy structure would also do well. Not only will you cut down on costs, you will also achieve accurate results with this.
Anyone who is interested in keeping the environment clean is interested in waste processing. Temporary building experts such as Smart Space have provided solutions that not only help you to take care of waste in an eco-friendly way but one that may also earn you some extra cash.