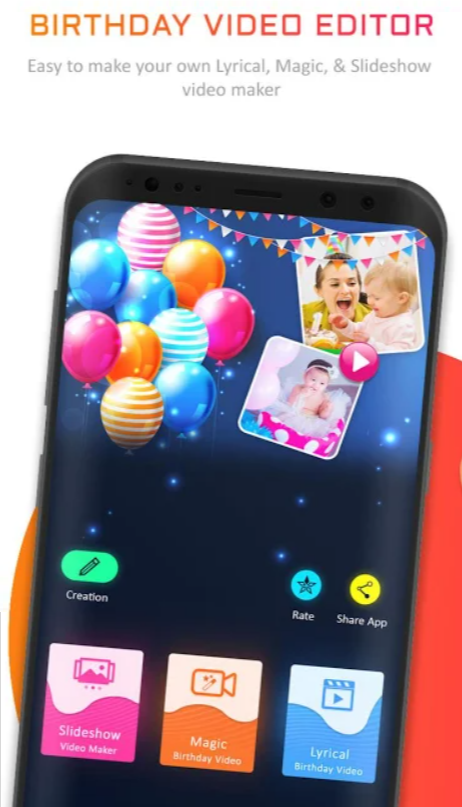 Mobile phones and applications have always played a vital role in simplifying the work which once was an impossible task for a normal user. A user can easily create their own video, photo, or edit their photography. In earlier times before the rise of Mobile phones, people adopted a PC with licensed software like Photoshop, CorelDraw, and much more.
From past years a lot has changed, and so does the lifestyle of humans. There were cell phones and letters that were always used to connect us with our companions. However, today you are only a tap away to connect with your friends or family. 
Likewise, there are several Birthday Video Maker Apps makers that assist us in making memorable videos & photos of our beloved ones and one of them is Birthday Video Maker with Song and Name. One of the reasons why I recommend this app is because of its simple interface with a wide variety of features. People have always looked for an app that can provide max features with a minimum amount of size.
Before we proceed further, I would like to add both advantages and limitations of the app. This will help in clarifying your doubt that can this app fulfill your requisites?
Things I liked about Birthday Video Maker with Song and Name
I have used several birthday applications for making a video and photos. However, what makes me stunned was that there were several other features which I wasn't aware of such as
Lyrical Birthday Video
This was something extraordinary for me which I haven't used in any other apps. However, it allowed me to add the lyrics of the song which had been played in the background. Simply open the app, and go to Lyrical Birthday Video. It will provide you with several Happy Birthday video options from which you can choose your favorite one.
Birthday Invitation video
In today's world, a simple Birthday video maker app isn't enough for the users. It should have several other features that should be researched and added to the app. This feature was among the top why I consider this as my favorite app. This feature allows me to make a Birthday invitation video for my Dad, Mom, or any other family member. I have to simply make a video and share it with the guests.
No need to opt for the traditional way where invitation cards were sent to each guest via letter or phone call. This whole process can be expensive and time-consuming.
Apart from these, some of the other features of the application which I loved to use are
Birthday cake with name and photo

Birthday photo frame

Birthday Video Maker with Song and Name

Magic birthday video maker

Birthday song with name
Things where the app can make some improvements
Compatibility
Not all users will have the latest and flagship smartphones. There exist users who choose to use their device for more than 4 to 5 years. And in this period, several apps update their compatibility with Android versions. For example, my friend is using a Mobile device which has Android 6 version and was bought some years ago. However, this application is compatible only with Android 7 and up.
Sluggishness and other limitations
While using the application I've faced sluggishness several times. Not sure if I'm the only one or other users who are also facing the same issue. However, I hope that this will be resolved in future updates.
Conclusion
Overall as a user, I'm happy with this app and its unique features. After all, everyone has their own preferences for using an app. Till now, this has been a perfect balance for photos as well as video editing for me. I hope that their whole team keeps working hard to solve several issues of other users quickly.