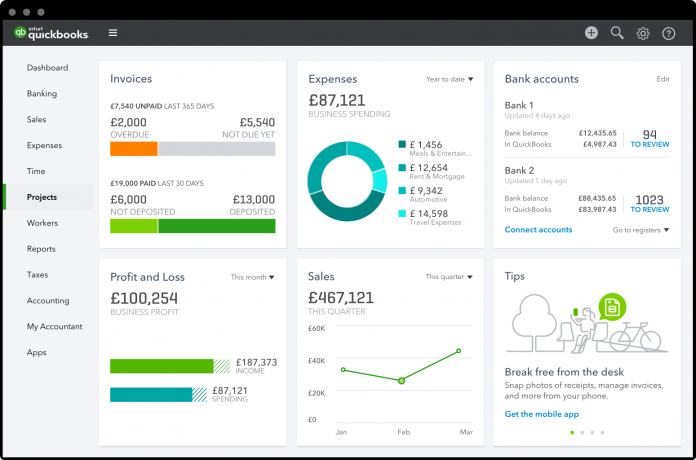 Business these days are challenging to manage even their accounts, especially when you hold a large enterprise. Managing finance department with numerous functions like payroll, account calculations, net expenses, and other operations.
The uncertainty of account management in any business can be problematic. Thus, QuickBooks is good for them. With two significant types QuickBooks Desktop and QuickBooks Online Cost, features and other aspects generally vary.
In this blog, we will compare both QuickBooks type, which will help you choose the best one for your business.
Define QuickBooks?
QuickBooks are well known and used by enterprises to manage accounts. These are advanced developed accounting software to organize your business finance and expenses. It gives your business capacity an easy way to handle income, expenses, invoicing, payments, taxation, etc. It even installed with great features to make accounting easier. 
QuickBooks are of two types-
QuickBooks Desktop-

You need to install it, and it can be hosted remotely. Desktop QuickBooks even gives restrictions this ideal for small to medium-size business.

QuickBooks Online-

This version is cloud-based hosting for managing accounts. It is fully remoted and compatible with multiple users with handy devices.
Note: Precisely, the QuickBooks Online Cost varies from Desktop version, as it depends on features and benefits provided by QuickBooks service provider.
The Similarities Between QuickBooks Desktop vs QuickBooks Online:
Let's talk in deep about both QuickBook versions with similar features.
Invoice creation, scheduling, and sending.

Sales reporting and taxation.

Payable management.

Cloud-based accounts management, remote access.

Expense tracking and cash flow management.

Accept online payments and budget schedule.

Multiple tiers feature.
The Differences: QuickBooks Desktop vs Online QuickBooks:
Here are some of the differences you can find between the QuickBooks Desktop version and the QuickBooks Online version.
QuickBooks Online Features:
Automatic scheduling.

Sending of invoices, automatic transactions.

Tracking of logging actions, reviewing and changes.

Auto-reflex bank account syncing.

Ready reports and management.

Auto-add of documents, signature, images, graphics, transaction details etc.

customer/ client labelling options.

Journal entries and payable management.
QuickBooks Desktop Features:
Here are features you will find in QuickBooks Desktop.
Manage company accounts and finance adequately.

Good in data entry and data review.

Easy to edit and customize.

Automated billing and payroll.

Inventory recording and tracking.

Management of sale orders, invoice generate, mileage tracking, etc.
Types of QuickBooks Desktop:
The different types of QuickBooks Desktop are:
QuickBooks Pro and Pro Plus:

With an array of reliable features QuickBooks Pro and Pro Plus are suitable for small scale businesses to organize their finances. The cost depends on the service provider, such as accounting software. Even the purchase efficiency comes with benefits and customer service options. Generally, a one-time purchase or annual subscription is picked. QuickBooks Pro and Pro Plus are multiple users; that is, approximately three and above people can use it.

QuickBooks Premier and Premier Plus:

If your business has more than five employees and is intended for the QuickBooks desktop version, Premier and Premier Plus are ideal. The exclusive feature and costing make it worth ideal for companies.

QuickBooks Desktop Enterprise:

For advanced accounting tools, QuickBooks Desktop Enterprise is a significant choice. It ensures end-to-end account management service. In fact, you can add barcode scanning and cloud-based data or files. Thus, making it remoted access from any decides, outside the office. These QuickBooks Desktop Enterprise softwares are perfect if your business had more than 40 employees and staff. It comes with different plans as offered by QuickBooks service provider depending on features and plans.
Final Verdict:
QuickBooks Online Cost comes within different plans; thus, you need to recognize your business utility and features you want. Even the QuickBooks desktop version also offers an excellent feature to manage accounts. Thus, whether you have a small-scale company or enterprise with massive employed staff, QuickBooks is the need of time to organize your business accounting solutions effortlessly, timely and properly.