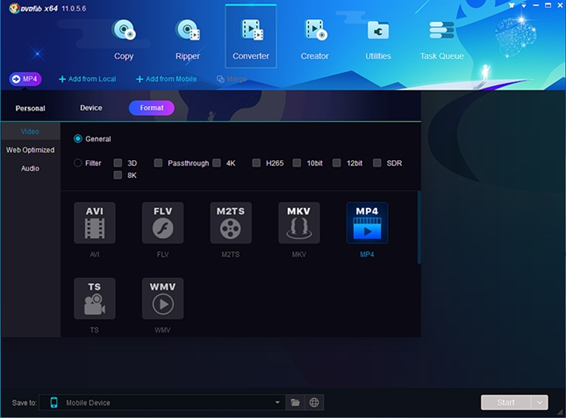 As is often the case that you download a video online, happy and elated, only to find the video downloaded does not play on your target device, say PC or smartphones. Why? In most cases, a video converter turns out to be the perfect solution, if other factors such as network, software and device excluded.
What is video converter? Why do you need to convert a video? What video converter is available for one-stop video processing such as editing, compression and conversion? How to convert videos in a simple and fast way? Here comes a versatile video converting software, DVDFab Video Converter, which will bring you unusual experience.
What is Video Converter
Normally, a video converter is a hardware device that turns one type of video signal to another. Nevertheless, it, in this writing, refers to a software program designed to convert one native file format into another, where the video format consists of resolution, video/audio codecs in use (H.264, AAC and H.265), aspect ratio (4:3/16:9), bit rate and container format (MP4, MKV, AVI, M2TS).
Why Need to Convert a Video
Here are possible reasons why you need to convert a video.
video files with a format or codec that PC or mobile won't play
save and play DVD/Blu-ray movie files on smartphone
email videos that surpasses the size limit of the attachment
upload videos to YouTube, Facebook, Instagram, and Vimeo
send videos to someone in particular format as needed
Considering this, DVDFab Video Converter has everything you need to convert a video beyond your expectations.
Why choose DVDFab Video Converter
read all popular video files from the Internet, digital camcorders and capture cards, and further convert videos on PC(Windows/mac) to mainstream video/audio formats
add videos with wireless transfer App, DVDFab Remote
edit videos via adding titles/credits, watermark(image/text), music and subtitles, and crop/trim unwanted segment
compress videos with GPU hardware acceleration
batch conversion, multi-threading, multi-core with latest tech
This free, powerful and best video converter caters to your needs of video processing in editing, compression and conversion. However, what really counts is to put theory into practice. The following simple guideline comes to your aid.
How to Convert Videos with DVDFab Video Converter
When it comes to the practical operation of this multi-functional video converter, simple steps will guide you to cross the threshold.
Step 1: launch DVDFab Video Converter and load the source
Download, install and run DVDFab 11, then opt for 'Converter' module. Tab '+Add from Local' or '+Add from Mobile' to insert the source, or drag & drop it onto the main UI.
Step 2: choose one profile and customize output video
Move to the left pane and click the profile switcher to select one format or device profile. Then personalize the output content such as video/audio parameters, subtitles, acceleration option, titles/credits, watermark, cropping and trimming, respectively via advanced settings and built-in editor icon.
Here, when you aim to compress a video by converting from one format to another, GPU hardware accelerator speeds up largely the decoding/encoding task.
Step 3: start to convert the video
Tab 'Start' icon to convert the video as hoped. You can see the real-time converting process and detailed information on the progress bar.
Now you must have got the hang of how to convert videos with DVDFab Video Converter within simple clicks, faster and better, to gain your desired videos. Small as it is, this converting software possesses versatile features that suit your demand of editing, compressing and converting a video. ACT NOW and experience this quick and hassle-free converting software!