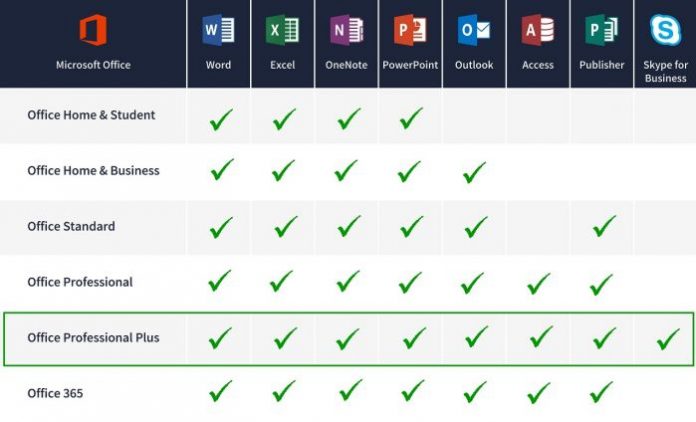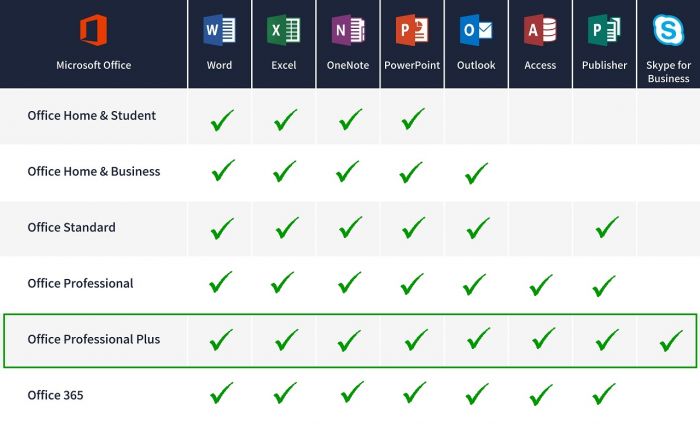 Microsoft Office 2016 is a Microsoft Office Suite version succeeding Office for Mac 2011 and Office 2013. Office 16 debuted on 22nd September 2015 on Microsoft Windows while on 9th July 2015 on macOS targeting Office 365 subscribers. Though its successor (Office 2019) is only compatible with Windows Server 2019 and Windows 10, Office 16 supports various Windows operating systems. They include Windows Server 2016, Windows 7, Windows Server 2012 R2, Windows Server 2008 R2, Windows Server 2012 and Windows 8.
Which Office 2016 Edition is Best for You?
The Microsoft Office Suite has for years been the standard office productivity suite for big businesses, students and home uses. With the various versions of this suite available, choosing one for your personal use can be challenging. In this guide, we help you understand Office 16 editions (Standard, Pro and Pro Plus) for you to decide the most ideal one.
Microsoft Office 2016 Standard
Microsoft released Office 2016 Standard targeting businesses in need of the Outlook email program and desktop Office programs. The term "Standard" suggests that this Office Suite is suited for several businesses though it comes with fewer applications than the Pro suites. Office 16 Standard comes with programs such as OneNote, PowerPoint, Word, and Excel. All of these programs are more interconnected and interactive hence allowing you to work smoothly.
How to Purchase Office 2016 Standard
Office 16 Standard is only available for purchase through volume licensing With volume licensing, you can buy it for bulk use in your company. You may find it as an ideal option for your entire business. However, Office 2016 Professional may be an attractive option if you want a suite to solve your business needs.
Are There Any New Changes on Publisher and Outlook?
The Publisher program on Office 16 Standard can help you make publications and advertisements look more attractive and professional. You can rely on it to cater to your business needs. Outlook, on the other hand, comes with incredible features for networking your business email. You may use it to maximize email usage, manage contacts and securely share information.
Microsoft Office 2016 Professional
Office 2016 Professional was designed to feature all advantages of Office 2016 Standard plus a Microsoft Access program. Your business can rely on this Office productivity suite for more efficiency and productivity. Since no volume licensing is required, you can buy it to help run your private venture.
What Does the Access Program Feature?
Office 16 Professional comes with Access, which targets business handling bulk data. If your business fits this criterion, you can use Access as an advanced database designed to outshine Excel. The program allows for the storage of thorough and more complex records. You can even compute more complex equations on Access.
Access also boasts an interconnectivity feature, which helps eliminate redundancy. You can use this feature to have repetitive information from other programs filled in Access. The feature is compatible with both Excel and Word.
Microsoft Office 2016 Professional Plus
While the price of Office 2016 Pro Plus may seem high, this Office Suite combines all the advantages of Standard and Professional editions. You can consider it as an incredibly valuable desktop version of the Office productivity suite. Skype for business is the standard feature in Office Pro Plus.
Can You Buy Office Pro Plus Through Volume Licensing?
Professional Plus and Standard are the only editions of Office 2016 that you can buy through volume licensing. In this case, you will be purchasing for multiple users. The primary feature in Pro Plus, Skype for Business, makes this suite a more attractive option for multiple users.
What is "Skype for Business"
Microsoft first introduced Skype for Business in the Office Pro plus edition. Using this feature, you can collaborate on projects or communicate easily. Skype for Business comes equipped with video conferencing and messaging features for communication and collaboration. You may need it when handling complex projects involving many participants.
How Do the Three Editions (Standard, Pro and Pro Plus) Compare to Office 365?
Office 365 offers more options for you and your company that you may not find in these three one-download editions. Office 365 works as a version of the Office productivity suite that's only available through a subscription-based model. You will have to pay a monthly or annual fee to subscribe to this suite.
Every Office 365 user gets 1TB worth of cloud storage courtesy of OneDrive. Many Office 365 versions can also be installed and used on multiple tablets, computers or phones. Furthermore, the updates are completely free allowing you to stay up to date with the latest features. Unlike Microsoft 2016 editions, Office 365 boasts of more advanced interconnectivity within networks and programs allowing you to edit your documents in real time.
Final Thoughts
The three Office 16 editions each offer various advantages depending on your reasons for choosing them. Consider choosing one with the programs, pay system and features that appeal to your company or personal use. Get one with a pricing plan you can afford.