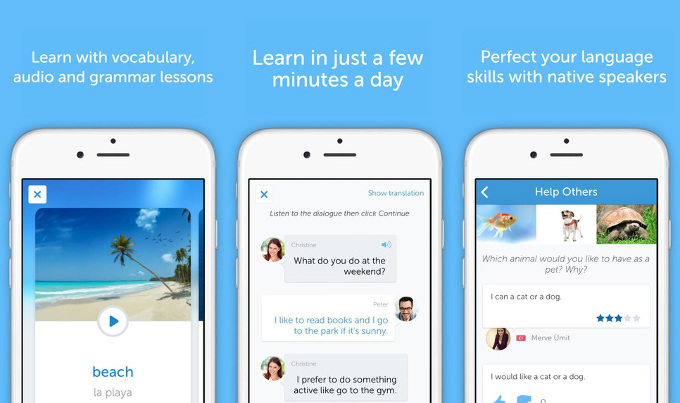 In the internet world, many kinds of apps are available to make your life easier. They include language-learning apps. In the past, language learning could be a stressful thing, as you had to deal with formal classes, where you could not fully explore language proficiency. Now, language learning can be a fun, as you can do it by using smartphone.
Language learning is one of the strategies for continuous self-improvement. You can improve your performance and personal values at workplace by means of language proficiency. Foreign language-learning apps can help you through the process and make the process less stressful. By learning foreign languages, you can enhance self-confidence and get the chances for growth.
Recommended Language-Learning Apps for Android and iOS
Learning foreign language can be a fun thing to do during your leisure time. Besides improving self-confidence, foreign language proficiency enhances your values and chances for promotion at workplace. The following are some recommended language learning apps to help you:
LingQ
When did you learn to speak in your native language? You will not get an accurate answer for the question. You learn the mother tongue from the first words you said when you were a toddler. LingQ uses the same premise to help foreign language learners. The point is by integrating the language learning process into your daily life.
The more often you use a foreign language, the easier and the faster for you to acquire proficiency in the language. For this, LingQ offers a number of great features to help the learners:
Look up and Save. The feature allows you to find news worlds and phrases and save them for review and future use.
Read & Listen feature. LingQ is supported by a powerful technology to make reading a breeze. The apps provide some great e-books for reference. Reading books in the new language becomes a powerful tool to internalize the language-learning process;
Measure Your Improvement. You can use the feature to track your progress in acquiring vocabulary and activities in the target language
Online community. Besides helping you in learning a foreign language, LingQ allows you to join a live conversation with native speakers. This is certainly one of the most effective ways for acquiring language proficiency. Make friends and communicate with the native speakers.
Import web contents. The feature allows you to highlight phrases and words you are learning. This is an effective way to grow your vocabulary and grammar knowledge in a natural way.
With LinqQ, learning language becomes a fun thing, as it is simple and hassle-free. It is one of the best free language-learning apps to transform the way you learn a foreign language. It makes language-learning process easier, more efficient, and fun. LinqQ is free for Android and iOS.
Lingbe
Have you imagine making a call with native speakers during the language-learning process? Lingbe is one of the few foreign language-learning apps that allow you to do so. This language exchange practice app is free for Android and iOS. Among the best features available in this app include the following:
Free instant calls with native speakers. Talking with native speakers make foreign language practice perfect, right?
Community-Based. Unlike any other language-learning apps, Lingbe comes as a community-based language exchange app. The app allows you to practice anywhere and anytime. While waiting for the bus or sitting in the car, why don't you improve language proficiency by talking with people from different countries.
Automatic tracking. Lingbe tracks your language-learning progress. You can measure your achievement regarding vocabulary, pronunciation, and fluency. The app provides you with constructive feedback after each conversation. It automatically works and tracks your progress while you are talking.
Woodpecker Watch
As the name suggests, the app provides the language learners with free videos that help you in practicing new language. Features on the app encourage you to immerse yourself in a new language by watching videos and shows. The free app encourages you to practice newly acquired vocabularies and learn tones and accents while watching videos, popular shows, movies, TV shows, presentations, and interviews.
Currently, the app is available in English and some other languages, such as Vietnamese, Spanish, German, French, Japanese, Chinese, and Portuguese. Other features on the app include built-in translator and double subtitle stream.
Those Language-learning apps are among the most recommended free choices for foreign language learners. You certainly can find many other options. The point is: choose one that fits your learning style. If you prefer learning by reading, LingQ is the choice. If you prefer talking to native speakers, Lingbe is for you. And, if you prefer learning by watching great contents, then Woodpecker Watch is the answer.