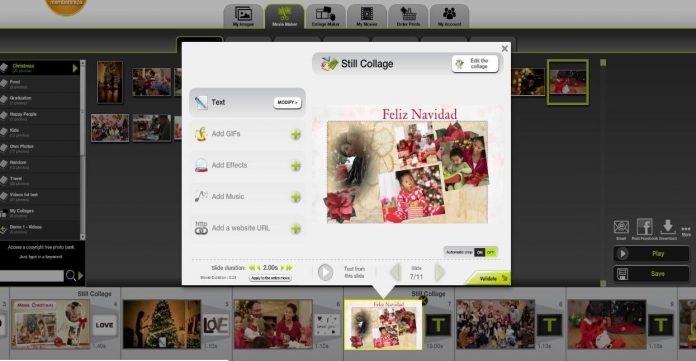 Video editing is nothing but the positioning and manipulation of shots of videos. Video editing is required when one needs to construct and present information of the video which includes movies, television soaps, and advertisements. There are many instances where people are required to create a film or video.
Some people hold very small parts in the art of film making while others hold a substantially larger part. Video editors play an essential role in creating or finishing up a film or video.
It is essential to sort through the footage and pick effective parts of the video that requires editing, sequence the video in a proper manner. The video editor helps in creating a flawless final product.
Kizoa and Animoto are two well-recognized names for online video editing tools which are commonly used by beginners as well as professionals. Wondering which one's better out of the two? Let's have a quick look on Kizoa vs Animoto.
Kizoa:
Kizoa is an online video editing tool which is used by editors of all levels. Kizoa is used for the construction and development of slide shows mostly. A huge variety of animation and effects are available here.
Users can create a free account of Kizoa and make use of the basic editing tools with a lot of features and characteristics whereas the premium version provides many advanced features and characteristics.
The easy and simple editing tools make it one of the best choices of online video editor tools which educators and learners can use. Trying a free and basic account to learn the slideshow process is suggested.
Advantages of Kizoa:
It is very easy and smooth to edit details such as the timing, duration, size, color and position attributes.
Additionally, personalization of things such as text and animation tools are also available.
Furthermore, users can start editing immediately and hassle-free without any registration. The free account of Kizoa has many considerable factors that beginners, as well as professionals, can make use of.
Disadvantages of Kizoa:
The user interface has confusing options which are disturbing to some people. Kizoa offers very limited features that are associated with cheaper plans. Like any other online video editing software, Kizoa has bugs that are to be fixed.
Lastly, only the Pro Plan offers a full HD recording. Kizoa offers many features indeed for slide show development and construction, but it can only be used online. Fast and quality internet connection is required to explore this editing tool. Hence, it is always better to search for alternatives which can get your editing done when you are offline.
Animoto:
Animoto is a video creating and editing service which helps to produce video clips and music into slide shows and presentations. It is cloud-based and is considered as one of the scalable applications which were originated and developed in the beginning stage of cloud computing. It is available online and for mobile platforms. It consists of free plans and upgraded paid accounts. Animoto was originally based in New York City and held an office in San Francisco.
Advantages of Animoto:
While using this online editing software, one can easily shift between formats such as square and landscape to create videos that fit the requirements. The user can choose the aspect ratio for their videos from the scratch or change from square to landscape, vice-versa and back again.
the user is enabled to select any of the available 28 fonts and also a logo. Updating of text and background colors for individual and group blocks can be done as well. The user can also set the entire color scheme for the entire project in a mere click.
The music icon can easily adjust the volume and quality of the background music in the video. This allows the user to make the sounds louder for a better impact or softer to make the video clip more dominant. Turning the volume all the way down is also an option if the user wants a silent video.
Animoto also enables the addition of quotes. Including quotes in videos always helps when you want to catch the attention of the audience. They help your video in standing out on social media and also act as an attractive feature. The user can share reviews, testimonials, and quotes with a few clicks.
Splitting of the screen is offered by Animoto. The user can access the screen with an image or a video clip on one side and text on the other side. The user can create a story without deleting an image or video clip.
Disadvantages of Animoto:
There are very limited disadvantages when it comes to Animoto. The free and cheaper version of Animoto comes with watermarks which are sometimes agitating. The pre-set templates are also limited in variety, and there are absolutely no 3D effects in Animoto.
When it comes down to these two online editing tools, Animoto has much better reviews and testimonials as it has many advanced features and characteristics when compared to Kizoa. Likewise, Kizoa has attributes which are unique from Animoto. It is important for the user to choose the online editing tools as per his requirements.