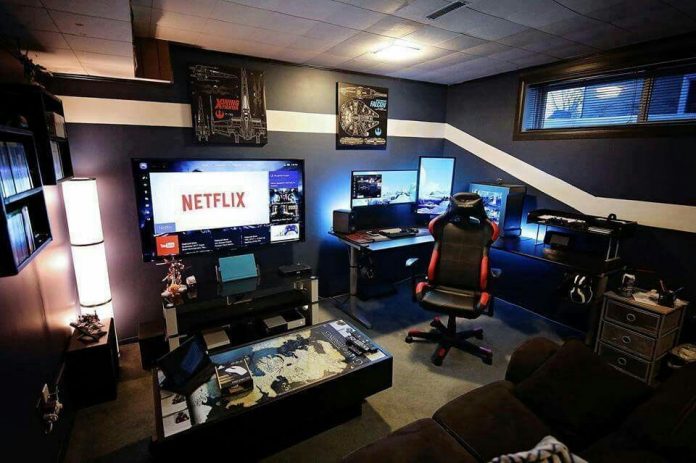 If video gaming is coming to your home soon, making sure you have your place set up correctly is important.
Unless you are going to play elsewhere, your home should be organized so playing video games is fun and not a chore.
With that being the case; will your home be the perfect setting to be a video gamer?
What Will You Need at Home?
In setting up your home for video gaming, do you have an idea of where you will most likely be playing inside?
Among some options if you have the space would be the living room, family room, office area or bedroom. The kitchen is typically not the best setting nor would be a bathroom for obvious reasons.
Your room of choice should offer the following:
Relaxing setting – You do not want a room with high traffic volume. If it has such volume, concentrating on your gaming could be hard to do.
Temperature setting – Also find a room where the temp setting is good. If you plan on playing for an hour or even hours at a time, you want to feel comfortable.
Good lighting – Make sure the room offers optimum lighting. If it is too dark or bright, this can make it more difficult to concentrate on your play.
Room with a door – Last, your room of choice should also have a door. This allows you to close it should you want a little extra privacy.
Once you have a room in play, you can set up your video gaming needs.
Speaking of needs, one of the top pieces of gaming equipment for you to select will be your headset.
Whether this means Xbox Series X headsets or others take time to find what is best suited for your needs.
Among the decisions to make will be if you want a wired or wireless headset.
You can do research on both to see which would be a better fit for your gaming needs.
One option is to check in with other family and friends playing video games. See if they prefer to go with the wired or wireless option.
The right headset also offers top sound, filter away distracting noises and be easy to care for.
As you look for a headset and other valuable gaming equipment, use the Internet to help you out.
One nice thing with going online is you can review different gaming websites. See which items you need to play are most recommended. This is through gaming experts and of course people playing video games regularly.
Finally, playing at home can mean a little spirited competition among family members.
When you have more than one game enthusiast in the family, it can mean going against one another. That can be more exciting than always playing the machine.
If the whole family decides to get in on the fun, you could even have some competitions from time to time.
In setting up your home to be a gamer, do your homework and find what equipment and setting are best suited to you.
From that point on, it is game on.