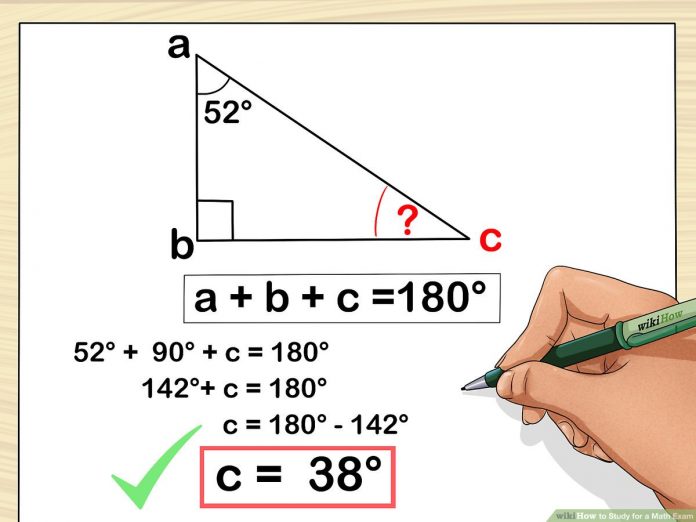 Maths can be stressful when exams are approaching. But you can reduce the stress if you can make the most of the time you have till the exam.
1. Get sorted first
Make a list of topics which you need to cover as it's a kind of tidying up. Also, sorting makes you feel relaxed and at ease.
2. Discipline is the key
Be strict and disciplined about your schedule. If you've decided that you will finish two of the mathematical topics like real numbers and sphere Volume today, make sure you just take the scheduled breaks in between and do not waste time in other things.
3. Treat Yourself
If you follow what you planned and achieve the target of the day, then give yourself a treat as it will help you to look forward and stay motivated at the other planned activities. During breaks, put all thoughts related to maths and school away.
4. Don't just read, Practice
Maths is all about practicing. Practice the problem questions on your own too after reading it. The more questions you will solve, the more confident about the topic you'll become. The more you revise the topics like real numbers and sphere volume, the better you'll perform in exams.
5. Practice other topics too
Repeatedly practicing the topics you already know well, makes no sense. You should also practice other topics too because the exam paper would consist of all types of questions and not just one. For example, you like real numbers as a topic and keep practicing on the same but ignoring the topic like sphere volume which has a higher mark weightage in exams, would fetch you fewer marks. So maintaining a balance is important.
6. Ask for help if you feel like
In exams, no one would help you in solving the question, but during revision time you can ask for help from your buddies, tutors, and teachers. You can also watch videos on various topics available online or on educational apps. Just don't feel alone and get stressed about exams.
7. Take a Practice Exam
Find some unsolved problems and practice them as tests. The more you self-test on a particular subject, the more you'll be aware of your weak points. Next, you can start practicing for the questions you found difficult to solve during the practice test. Also, you can revise a particular topic and take a small quiz afterward to see whether the concepts are clear now.
8. Make a list of important formulas and concepts
Making a concise list of important concepts and formulas always help and comes handy. You can make it at the time of revision.
9. Have a good night sleep
It is important to have proper sleep and rest before the exam to apply what you've learned in the exam.
Last but not least, Don't panic.
Students can subscribe to BYJU'S YouTube Channel to watch all the mathematical topics in a fun and engaging way.