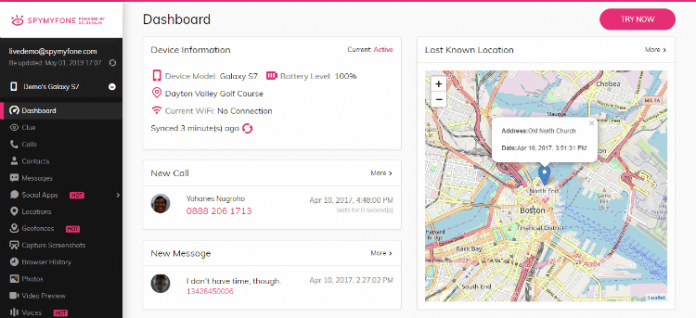 If you are concerned about your child's or your partner's social life on the internet and want to take a quick look over it, then SpyMyFone is a great tool to do so. The application does not require special permissions to install and spy over the device.
SpyMyFone is a great application to spy over someone's social media handle to access and view their messages in order to keep an eye over them. All you need to do is, install the application on the target device. Then you can easily access all details present on the mobile device of the target up to your wish.
Following are the features provided by SpyMyFone to you if you use this tool to spy over anyone you want.
Access Chats and Messages over social media handles.
You can access to spy chat and messages across many social media platforms such as WhatsApp, Facebook/Messenger, Tinder, WeChat, Instagram and many more. Users can access chat even after its deleted from the device.
Set alert notifications.
One can easily set notifications for alert, when a message is sent/received to/from a particular contact. More than one contacts can be added to this list.
Monitor app usage.
Monitor the usage of any application remotely from your device. Users can monitor any number of applications from the target device. Also, they can get in-depth details regarding the usage of the application regarding the apps.
Manage screenshots of chats across all conversations.
It is one of the exciting features of this application as you can take necessary screenshots of the chats and messages in conversation on any application on the target device. Taking multiple screenshots from the target users phone without letting them know is an amazing feature of this app. Moreover, the screenshots can be loaded on your device in no time by using the interface of the app.
Conclusion:
SpyMyFone is a great application in order to spy over anyone social media accounts. You can access chats, messages, media such as images, video and other documents over any social media platforms like Whatsapp, Facebook, Tinder, WeChat, Instagram and many more.
You can also take any number of screenshots from the target device without the permission of the device owner and download it on your device via the app. It is a great feature which helps to keep a record over chats and shared messages across all conversations.