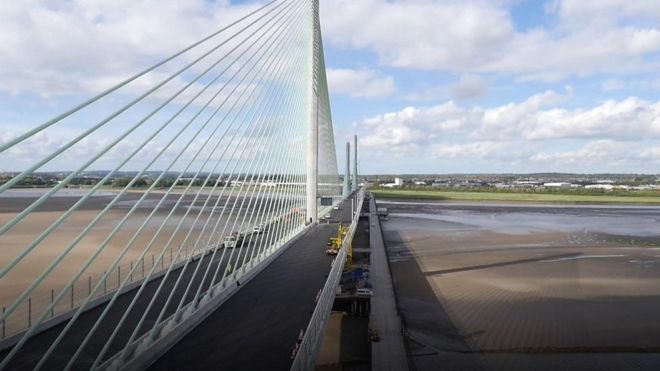 Opened in 2017, Mersey Gateway Bridge between run corn and wildness has become quicker route. Not only quicker but also it has become one of the most reliable and accessible road across the Mersey river. Naturally, you need pay toll at every time you would cross the bridge. So before you are going across the bridge let's take a look at the run corn bridge toll how to pay. This will help you a lot as you are first timer to cross the Mersey gateway bridge toll.
Cost of Crossing Run corn Bridge Toll
If you are taking a class 2 car across the bridge in general the cost is £2. But the cost may be reduced to 10 percent less, therefore it enable you to pay only £1.8. To get this opportunity you have to register beforehand and create a pre-paid sticker account. And what is pre-paid sticker account can be discussed later. However the cost of crossing the bridge will vary depending upon the vehicle class you are driving on. As in, the cost of taking a class 3 car across the bridge is £6. You can even create a monthly basis account if you journey going to be frequent. The monthly account enables you to have convenience and reduction of you per crossing cost at the run corn bridge toll. However to get more detailed price table you can visit run corn bridgetoll.co.uk or call on 08454550156.
Pre-paid Account
Now let's talk about the registration and the pre-paid account. You can create a pre-paid sticker account to get redemption of 10 percent each time you cross the bridge. And you will get wide screen sticker every time. It does not differ depending upon the class of vehicle you are driving. You can get this offer for every car and each time of crossing the toll.
There is another type of pre-paid account call video pre-paid account. This account is similar to the pre-paid sticker account but you can get price redemption of only 5 percent. And then you will not get any wide screen sticker along with it.
For the both type of pre-paid account you are asked to deposit a amount of £30. The money will be deducting each time you pass the run corn bridge toll on Mersey River. So, It is better to have pre-paid sticker account as you are getting extra benefits.
Auto Payment
One can enable auto payment option at the time of registering for the pre-paid account. Now what is auto payment account? It is nothing but more like a mobile SIM pre-paid account. You will be using the remaining balance of your pre-paid account. When the balance of account gets lower it will automatically get recharge from your linked bank account. The limit of auto recharge can be customizing as per your requirement. This option of payment stops you getting worried if the account balance is low. However it is not mandatory to use the auto payment option. You can skip this recharging manually whenever you wish.