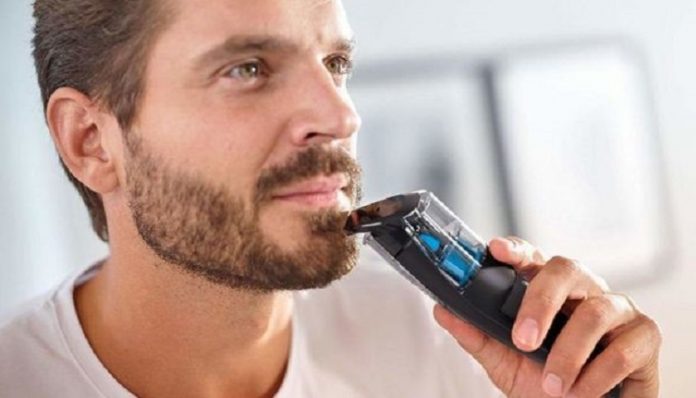 One important thing to keep in mind, before we go into our detailed review, is that the best beard trimmer for one person, won't necessarily be the best for you. You first need to determine what your needs are. Are you looking to maintain a neat long beard, style your goatee, trim your stubble, create a sharp neckline, or maybe all of the above? Once you figure out what your needs are, it will be a lot easier picking the best beard trimmer for you; however, to make things easy for you, we identified the best performance trimmer on the market, and it can fulfill any of these needs.
Outlining:
The process of lining your cheek line, and neckline. The best trimmers for this task are the ones that possess the sharpest and closest cuts.
Styling & Detailing
The process for detailing your beard in the hard to get to places, such as trimming your goatee. Another styling feature includes fading your beard. The best beard trimmers for this task are ones that have a thin and accurate blade.
Maintaining
This trimming technique involves maintaining a certain beard length, whether that is 1 mm or 1 foot in length. The optimal beard trimmer for this process is beard trimmers with a large array of length selections & attachable combs, along with a nice wide blade that allows you to trim effectively and efficiently with one pass.
Stubble
The process of maintaining a .5 mm stubble. You could argue that this falls under maintenance as you are maintaining a beard length. However, there are specially made trimmers designed specifically for this objective, such as the Conair IStubble, which is on our list.
Types of Beard Trimmer
Rotary: rotary trimmers are designed to follow the contour of the face. Electric rotary trimmers have spinning heads that can maneuver around the difficult to reach areas like the chin and neck. Hair is caught in heads' opening and is cut off as the blades move in a circular motion.
Because of the mechanism of a rotary trimmer, this type is best for men who have longer and coarser hair. That is, they don't shave on a daily basis and let their facial hair grow out, but want a clean look every once in a while. A rotary trimmer is also great for those who don't clean out their trimmers frequently and have hair that grows in different directions.
Foil: on the other hand, foil trimmers are recommended for men who have fine hair and prefer to shave every day. The term "foil" refers to a layer of metal that covers the blades, making it gentler and more practical for those with sensitive skin. A foil trimmer also typically gives a closer shave compared with a rotary trimmer. This type of razor is also great for more detailed work such as trimming around one's sideburns.
Though each type is recommended for a certain kind of person or facial hair, it would still depend on the user whether he would like to follow the advice or not. Trying out both types can help you decide whether you like rotary or foil trimmers better.
IMPORTANT FACTORS TO CONSIDER WHILE BUYING A TRIMMER IN INDIA
Corded usage: Corded usage means that the trimmer can be used while it is charging. When you are in a hurry to go somewhere, you check the trimmer and you found that the battery is low. In this case, trimmers with corded usage feature can help you. You can use it while it is plugged so that trim your beard while the trimmer is charging. This is an important feature to consider while buying a trimmer.
Recharge time: It is the time taken by the trimmer (battery) to fully charge. Low-cost trimmers take a long time to fully charge. Best trimmers take less time to charge. You should buy a trimmer than can be fully charged within 1 hour.
Run time: Run time is the time which the trimmer can run on the battery after a full charge. Run time also an important factor when deciding which trimmer to choose. Some trimmers allow about 60 minutes of run time on a single full charge so that you can use it again and again without the worry of charging. Get trimmers with at least 45 minutes of run time.
Blades: Blades are the only thing that comes into contact with the skin. They are trimmers with stainless steel blades and even trimmers with titanium coated blades. You should ensure that the trimmer blades are made of at least stainless steel so that blades will not corrode over time. Also, ensure that the blades have rounded tips so that they will not be any cuts or scratches on your skin.
Precision settings: There are trimmers than can give precision up to 0.5 mm. Getting a trimmer with the least precision can get you cleanly trimmed beards. The best trimmers in the market come with 20 length settings.
Cord length: Cord length is not an important factor while choosing a trimmer. But there should be enough length so that the trimmer can be used while connected to the plug.
Warranty: The length of a warranty should be considered when buying the trimmer. Philips gives a total warranty of 3 years when you register the product with them.