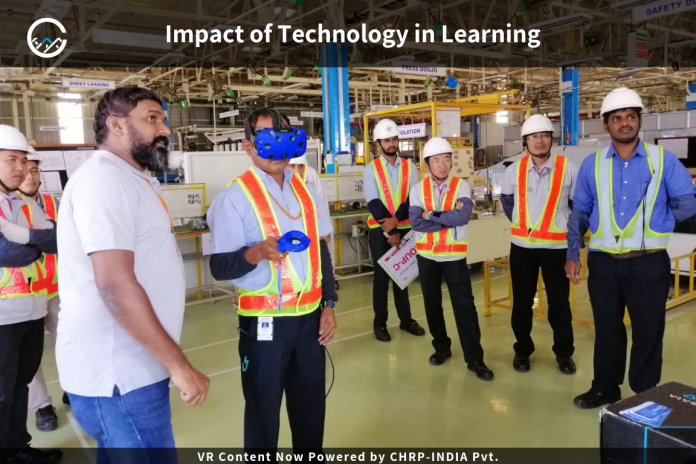 The role of technology in today's world of education
Teaching and learning is no longer passive with just books. Thanks to the advent of technology, it has become very interactive. The introduction of immersive technologies in classrooms created an unparalleled experience in learning for students. Students taught with the aid of technology were 16% more accurate in short answers and had increased engagement, found a study conducted by St Catherine University.
It is a fully-digital world, with an average adult spending over 5-7 hours a day on the internet. Today's school-going kids, have grown along with this digital boom. Kids who grew up along with technology find it familiar to learn and interact with it.A Geer and Sweeney research found that the use of media and technology meant better understanding and supported greater collaboration between students.
The use of technology like Augmented Reality (AR), Virtual Reality (VR), Artificial Intelligence (AI), Robotics provides an efficient way to represent a model that needs visualisation. AR and VR provide a seamless interaction between the real and virtual world. They enable field visits within the four walls of the classroom, thereby increasing visual retention.
Applications of e-learning and VR in education

Improves knowledge retention: In their formative years, students learn several subjects during the course of a day. Complex concepts in certain subjects require a practical or simulation based learning for them to understand better. E-learning facilitates a great level of independent and personal learning, based on each student's pace of grasp.A visual memory appeals to students within 0.01 seconds, studies suggest! Students learn as they see, thereby sub-consciously retaining knowledge.
For instance, AR smart glasses address the skill gap in training and surgical assistance by overlaying digital information on a patient's body parts. With Mixed Reality glasses like the Hololens, medical students can better learn human anatomy, equivalent to training with a cadaver for surgical precision. Research suggests that using Google glass in surgical and other medical propositions have an acceptance and feasibility rate of 91%.
Improves mastery of abstract subjects: Imagine learning about an acute triangle or air pressure cycle in Geography with mere theory and facts. These are abstract concepts and are understood better when demonstrated. Virtual Reality and E-learning bring such abstract subjects to life with their overlay and video demonstration capacities. Furthermore, they enable students to 'feel and learn,' thereby offering a greater level of interactivity. For engineering students, a MR workflow would let the student interact with objects with either virtual labels tracking real objects being manipulated.
Reduces classroom disruption: Technology is impacting students with learning disabilities with their ability to include learners from all walks of life. Be it a child with autism or down's syndrome, AR, AI and VR have proved to improve their attention span. They help students in expressing their self, improve their interactive behaviour.
Cost effective field trips: Be it the mountains of Europe or the Pyramids of Gaza, students get a chance to view them as if they were there. All thanks to the technology of VR. When it comes to lessons in History, VR enables bringing bygone eras alive, peeking students interest in the subject.
Disruptive technologies like AR, VR and AI are changing the face of education as we know it.
Integration of these technologies benefits teachers along with students. Teachers can impart knowledge and facilitate learning in a simple way. Use of technology in learning should be focussed on student centred learning. These technologies have become the new basic skillset to work around just like emails and mobile apps.
As technology enhances business processes, more and more companies are adopting them. They have proved to save time, cut costs and increase efficiency. And as disruptive technologies grow, thousands of jobs will be created, and several others' skill sets will widen. When students are introduced to technology from school, they will be better prepared for a digital world ahead.
Why CHRP-INDIA?
CHRP-INDIA provides custom AR, VR and MR based content solutions and XR Infrastructure services. We work with technologies like Unity3D Engine, HTC Vive, Oculus Go, Leap Motion controller, Magic Leap, Hololens 2.0, etc to offer businesses world-class immersive technology solutions.
We have deep domain experience in Industrial / Engineering industry, where XR can be leveraged to enhance the level of efficacy in Marketing, Design Review, Training areas like (Safety Awareness, Equipment Operations, Service / Troubleshooting, Maintenance Training and etc.)
If you would like to know more about our Virtual Reality Safety Training (or) would like to book for a live demo to experience the virtual reality and talk to our experts, Call us on +91 40 6634 0090 / 91 (or) write to us vrdemo@chrp-india.com