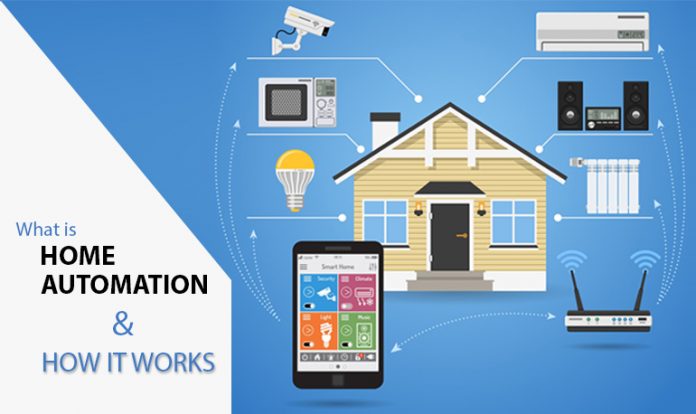 Hoverboards, computer-controlled ovens, and pizza rehydrators a la Back to the Future are still the stuff of science fiction, but thanks to home automation systems, today's homes can pull some amazing stunts. With smart automation technology, many basic home operation and safety functions can be controlled by your cell phone, whether or not you are in the home. When you have the right devices and home automation system, you can truly have a home of the future.
What is Home Automation?
Home automation means programing and scheduling your home devices, and enabling you to control the devices in your home from your phone, no matter where you are in the world. These devices might include thermostats, sprinkler systems, smart speakers, electric outlets, doorbells, light bulbs, and more.
Home automation can also help keep your home safe and secure as you utilize automatic security systems that include locks, windows, smoke detectors, movement sensors, and cameras. Basically, anything that can be connected to a network and controlled remotely is an example of home automation. Another term for home automation is "smart home."
A home automation system integrates many of these services into one network or system. It is possible to set up a system yourself but several companies, like AMP Smart, provide these services, allowing you to set up your security, home heating/cooling, light bulbs, and other systems all at once. These systems include controls for remote operation, options for scheduling, and text message alerts if there's a security threat or if something isn't functioning properly.
How Does a Home Automation System Work?
A home automation system works as a series of sensors, controllers, and actuators. These systems work together to operate an automation system and give you control of your home processes.
Sensors monitor changes in weather, motion, temperature, and make adjustments to settings accordingly. For example, a smart thermometer may monitor the weather when no one is at home, and then changes the settings accordingly. The homeowner will be able to set or override any settings.
Controllers are the WiFi-enabled devices used to operate the smart home features and also receive messages about the system. This might be a smartphone, computer, or tablet. And, the actuators are the physical home features themselves—a light switch or a motor—that is programmed to be activated remotely by a controller.
Because of these technologies, we can now connect anything from a hot tub to a washing machine to your smartphone and you can program it to operate as you desire, whether you are at home or away. This is possible through a technology called z-waves. Think of z-waves as similar to WiFi or Bluetooth: an invisible wireless network that allows devices to sync up and communicate. Z-wave networks are generally better for home automation systems because they can support a large number of devices without interference or competition for data. Most major smart home manufacturers offer z-wave enabled devices.
How to Choose a Home Automation System
When it comes to choosing a home automation system, there are a lot of options out there. Look for a provider that offers z-wave technology, integrated controls, and the security and safety features that you want in your home.
Basic packages might include door and window sensors, sprinkler systems, controls for lighting and temperature, door locks, and appliance controls. Additionally, good customer service and reliable systems are the top priority.
Before committing to any company, do some research. Check their offerings and, most importantly, read home automation system reviews online. These home automation system reviews will give you a good idea of what to expect from a company in terms of quality and service. Knowing what other people have experienced will help you decide if a particular home automation system is right for your family.
For better or worse, the future is now. Smart homes are a great way to get peace of mind regarding energy efficiency and security in your home. A good home automation system will help you rest easy at night, knowing your home is secure and running according to your preferences.