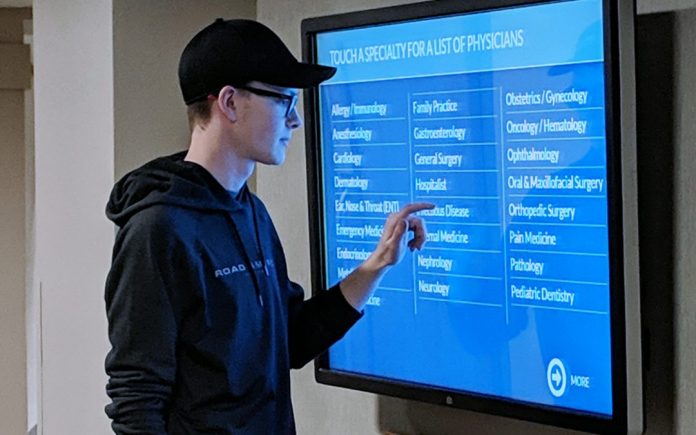 The term digital signage is probably not really familiar for all of us. However, it is actually often seen in our daily life to display products and promote business. Yes, digital signage can be defined as a place to deliver information through the electronic display media. It features LCD technology, plasma, and LED that are getting more sophisticated and affordable from time to time. Moreover, it enables the users to use and manage it more easily. Interestingly, if the previous type of signage can only be used for one-way communication, nowadays, there is another type for two-way communication.
Functions of Digital Signage
So, what are the benefits of using digital signage? If you have a business or need to promote your products and services, the signage can give you some benefits as follow. First, it is related to public information. Some people who work in the digital advertisement need to acknowledge this device and know the way how it works. People can see your products from this device. Meanwhile, certain organizations and institutions also need it to manage the traffic, publish news and information, inform weather in particular areas, and more.
Second, signage is also important to give internal information. It is more about the functions and benefits within the country like to keep the company's items, employee's safety, current news, and more. Even the information that should not be known by people outside the company can also be displayed via signage. Sure, it is with the note that the signage should be placed in an area that is it given for the public.
Third, another benefit of signage is to display product information. For this function, the signage must be installed in a place that can be simply seen by public other people. What are to display in the device when it is related to public information? They are particularly about the price, ingredients, photos, recipes, and more. Sure, to attract more people and customers, the products must be displayed in a more attractive way.
Fourth, in product promotion, the product's branding is something that is very essential and should not be forgotten. To make the product is known by people or customers widely, branding that has been developed before must be advertised well. Despite paying TV slots and others, the branding can be promoted more by using the signage.
Fifth, the signage can also be used to influence the customers' behaviors. This is still related to the product's branding in which the presence of signage tends to ease the producers to influence the customers. The layout of the product tends to look more beautiful and attractive. The customers are then direct to buy the products through branding and layout displayed via signage.
Features of Digital Signage
Of course, the abilities of digital signage to give functions and benefits mentioned above cannot be separated from the features inside. Each producer or provider of the digital signage must put efforts to give the best features for customers. But at least, a good and proper digital signage must have some following features.
First of all, digital signage features visual strength. It is expected to give a visual contact to attract the audience or customers. This way, they just want to buy or use services from your company due to the visual attractions given.
Second, the content can be updated in real time. In case your company wants to upgrade products and information, you can use the digital signage to display it in real time. real time here means when you provide many items of signage at once in some places, the upgrade can be one to all of them by managing them from one particular place.
Third, the main feature from signage is basically its ability to present something. Yes, this device is not only about presenting products and information to the audience but also presenting your own business to clients. Although it is quite rare for businessmen to use signage to present their business, it is recommended if you sometimes, use it for this necessity.
Fourth, innovation is important in business development. Therefore, you need supporting devices that can help you do the innovation. Well, one of the devices to provide is signage. In general, signage is an IT product that can be simply developed, set up, and managed to display good stuff. However, to optimize this feature, signage cannot stand by itself, it needs particular software to enable it to display properly. Kitcast digital signage is a recommendation of the digital software to be used for your business digital signage.