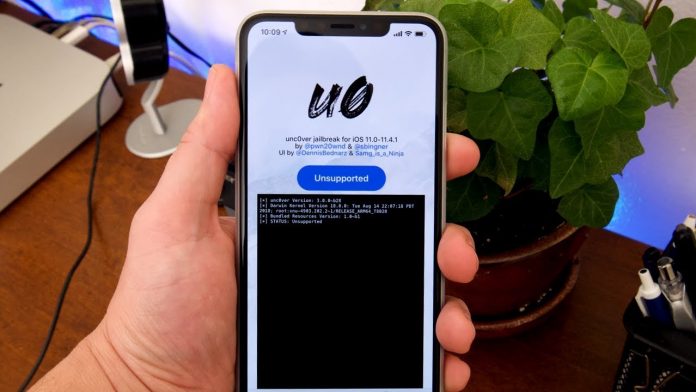 Unc0ver jailbreak by developer Pwn20wnd is a very supporting tool under semi-untethered jailbreak. The tool was supported from iOS 11 through iOS 12. And with the latest update it carries, you can jailbreak up to the latest iOS 12.4. So bringing great news to the jailbreak community, Unc0ver is continued with its progress. And here we go for the complete review, user manuals and all the tool updates.
Latest Update to Unc0ver Jailbreak iOS 12.4
As a result of continuous work by developer Pwn20wnd on Unc0ver jailbreak, we now have v3.5.2 latest update bringing partial jailbreak support for iOS 12.4. But this is only for A7- A11 Apple devices and still have no jailbreak support through A 12(X) devices. So you will find no jailbreak iPhone X, XS, XS Max and all newer with the latest Unc0ver jailbreak Download. But with the further confirmations through tweets, developer seems working more on updates to make it complete jailbreak download for all devices on iOS 12.4 with Cydia install support.
How to Download Unc0ver Jailbreak?
Unc0ver is semi-untethered jailbreak that runs with Cydia impactor support. So follow the correct download links for Unc0ver Download free. You can also follow Pwn20wnd's GitHub page for correct downloads and updates. Before moving to the process, make sure you take a complete backup of all data.
Download Unc0ver jailbreak IPA file on the Windows PC
Download latest version of Cydia impactor on the PC
Now connect iPhone or iPad to the PC while launching Cydia impactor on PC
Let Cydia impactor get connected with the device
Drag and drop the jailbreak Unc0ver IPA into the Cydia impactor interface
When required, provide Apple ID and the passcode to start side-loading the file
You will notice Unc0ver jailbreak app installation on the device
Go to Device's Settings > General > Profiles and Device Management and choose the installed jailbreak profile
Now continue to "Trust" from settings
Temporarily disable Siri and enable AirPlane Mode from the device
Launch Unc0ver jailbreak app from Home screen
Proceed with the instructions and tap "jailbreak"
Let the device respring for a number of times and complete Unc0ver jailbreak
At the end of process, you will see Cydia download on the device with access to best app and tweaks
Warning: Unc0ver jailbreak is semi-untethered and bound to certain terms and conditions. As the jailbreak is signed through the Apple certificate, it will get expired in a week. But if you have used a developer Apple ID for the jailbreak sign up, the jailbreak will be last for about 12 months without jailbreak expiry. But if you reboot the device after jailbreak, the device will lose its jailbreak rights. So every time you reboot the device, you are required to sign the jailbreak app just like you run above. So make sure you know about all the conditions of Unc0ver jailbreak before you are moving through functioning
What will you get with Unc0ver jailbreak?
The biggest advantage with iOS jailbreak is Cydia Download. So with Unc0ver you have support for Cydia install allowing through best apps and tweaks. Cydia is the exclusive third party app store available for jailbreak users that gets automatically downloaded with jailbreak privileges. There is no other way you can Download Cydia iPhone from web as jailbreaking is the only access to original Cydia. And there, you will find thousands of apps and tweaks under various categories. They are called Cydia repositories. And from different Cydia repos, you can get access through a wide range of apps and tweaks for free and under certain payments.
What is the best Unc0ver jailbreak Alternative?
Unc0ver is not only the jailbreak app supports for iOS 12 jailbreak. Just in the same time of Unc0ver jailbreak, we had Chimera as an alternative jailbreak app for iOS 12 jailbreak. But as of this writing, Chimera jailbreak is only supporting up to iOS 12.1.2. This is supported as a complete jailbreak being compatible through all the devices unlike Unc0ver with partial jailbreak. But here Chimera supports Sileo package installer instead of Cydia Download. You will find the jailbreak with same support for semi-untethered jailbreak similar to the process Unc0ver. And it is free to download.
Do you want to delete Unc0ver Jailbreak from iPhone?
Just like installing Unc0ver jailbreak, it is easy to remove from the device. Simply, if you upgrade the device firmware to the available latest from your jailbroken firmware, it removes Cydia and jailbreak from the device making you back in stock state. But if you want to delete Uncover jailbreak staying on the same firmware, you have to get the support of Cydia Eraser app from the store. With simple on screen instructions, you can easily remove Cydia and stay on the same firmware still with jailbreak possibilities.
What do you think about Unc0ver Jailbreak for iOS 12? Leave your sincere comments about your experience to stable iOS jailbreak with Free Unc0ver Download.