So you just purchased a new car. Excellent! But now you want to get it as clean as you possibly can. Certainly, whoever you buy from has likely done a bit of this work themselves. A seller on Craigslist isn't going to get a deal done if they're selling some nasty vehicle covered in dust and spots. That said, sometimes there are these kinds of deals.
If you've got $2k and you really need a vehicle, you can probably find one online that's got all kinds of bottles and wrappers on the inside, perhaps even a bumper half hanging on. If you're going to get that vehicle to its operational apex, you've got to clean it first. Also, you want to know what hidden issues might be impacting your "new" used car.
Knowing What You Need To Watch Out For
You want to go over the vehicle with a fine-toothed comb to know the full story. Sometimes vehicle owners part out components on their own. Sometimes they do things that damage the vehicle and don't get it fixed.
Ideally, you want to test everything you can before you get the title signed over to your name. Check out the brakes, the brake lights, the blinkers, the power windows, the air conditioning, the heating, the windshield wipers, the windshield wiper spray nozzles, the sunroof, the adjustment levers on the seats, and even what's under those seats.
After you buy, you won't have a chance to get your money back should some pernicious hidden issue define your new purchase. However, when you're cleaning the vehicle, generally, it's going to look better than if you don't clean it. Also, it's going to work better. A vehicle that goes too long uncleaned collects dust in varying components.
Washing Your Vehicle Inside And Out
A deep clean is necessary. Take some Armor All wipes to the dashboard and upholstery, unless it's cloth, in which case you'll want to vacuum everything carefully and then use some sort of drill-based scrub-brush. Essentially, you dip the brush in a soapy solution and carefully go over the cloth upholstery after you've already cleaned the whole vehicle. Dry with a towel.
On the outside of your car, you might look into pressure washing equipment. Pressure washing your car will be better or worse for the vehicle, depending on how you do it. For the most part, it's fine for your vehicle. But if you've got siding or bumpers that aren't attached right on a used vehicle, a pressure washer can dislodge them.
Also, be sure windows, doors, and moon / sun roofs are properly secured before you wash. That includes the trunk, but sometimes you've got a trunk without any cloth upholstery on the inside, and you might use the washer to clean it out a bit. Still, be careful here; you don't want a trunk full of water! Carefully dry everything after such a move.
Having a pressure washer at home will save you money over time if you use it regularly, but be careful to use the device right. Too much pressure can eventually damage paint, especially if you use it in close quarters with your vehicle for an extended period of time. Have you ever heard of a water saw? They exist, and the power of water is substantial. You can hurt your car if you're not careful, but it's going to require deliberate misuse of most washing equipment.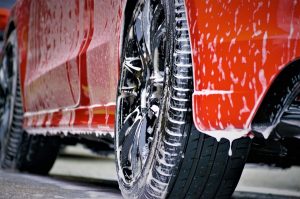 Secondary Measures: Maximizing Your New Vehicle's Potential
Something else that may be worthwhile if you've got a used car that will be used for camping trips, might be buying a tow bar like the ones offered by Speedy Towbars. Depending on the trailer, this can be a challenge to find, because you need the right towing capacity- though with a good supplier this may not be the case.
When you clean a used car immediately after buying it, you can determine where real damage is, and how best to contend with that. Also, you can prepare the vehicle to give you the best possible miles under your new ownership.