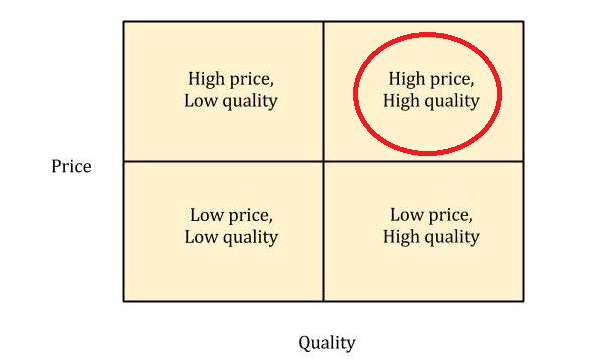 If you run a company, you're aware that you can't achieve any success if your brand is not positioned well. People nowadays trust brands much more than products themselves and are likely to opt for any product produced by a particular brand if they feel the brand can be trusted. That's why each company should invest a lot of effort and resources into establishing and growing their brand awareness and recognition.
To achieve that goal, these people have to select the right strategy. The choice depends on many factors, such as their business niche, current circumstances, predicted trends, as well as the history of the company. Here are some of the most important tips you should consider when choosing the best brand positioning strategy for you and your brand.
Product quality
No brand can ever gain popularity if its products fall short when it comes to quality. After all, your brand is positioned based on users' experience and no marketing strategy can compensate for inadequate product or service quality. If the market is saturated with quality products similar to yours, you need to narrow the focus on only one area of expertise, i.e. something that your competitors can't match. That will help your brand become recognisable and you'll be seen as a trusted and high-quality expert in the particular area.
Value and price
The most important thing when creating your positioning strategy is to provide the right price for the value you're giving. Your decision will depend both on quality and circumstances. You could opt for a high-end tack, i.e. exploit the belief that the more expensive product is, the more value has to be provided. Alternatively, you can choose to position your brand as the provider of value-priced products, where your focus will be on persuading your customers that the price is actually low for all the benefits they receive. In case you're in two minds about which road to take, it's always a good idea to consult experts, such as those working at L + L Design, who can help you by providing tailored solutions for your problems, regardless of the complexity.
Unique selling point
There simply has to  be something that differentiates your offer from those of your competitors. Whether it's the quality, price, customer care or availability, you need to have something that sets you apart from the rest. If your product can offer some unique benefits, you should use it to position your brand properly by emphasising all those features that your company or your products have, which other companies lack. Such features have to be valuable to your customers. For example, you product offers the same features as other products on the market, but it's been manufactured in an eco-friendly way that no competitor can match. Alternatively, you could offer better features for the same price or similar ones for a lower price. The point is that you need a unique selling point and that it has to matter to customers.
Competitors
Chances are your product is not unique and you have more or less competition to deal with. This is mostly the case, no matter what your business niche is. When dealing with your brand positioning strategy, you have to show that you're above the rest in your niche and to point out all those benefits of your product. In order for your campaign to be successful, you have to know exactly what your competitors offer and how much their products cost. Once you establish how your product is better, create a brand message that draws the attention to that particular fact.
Celebrities
Hiring celebrities to promote your company and its products is very common and quite lucrative. If you establish cooperation with a local, regional or, even better, international celebrity, people will become much more aware of your brand. This could be a very expensive strategy, but it can also yield the highest profit. One of the best approaches you could take here is to appeal to younger generations and find a celebrity who is popular among them, since they tend to have almost trust in those they like.
Brand awareness and recognition are in many ways much more important than a particular product or service. Presenting you offer has become more vital than product features themselves. Your task is to convince customers that by opting for your product and brand, they are getting more for their money or that they are getting something no other product or brand can offer. To achieve that, you have to know your market, your competitors and your customers, so that you can choose the best strategy for your business.