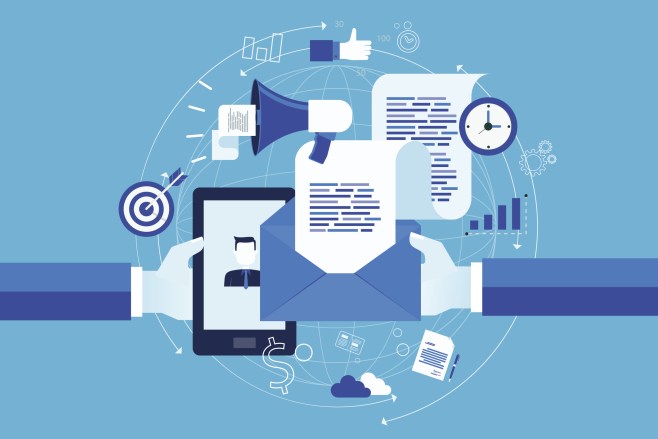 Email marketing is sending marketing messages directly to your customers. Emails are addressed to a targeted list of recipients to promote or sell products/services rendered by your business. It is considered as one of the fastest, easiest and cheapest marketing methods.
It doesn't matter whether you have online or offline business i, sending out a regular newsletter is a vital tool for business success. And the best medium for a business letter today is email. An email newsletter is an excellent way to develop the rapport with your customer base; it establishes trust, builds credibility, and enables you to position yourself as an expert in the field.
An email newsletter has these additional benefits:
It is much cheaper to publish than a printed newsletter
Mailing costs are virtually eliminated.
It has more immediacy than a printed newsletter and can be easily updated.
Customers can easily respond to it and can be invited to send their feedback or suggestions.
You can include links to your company's website or to special offers that can be purchased immediately.
You can use professional emailing services to get feedback statistics showing how many customers opened your newsletter mail, clicked through to your site and so forth.
It helps to establish a relationship between your business and the customer and initiate direct communication between your both.
Here are some guidelines to follow when using email newsletters as a way of staying in touch with your customer base:
Follow the 80% 20% Rule
A common mistake that business writers make is that they focus only on themselves or their company in their newsletters. However, the most interesting newsletters are ones which contain solid information and tips that offer the reader some tangible benefit. Such newsletters are much more likely to be read, and many customers will even look forward to receiving them. So, when composing a newsletter, focus on things that would interest and help your readers. Don't make it bland and impersonal either, but write naturally, as if you are sat down at the reader's kitchen table and having a cup of tea together. Devote 80% of your newsletter content to entertaining the reader and use the remaining 20% to promote your business.
Choose a publishing schedule and adhere to it
Consistency is the key to building up a regular readership when you publish a newsletter. Whether your newsletter goes out on a monthly or fortnightly basis, commit to keeping to this schedule. If your newsletter is good and regular, your customers will anticipate its arrival in their inbox and be pleased to see it there, as expected!
Pick a quality newsletter provider
An email marketing service such as that provided by http://Getresponse.com is an excellent vehicle for delivering mass mailings to customer mailing lists at a very reasonable price. Since customers have to "opt in" to receive mailings, you will also be protecting yourself from accusations of spamming. Getresponse also manages people wanting to unsubscribe from your list automatically, which is a great time saver.
Make a point of planning your content and layout
Get into the habit of brainstorming for article ideas and working them up in advance so that when you're going to write the newsletter, it won't seem like a big chore. Keep them breezy in style, with short paragraphs and make use of bullet points or numbered lists rather than long boring paragraphs. That way, more people will actually read it. If you have fun writing it that will convey itself to your customers, who will be more likely to enjoy reading it.
Add a newsletter sign-up form to your website
Make it easy for people to subscribe to your newsletter. Post a sign-up box prominently on your website. Not everybody who reads your newsletter will have subscribed, so invite readers to sign up by putting a sentence at the end of your email signature, saying something like 'Subscribe to my free newsletter and receive the latest articles, news, tips and special offers. Go to http://yoururl…
By following these guidelines, you will be able to squeeze the maximum potential out of your newsletter. With time and effort, this strategy will lead to more repeat business and more new business.
About the Author: Carol James is an EssayLab psychology department writer and senior editor. She has MA degree in social sciences and is an excellent specialist in this field. Carol works with numerous materials on the subject and is eager to share her knowledge with our readers.