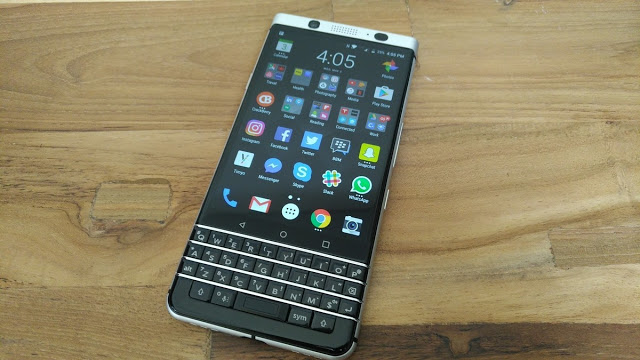 BlackBerry KEYone comes with a different but retro concept of physical keyboard; but it runs on the latest version of Android OS, namely Android Nougat 7.1
BlackBerry recently introduced a new handset called KEY one. The phone targets BlackBerry users who want to combine the practicality of a QWERTY keyboard with the functionality of Android OS. It is actually not an original product from BlackBerry Limited. Instead, BlackBerry KeyOne is produced firstly by TCL that collaborates with BlackBerry. Unlike other BlackBerry phones that run on its own operating system, KEYone runs on Android OS while still being wrapped with BlackBerry skin.
Main Features of BlackBerry KEYone
BlackBerry KEYone looks juts like the classic BlackBerry phone. The 4-inch phone comes with a number of great features, including:
• 8-MP front camera with wide-angle lens and flash feature
• 12-MP rear camera, with auto-focus and large pixel
• BlackBerry security software
• A fingerprint scanner
• a Qualcomm Snapdragon 625 Octa-Core CPU with 2.0 GHz capacity as well as 64-bit Adreno 506, 650-MHz GPU
• 3 GB of RAM
• 32 GB of flash memory
• Supporting up to 2 TB of MicroSD Card
• Bluetooth 4.2
• NFC, FM radio, and Wi-Fi
• Strong aluminum frame, which is combined with soft textured back and anti-impact display
• Shortcuts, which allow you to program the key to bring you up to contacts or the most frequently used apps
• Predictive text mode with faster ability to flick words on the screen
• Touch navigation, which enables the phone to respond to touch gestures, like track pad
• Android 7.1 Nougat, which provides you with access to more than one million aps on Google Play
• More powerful battery with 3505 mAh capacity, which comes with Quick Charge feature and power management tools that you can use to boost the charging process
• Excellent security with BlackBerry security software, DTEK security app, and regular security updates.
The phone is also built with BlackBerry Hub feature. The tool is used to consolidate all the messages in a single place. They include phone calls, calendar, and e-mails. More interestingly, the phone is preloaded with basic applications, such as Google Chrome, Gmail, and Google Maps.
What Makes BlackBerry KEYone Different
A feature that makes BlackBerry KEYone interesting is that it includes a physical keyboard. It is true that many people still expect a true keyboard in a smartphone. TLC combines the phone with a backlit keyboard. It serves just like a pointing stock on a ThinkPad. Of course, a keyboard makes it easier for the users to type longer texts.
However, some users reported a little problem when switching between the QWERTY keyboard and the virtual keyboard. Unlike BlackBerry Priv, which is equipped with a software keyboard, KEYone only comes with a hardware keyboard. Some people think that a price of $549 is a little bit too high for the addition of the physical keyboard. However, it is a nice stuff for those who still prefer a physical keyboard.
Does KEYone really target loyalists? Some said so because the phone is not so attractive for Android users who have been familiar with a large touchscreen. A 4.5-inch display will feel too small at hand. Even though some people think that KEYone is a smartphone of several years ago when it comes to the design, the company representative was pretty sure that the phone would attract business users who love to type on a physical keyboard instead of a virtual one.
Market Segment of BlackBerry KEYone
A price of around $549-550 is certainly lower than that of the latest Samsung Galaxy series. However, Samsung Galaxy and BlackBerry clearly have different kinds of customer. Both of them target business users. So, who are the actual targets of BlackBerry KEYone? Who will be interested in the non-sliding classical BlackBerry phone?
Some people are not pretty sure if KEYone will buzz the market, even though it might look exciting for fans of physical keyboard. It is not certainly aimed for lovers of nostalgic phones like Noia 3310. Indeed, KEYone has a retro design, as it comes with a physical keyboard, which is not a gold standard now.
The keyboard is optimized for email. It enables the users to send email by hinting the keyboard. Some analysts predict that the phone will be able to survive as long as it is attractive enough for the baby boom generation or Gen-Xers. However, whether the phone will sell enough on the smartphone market is a different question. KEYone is the first BlackBerry device that comes with a license. It may be ironical that BlackBerry has to collaborate with another company to produce a licensed product. The point is that both BlackBerry and TCL will benefit from the license revenue.
Prospects of BlackBerry KEYone
BlackBerry KEYone has been available for shipping in Canada since the beginning of 2017. The US consumers will see them next month for a price of $549. Among the main advantages of the phone is its solid security in both hardware and software aspects. The phone is wrapped to last for long. Inside the phone are a number of secure apps that protect the phone from external threats. KEYone is also interesting from the aspect of battery life.
However, BlackBerry KEYone is not for everyone, since not all smartphone users love a physical keyboard. Only loyalists of a keyboard will be interested at first in the phone. Furthermore, the phone performance is questioned, since some think that it has an underpowered CPU. The price is a little bit too high for the addition of the keyboard.
The hefty price tag is the biggest problem. Some people estimated that it would be a challenging task for KEYone to compete with latest products, which come with more competitive price. The key point is that BlackBerry KEYone may not be for everyone. Instead, it has fanatic segment of customers. Of course, getting the fans is not a simple task.
Microsoft had made such decision with its Lumia. However, BlackBerry makes a breakthrough by integrating the fresh Google Android Nougat 7.1. Windows phones mostly run on Windows Operating System. However, it cannot be expected to dominate the market. It will remain a niche of retro phone for certain market segment. It least if someone desires for a classical phone with physical keyboard, he/she has a choice at hand.