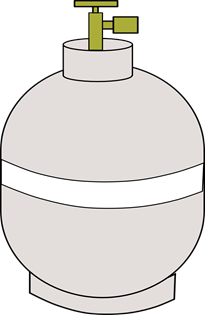 In 2015, there were 50 million residential propane users in the US. The number of commercial propane users in the same year was 900,000. Today, propane remains one of the most popular fuels for cooking, grilling, and heating. 
Planning on converting your home for propane use? Or would you like to power your commercial premises with propane? Despite the intended use, the most difficult task is selecting the right propane tanks sizes. 
Want to know more about different size propane tanks? 
Keep reading and learn the different propane tank sizes in the market.  
Horizontal vs Vertical Cylinders  
In the market, you will come across propane tanks sizes available as horizontal or vertical cylinders. The horizontal propane tanks have a high capacity. This makes them ideal for use at home and commercial businesses. 
As such, homeowners and business owners won't need many deliveries. Horizontal cylinders are available in white or green.   
When it comes to vertical propane tanks, they are suitable for intermittent applications. As small tanks, homeowners choose to install them close to a building or property line. What you ought to know is that vertical cylinders are white in color.  
Also, dealers follow the 80% rule when filling up propane tanks. 
Propane Tanks Sizes
When choosing the right propane tanks size, it is wise to consider how you will use and how much gas you will need. Want to know what sizes propane tanks come in? Read on and learn the different size propane tanks.   
120 to a 325-Gallon Cylinder  
Looking for the right cylinder size for your gas fireplace or your standard hot water system? Then choose either 120 gallons, 150 gallons, 250 gallons or a 325 gallon. The 120 gallon is available as a vertical cylinder.   
For the rest, they are available as horizontal cylinders. 
Learn more about the common residential propane tank sizes for your home.
500-Gallon Cylinder
Want to power or heat your entire home using propane? Looking for the best propane tank perfect for a home with multiple appliances? The 500-gallon tank is the right cylinder.  
Designed for heating an entire home, they are available as horizontal cylinders. The tank measures 9 feet 11 inches in length and 37 inches in height. With this type of cylinder, homeowners get to reduce the number of fill-ups. 
1000-Gallon Cylinder 
Perfect for a home or business that uses a lot of propane for heating, the 1000 tank measures 16 feet (length) 41 inches (height). With the 1000-gallon tank, you can heat your entire home and still power multiple appliances.   
It is useful for dry cleaning, temporary heating, crop drying, cooking, and more. 
1450 to a 1990-Gallon Cylinder  
If your small business needs are growing, then you need a bigger propane tank. We recommend the 1450-gallon cylinder or 1990-gallon cylinder. The 1450-gallon cylinder measures 17 feet 4 inches in length and 46 inches in height.   
For the 1990-gallon cylinder, it measures 23 feet 11 inches in length and 46 inches in height.   
Getting the Right Propane Tanks Sizes  
Looking for the best propane tanks sizes for your RV or vacation cabin? Choose the 5 to 25-gallon cylinder. It's portable and you can fill it up at any propane dealer. Remember, all propane dealers follow the 80% rule when filling up the tanks.  
Also, the right propane tank size depends on usage and climate. 
Loved our post on Big or Small? comparing the different propane tank sizes? Keep checking back with us to make sure you know all about the different propane tank sizes.