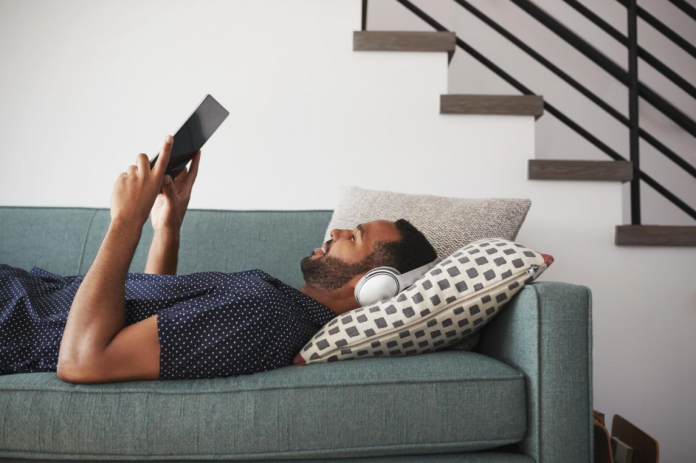 The first headphones weren't made for any real portability. They were heavy, like wearing cans of soup on your head. Thankfully, headphones have evolved into small, comfortable, private home theaters.
The trick is finding the best wireless headphones for TV and getting them to work. If you're not an electronics or audio guru, you may not realize this annoying fact. Yes, not all new TVs, smart TVs, or UHD TVs support wireless headphones.
Some TVs have Bluetooth native support, while others don't. We're going to help you connect those headphones, regardless of your TV's features. Show technology who's boss this time!
The Best Wireless Headphones for TVs with Bluetooth
The community of audiophiles, aka audio enthusiasts, love the Sony WH-1000XM3 Headphones. They combine great sound with superb comfort for long listening sessions. You can't go cheap if you want to use your headphones for watching long movies.
If your TV has built-in Bluetooth support, all you need to do is consult your manual for detecting devices. The setup is usually the same as any smartphone, tablet, or computer. You hit a button to search for devices and wait for it to pair with your headphones.
Some TVs have Bluetooth disabled by default (for security purposes, mainly). You may need to enter the service code for access to enabling Bluetooth.
Adding Bluetooth to Any TV
If your TV has no such Bluetooth service code, you'll need some outside help. You can buy a Bluetooth transmitter device that plugs into the TV. It uses the standard headphone jack and acts as a sort of antenna.
These adaptors are easy to use and setup with your pair of wireless headphones. Don't buy any cheap adaptors because they can come with very high latency. That means whatever your headphones are outputting is out of sync with what's on the screen. 
This can range from frustrating to unwatchable. 
Other Bluetooth Devices
Another option for getting Bluetooth support with any TV is through other streaming devices. If your input is from a Roku, Firestick, or Chromecast, you have options. For Chromecast, you can connect your wireless headphones to the device that's mirroring.
For Roku, all new remotes have a headphone jack you can plug into. Firestick also supports Bluetooth devices for audio and video transmitting. Both PS4 and XB1 have Bluetooth streaming support, too.
Nintendo Switch owners will have to resort to a third-party adaptor to get Bluetooth audio support. Regardless of the device, however, Bluetooth wireless headphones aren't known for long battery life. This is true for both the host device (if it's a phone/tablet) and the headphones themselves.
RF Wireless Headphones
An uncommon, yet effective solution to wireless headphone support on TVs is going RF. Radio Frequency headphones come with their own adaptor that you plug into any headphone jack. RF is stronger and has better range than Bluetooth.
They cost less than most Bluetooth headphones, too. The only obstacle that could prevent you from getting a pair is the issue with interference. RF waves come from a number of devices, from radio stations, microwaves, to other RF headphones. 
An RF transmitter can allow you to connect up to 100 receivers. This is one way how the "silent DJ" party can work. Everyone is hooked up to the same transmitter and can listen to the same songs without latency.
If none of these types of devices are kept near your TV, then we highly recommend them over Bluetooth. Sennheiser makes great RF cans that will match most high-end pairs out there, wired and wireless.
Infrared Wireless Headphones
These are truly one of the best wireless headphones for TV. It has all the benefits of an RF wireless headphone, but with none of the cons. Infrared headphones have superb audio quality and aren't prone to interference.
There is only one limiting trait among these types of headphones: line of sight. That is, in order to maintain a stream of high-quality audio, nothing can cross its path. The signal is delivered in a straight line, from the adaptor to the headphones.
The technology is exactly the same as remote controls. A beam of light is sent to the headphones and translated into sound. 
Some creative solutions involving the positioning of the IR transmitter can solve this potential deal-breaker. For most situations, this is the best type of wireless headphones for TVs. That is, as long as you don't expect to listen to your TV while in another room or have traffic between you and the TV.
Price and Quality
Infrared headphones have the highest quality in the wireless category. There is no issue with latency and you can use multiple pairs of headphones at once. Have a party with friends without waking up the neighbors.
Ironically, infrared headphones are also some of the cheapest wireless cans, too. You'll get some of the best battery life, especially with handy auto-shutoff features. For a truly wireless experience, get these for movies and gaming without compromising on sound.
Final Verdict
Wireless headphones are the perfect companion to binge-watching and sharing spaces. Immerse yourself in sound, free of cables and wires with the best wireless headphones for TV. Your TV doesn't need Bluetooth to enjoy wireless sound, either.
In fact, there are cheaper and potentially better quality options you should explore. Get a pair of wireless RF headphones if you have a huge space and want to listen while walking into other rooms. Buy infrared wireless headphones if you find BT and RF quality lacking.
Whatever your choice, make sure you try to find a place to test out the ones you want. We recommend asking a local electronics or musician's store to see if they'll allow product testing. Ultimately, it's the convenience of wireless headphones that matter most.