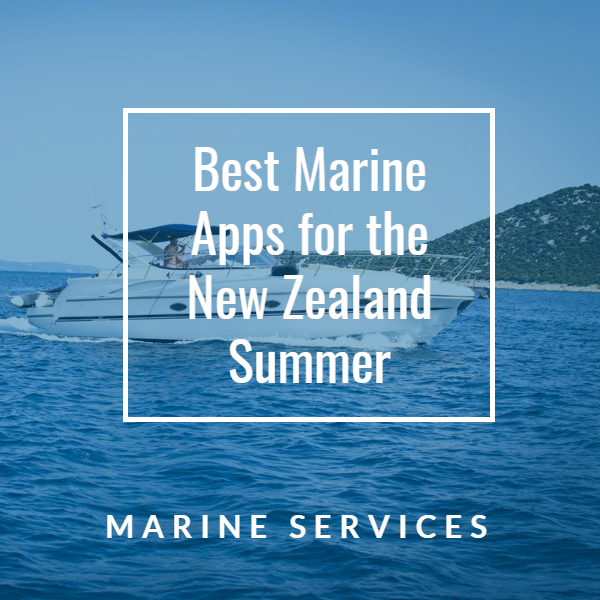 The emergence of the smartphone brought with it a lot applications and functionalities that did not just change the way things were done, but improved them all-round, making it easier to access information and use them to achieve great results. This technological leap did not leave the marine world behind.
Today, there are quite a number of marine based apps that provide vital information and guides that are useful for anyone who has any marine-related business here in New Zealand or anywhere else in the world.
For brevity sake and so we don't bore you with the long list of marine apps that are literally everywhere, we'll highlight only the best picks that should serve you well in summer.
MetService Marine App
Do you know what you're likely to experience when you go out on a marine tour or fishing exercise without first checking in to know the marine weather forecast of that area for the day? A bad day! And it could be worse. You really don't want to be caught up in that situation, some surprises are better left imagined.
The MetService app is dedicated to providing marine forecast information that could save you all the trouble when it comes to marine weather upsets. Some of the features of the app include:
Tide information

Surface pressure maps

Severe weather condition

Detailed forecasts for New Zealand recreational and coastal areas

3-day rainfall forecast imagery with wind barbs

7.5 minute rain radar
If you frequent a particular area, you can choose to save that place as your default location for ease of use; it would be saved on your home screen. You can also have a list of favourites you can easily refer to.
Swell Map Boat
Still on marine weather predictions, it also comes in handy to have the Swell Map Boat installed on your Android or Apple device. This app provides latest, detailed weather predictions for a great number of boating and fishing locations in New Zealand.
It is used by weather watchers, fishermen, boaties, divers, tour guides, and other groups of people who have some business or the other in the marine sphere. Swell Map forecasts are generated using the latest atmospheric and oceanographic numerical models, and provides updated information four times a day. Some of its features include:
7 day sea and wind forecast graphs to make interpreting the boating conditions ahead easy.

Detailed daily forecasts providing tides, summaries, sea height, sea temperature, swell height, swell direction, swell period, chop height, ratings, wind, gusts, sea direction, sunset and sunrise.

Swell Map boat ratings.

Forecast maps of rain/pressure, temperature, wind, wave height, wave period, and sea temperature.

Save your favourite spot forecasts.
Whatever marine activity you are involved in, safety should come first before what you set out to achieve on the waters; Swell Map keeps you one-step ahead on both fronts.
Marine Mate
As the name suggests, Marine Mate is your go-to app for every information ranging from marine protection rules to boating safety information, and more. Every information you need, even what you don't know you need is available there. All you just need to do is type in your location in New Zealand and voila! Everything pops up. Some of the features of the app:
New Zealand regional bye-laws bordering on lifejacket wearing, communications and more.

General boating safety information

New Zealand fishing rules

Marine speed limits to prevent collisions and whatnot

Local area notices to keep you apprised of changes in procedures or operations

Towing access lines

Boat ramp locations
With all of this information in a single app on your device, you don't need to go bothering Google with search queries; get the app, get the gist.
Knots 3D
Knots play a very important role in marine activities. There are a number of knot styles with properties that are suited to performing different tasks. Some knots are used to bind objects together, some are used to attach the rope to other objects like a stake to achieve a particular purpose; others are used to attach an anchor line to an anchor, and so on. So you see, knowing how to knot as many styles comes in handy.
That is why Knots 3D is an ideal pick. With over 125 knots to learn in 3D detail and multi-touch gestures at your service, this app is indeed worth having. Some of the features include:
A total of 126 knot with more added frequently.

Easily locate a knot animation practice by browsing categories, using the search query, or applying common synonyms

Unlike some apps that only allow portrait mode, you can use this app in landscape and full screen modes.

Knots 3D doesn't have any advertisements or in-app purchases. It's totally free.

You can pause or adjust the speed of the knot-tying animation at any time.

Ability to rotate knots in 360 degree, 3D views to study them from any angle with a swipe of a finger.

There are multi-touch gestures you can use to personalize your experience – zoom, pause, replay, and so on.

Completely advertisement free and no in-app purchases.
Now that you know how powerful this app is, why not get started with some knot-tying exercises? And if you've already got some skills under your belt, there is still more you can learn. To begin, get some top quality ropes from a reliable marine services store and you're good to go.
Don't be left behind
Take a step away from the old ways used to get marine-based information and take advantage of what marine applications have to offer. If not for anything, get these apps because they can all fit into that tiny smartphone you take everywhere you go. There's nothing as good as getting useful marine information easily and on-the-go.