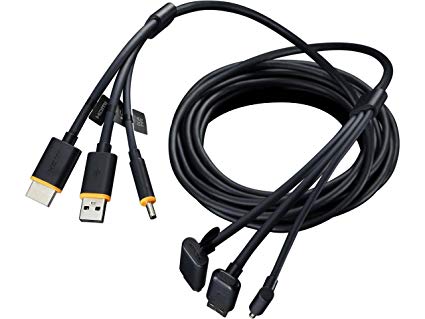 HTC Vive is one of the best VR headsets you can buy for ensuring an unparalleled and intensely engaging virtual reality gaming or movie-viewing experience. You'll need to connect the HTC Vive with a companionable desktop or laptop or wireless controller for making the most of the headset's features. More often than not, you may be at your wits' end in installing the Vive in your designated play area as per room-scale.
Usually, the distance between your PC or laptop and the play zone could be more than what is prescribed for effective, safe, and trouble-free gameplay. And this is where an HTC Vive cable extension comes in perfectly handy, enabling you to effortlessly extend the headset's USB connection to your computer. The extension cable links the Vive to the workstation in a way that sustains high-speed data transfer without any signal loss.
On the other hand, you have the freedom of moving from one room to another while enjoying the VR games and movies.
How to make the most of HTC Vive Extension Cables?
Setting up the HTC Vive for taking pleasure in VR games to the hilt, takes some doing. The majority of users have their desktop or laptop installed in either their bedroom or living room that usually lacks the desired room-scale for enjoying VR games. So, the best option is to reinstall the computer in a room with sufficient floor space.
And the next best alternative is to take advantage of an HTC Vive cable extension. The most conspicuous benefit of using HTC Vive extension cables is that you can install your VR space anywhere you want to. For instance, you can set up the room-scale area in your basement, living room, bedroom or attic.
At the same time, you do not have to choose a very lengthy extension cable that could hinder routine activities. There are some rules you have to strictly abide by in order to install the Vive extension cable:-
Never ever extend the cord between the headset and the control box. The control box and the Vive headset have already been installed at the maximum permissible extent from each other. Interfering with this setting could come in the way of enjoying your VR gameplay.
Whether you wish to opt for a long-range or short-range cable extension is a matter of personal preference. A long-range extension cable could be up to 30-feet in length while a short-range one is about 10 feet long.
If you choose a short-range HTC Vive extension cord, you'll need to buy a 10 feet long HDMI cable and a male-to-male USB cable of the same length. These cables will serve as replacements for the existing HDMI and USB cables linking the Vive control box with your gaming laptop or PC.
With long-range Vive cable extensions, you'll have to buy some extra components. So, you should be prepared to invest more money compared to what you'd spend for its short-range counterpart. You'll have to buy a snag-free 30-foot long Cat 6 Ethernet cable, a USB over Ethernet kit, and a high-speed 30-foot HDMI cable.
The new Ethernet and HDMI cables will replace their existing counterparts. Once you hook up the USB over Ethernet kit with your gaming desktop, you'll link the Cat 6 Ethernet cable to this set-up.
Regardless of whether you go for a short-range or long-range extension cable, you'll have to buy a power cable extender separately if you want to increase the span between the play area and the computer.
Skywin 3-in-1 Flat HTC Vive Compatible Cable
The HTC Vive USB Extension Cable from Skywin can seamlessly replace the existing 3-in-1 HDMI, USB, and DC 5 meter flat cable for connecting the Vive headset with the linkbox. This HTC Vive Compatible Cable by Skywin serves as the ideal replacement cable for your HTC Vive. All the three connectible cords or cables-HDMI, Power, and USB-are fused together in a single flat 6m cable.
Cable Matters USB 3.0 Cable (USB to USB Cable Male to Male) 10 Feet
Cable Matters' USB 3.0 cable links easily with your HTC Vive, enabling you to take pleasure in ultra-fast USB 3.0 data transfer at a rate up to 5 Gbps. This male-to-male extension cable comes with connectors crafted from molded strain-relief material which makes the product durable. At the same time, the molded material facilitates effortless unplugging and plugging.
High-level performance, speed charging, and seamless data transmission is made easy, thanks to the gold-plated connectors, foil & braid shielding, and solid copper conductors.
12 Volt Power Extension Cord,5.5mmx2.1mm DC Power Adapter
The DC 12Volt power cable extension, female to male is 20ft long, offering you wide berth in shifting over a large area while playing VR games. The versatile extension cord is compatible with a range of power adapters and devices, including your HTC Vive.
For more information please visit: homedepots.info