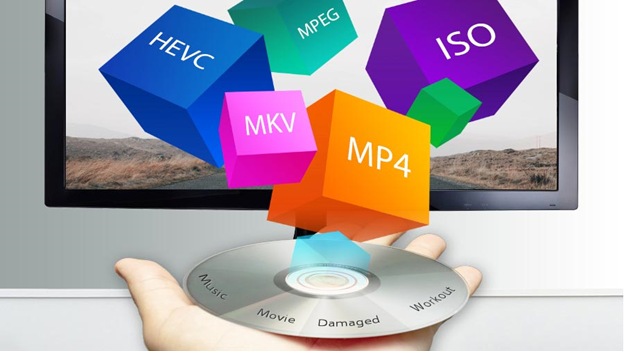 This year use best DVD Ripper and make the most of it. Ripping DVDs is very helpful in having a handy backup. It saves you at times when DVD gets scratched. It seems difficult and complicated but it is not so. We have brought you some amazing free DVD ripper in the market, WinX DVD Ripper & Handbrake, which will be of great help. Use them and make the best of it.
WinX DVD Ripper
This free DVD ripper works best for homemade DVDs, old scratched DVDs and commercial DVDs. But it can also be used for data discs. It is known for some qualities like:
It has many ready-made output profiles, like mainstream video audio formats, MP4, MOV, MKV, AVI, FLV, MPEG, MP3, etc and profiles for latest devices released by Apple, Android, Microsoft, Sony and other brands.
It works very fast with the unique CPU & GPU hardware acceleration.
It works with ISO images and DVD folders.
It has 4 DVD copy modes that lets you backup DVD data without any quality loss.
How to Rip DVD with WinX DVD Ripper
Step 1
Go to WinX DVD Ripper official homepage, click "Get Giveaway License" to grab a free licensed copy.
Step 2
Open WinX DVD Ripper and click "Disc" button. You can also load "ISO image" and "DVD folder".
Step 3
Choose an output format, like MP4, AVI, MP3, MOV, iPhone, Android, etc.
Step 4.
Click 'Run" to start ripping DVD in a flash.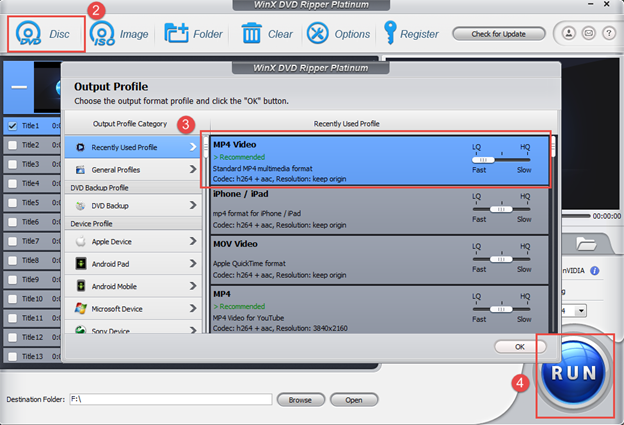 Conclusion:
Ripping DVD with WinX DVD Ripper is free, fast and easy. It is capable of turning your discs into digital formats, for perfect playback on modern devices or for safe storage. You can learn more about the platinum version from WinXDVD homepage.
HandBrake
When it comes to rip DVD with Handbrake. It is best known for qualities like
It rips DVDs.
It smoothly converts video files.
It is inclusive of ready-made presets.
This is how you can rip DVD with Handbrake.
Firstly you have to install Handbrake and libdvdcss. This is very important in order to decrypt DVDs.
Expert suggests people to use libdvdcss. It is because it helps Handbrake to read your encrypted DVDs. It easily rips them to the computer. Thing to be noted here is that Windows and Mac users experience different process.
This is how you can install libdvdcss on Windows
The very important step would be to download libdvdcss to your computer. The basic requirement is the 32-bit or 64-bit version of Windows. This will help Handbrake to read your encrypted DVDs.
This is how you can install libdvdcss on macOS
Remember that installing libdvdcss becomes more difficult in macOS. This happens because of 'System Integrity Protection'. It creates difficulty in installation. There is a special way to do installation.
You have to click on Command+Space. Keep searching the terminal which launches a command line window.
After performing this command you can proceed. You will find that your library has been installed.
Follow the following procedure to rip DVD with Handbrake
Step 1
After installing the libdvdcss open your DVD. Open Handbrake and choose your DVD drive. You can find that in a sidebar.
Handbrake will scan the titles on your DVD. This won't take much time. This process will take care smoothly if libdvdcss has been installed. If the installation has not happened, you will see an error. It will have message which will say the disc can't be read.
After opening the DVD, go to the "Title" dropdown box. That's where you can choose which title to be ripped.  After this you have to go to browser. That's where you can place the title which has been ripped.
Step 2
After this you have to make decision regarding the output file. The quality of the movie is directly related to the space taken by it in the hard drive. If you want to adjust the quality of the file, use picture, video and audio. There are varieties of presets available. You can use anyone of them.
Step 3
After selecting and presetting you can start encoding. Pay attention at the window. You will find a progress bar at the bottom. This bar represents the time left. The high quality rips take more time. After the completion of ripping, double click on the file. You will be able to see the video.
So, isn't it easy to rip DVD? Use handbrake to rip DVD. Follow the above mentioned steps and get the work done.