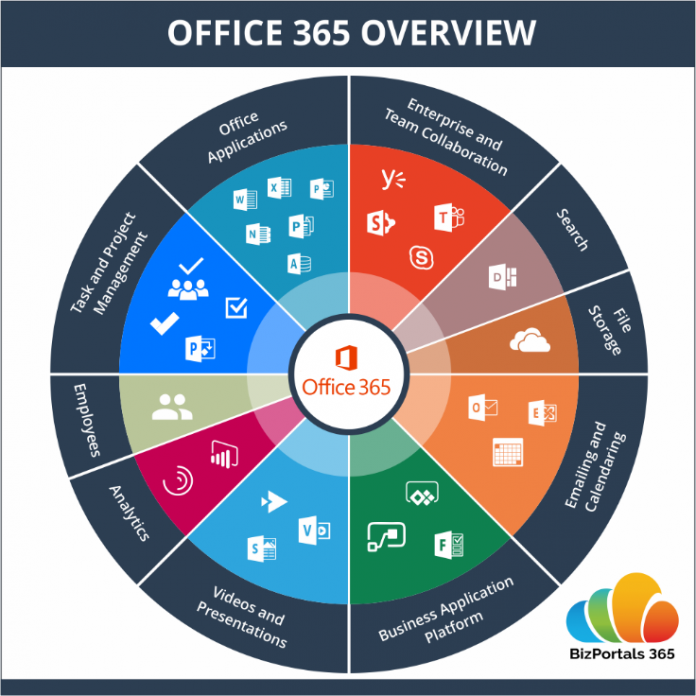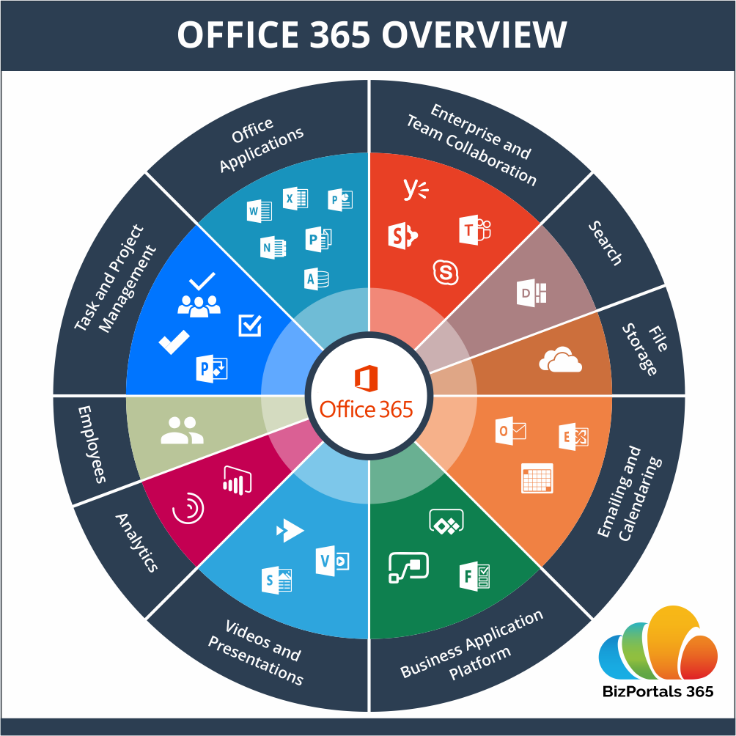 When Office 365 was launched, everyone in the business world was quite skeptical about its use and functionalities. Many companies were also worried that the introduction of Office 365 would ruin how their traditional SharePoint intranets worked without really offering anything new or advantageous. But over time organizations got used to the concept of an Office 365 intranet and appreciated the value it brought to their business. Now, organizations of different sizes, belonging to different industries with varying needs and goals are rolling out Office 365 and of course, they are doing it because of many reasons – the primary one being their strategic focus on productivity and collaboration. 
All you need to know about Office 365
Office 365 gives you access to a set of productivity and collaboration applications that cover a wide range of activities like tasks and project management, content management, communication systems, team collaboration and much more. A customized, multi-functional intranet can be built to combine the various Office 365 applications and their functionalities.
The functionalities of Office 365 can be divided into different groups based on their purpose. The major functional groups are:
Office applications –

The benefits of its collaboration applications like Microsoft Teams, Yammer, and Skype; its productivity apps like Planner, Flow and Tasks, and its versatile document management features are innumerable.

Enterprise and team collaboration –

The features of Office 365 helps like chat, conferencing, document sharing, and threaded conversations helps to easily create and share content across groups to boost the teamwork.

Task and project management –

It allows to manage multiple projects, discuss the project with team members, create, assign, and filter tasks based on status, due date, priority and assignees, move and copy tasks between projects, create a list of action or backlog items, and export lists into an Excel spreadsheet.
Employees

– It helps to streamline and simplify work by delivering the right applications and digital tools to your employees and thereby increases employee engagement and productivity.
Emailing and calendaring

– The business email and calendaring help in organizing the tasks better and get a unified look of your calendar, email, and contacts in real time. 
File storage

– It provides one of the best ways to store and share files for your business. You can start storing the files in OneDrive and collaborate on files in the team sites.
Analytics –

Visualize and analyze the data, create custom reports, gather regional and departmental data, and share important business insights within the organization. 
Search

–  It helps the users to locate contacts, files, applications, and other types of data stored within Office 365.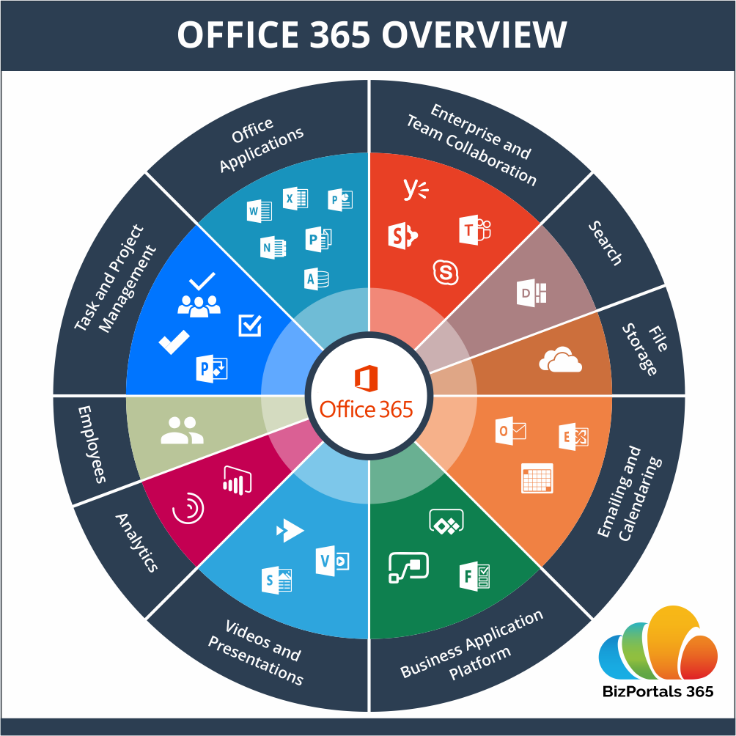 You may ask: Why do I need an Office 365 Intranet when I have all this functionality with Office 365?
When you are using Office 365, your organization still needs a business solution that integrates information from the various applications so that everything is visible and available from a single portal and also so it matches your culture and business goals. A digital workplace empowers content, people, and information with its advanced functionalities, configurations, and permissions that ultimately drive better productivity. Building a modern intranet on Office 365 leads to better returns on the business investment through reduced IT costs, increased business agility and speed, better productivity, improved dynamics at the workplace and much more. Moving to the intranet ultimately provides a key enabler for the success of Office 365 itself and delivers excellent business outcomes. 
Leverage the new ways of working together with an Office 365 Intranet Solution
An intranet solution brings all the Office 365 tools together for enhanced collaboration and communication. And an Office 365 intranet has many advanced features and functionalities. Here are some of them.
One-stop solution

–

Office 365 intranet is a one-stop platform for a team, which brings the tasks, files, project calendars, communication channels and more to a single page. Employees do not need to swap from one application to another as they update their tasks, participate in discussions, or share documents as they can access the corporate information, collaboration tools, documents, HR tools, policies, forms, applications all from one place.

Content personalization –

Earlier it was usual to serve common content – news, announcements, forms, and documents – to all employees across business units.  Everybody saw everything irrespective of whether it was relevant or not. But now there is a huge push for localization and personalization in intranet content. And products like BizPortals 365 are designed to support this need. The permission driven content access, subscription to announcements of specific departments, customized task and project management and many other user-friendly features of BizPortals 365 enable the users to manage work seamlessly.   

Simplicity –

Often, using various tools is easy but creating a simple ecosystem where people know where to find what they are looking for, is difficult. It is not only about information or documents, but also news, tasks, forms, projects, conversations, reports, etc. With communication tools like Yammer, Groups, Teams, you can get all the required details like the date of the conversation, document saved date in chat, etc. It brings simplicity while communicating and collaborating with teams in the organization.

Mobility–

In the era of Bring-Your-Own-Device, it is extremely important for companies to have a mobile-friendly digital workplace. Fortunately, an Office 365 intranet comes with the default mobile apps for OneDrive, SharePoint Online, Office applications, etc. which makes it convenient for employees to manage work from anywhere and at any time.

Governance

–

With the use of an Office 365 intranet solution, the administrator can manage global sites and pages with required security levels and give different permissions to different employees based on their position and need. You can also control access to the myriad of tools and widgets provided in Office 365 so that your users are not inundated with them. 
It's time to move towards a better DIGITAL WORKPLACE now!
To summarize, implementing an Office 365 intranet allow companies to offer a dynamic and engaging medium with diverse capabilities to their staff. It brings substantial development in context to productivity, efficiency, and collaboration. One of the major decisions while moving towards an Office 365 intranet is to choose between a custom solution and a ready-made intranet solution. Ready-made intranet solutions like BizPortals 365 are packed with pre-configured features, custom designs, integrated views, reports, etc. to provide an unmatched experience to the users. Just pick the tools that meet your business requirements and check with the feasibility of your employees and organization to get going with the implementation of an Office 365 intranet.
If you'd like to know more about Office 365 intranet solutions, download our guide on "7 Things You Need to Know About an Office 365 Intranet" or get in touch with our team at bizinfo [at] bizportals.com to get your personalized intranet strategy.