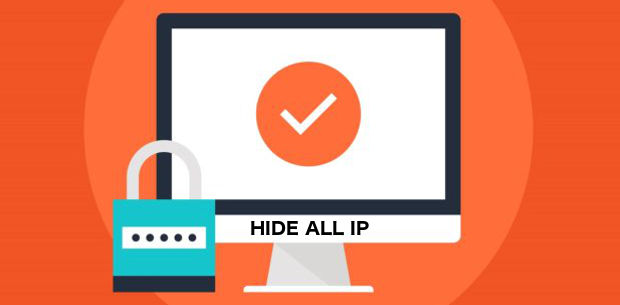 A lot of people think VPN is a tool for black-hat hackers; to discreetly crawl in and out of web spaces or change the exact location of users. But desperate time calls for desperate measures, governments, hackers or even Internet Service Providers want to get information of what you are doing or where you have been on the internet, so it is inevitable that you are being tracked while surfing the internet. While some ISP will just monitor your activities for fun, some will compile it and sell it to advertisement companies. Thus there is a need to access the internet on a Virtual Private Network (VPN).
What is a VPN?
In simple terms; a Virtual Private Network utilizes private protocols in public network settings, it adds an extra layer of security to data sent across the network. Like a firewall protects data on a local drive, the VPN protects data on the web. VPN software uses advanced encryption protocols and secures tunneling techniques to protect all transmitted data.
Hide all IP
Hide all IP is a VPN software that protects your privacy and anonymity. It powers your entire app to surf the web anonymously; your true identity will be not be revealed, thus you can't be monitored by anyone. Hide All IP supports almost any application installed on the same system with it, which includes P2P TCP/UDP video players, TCP/UDP Games, and many more. Other features of Hide All IP are:
Change IP address: Hide All IP address hides your real IP address the moment you hit the "connect" button. This makes it impossible for anyone to use your real IP to address to track you.
Change Location: Hide all IP have has servers across the countries of the world, you can make use of various virtual locations as you wish.
Support Mobile Hotspot: you can share your Hide All IP privilege with android and IOS mobile phones by just connecting its hotspot with a pc where Hide All IP is active.
Safely Browse Technology: with Hide All IP, you don't need to worry about clearing cookies, history or other cached data when accessing the web.
Access Internet TV: some internet TVs such as Hulu and BBC uses IP location to restrict some regions from their content. Hide All IP help you to bypass such restrictions.
Supports other games and applications: Hide All IP does not support browsers only but other applications and games.
Encrypt all transferred data: all incoming and outgoing data are encrypted using the RSA 2048 and AES/DES encryption which is government level encryption, thus very safe.
How to use Hide All VPN
Purchase or download the free version of Hide All VPN from https://www.hideallip.com/download.html and install it on your PC.
On successful installation, open the app and connect to all IP servers.
Once all servers have connected, sort IP addresses to find IPs with very strong signals.
Connect to the IP by clicking on the connect button.
Select the app or game you wish to tunnel.
Configure which country you prefer Hide All IP should switch to whenever it needs to switch IP.
Hide All IP is the best VPN software available in terms of price and functionality, visit Hideallip.com for more info and to purchase.