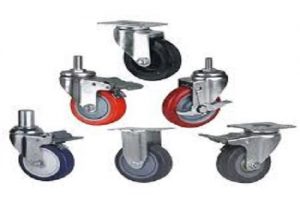 Casters are normally used till the time comes when they no longer work. It is no surprise then to see them in complete wear and tear by the time they are thrown off.
In large industries, these casters are used in carts, portable gravity conveyor and workstations. Lots of components in industries also employ them within a warehouse, distribution centre or manufacturing plant. So, if it has been a while since you have replaced a caster, more than likely its time has come.
If you are looking to purchase an industrial caster, we promise that this write-up will give you a complete guideline on selecting the best industrial casters.
In the forthcoming sections, you will be able to get a comprehensive information about industrial casters which will help you take a wise purchasing decision.
But, before we move forward with that particular information, it is important to know more about casters.
A caster is a wheeled device that is used to make it easier to mount larger objects for making it relatively easy to roll the object. Casters can found in each and every industry whether it is office desk chairs to shipyards, hospital beds to automotive factories.
Now, that you have some information about casters it is important to know how industrial casters can be useful for businesses.
Check this out: Heavy duty casters are employed in large industries to carry 1,400 to 20,000 kg of weight. You can also find that these casters to be attached to the equipment that is moved manually or using mechanical power.
As promised let us now look at the different criteria that will help you select the best industrial casters:
The larger the diameter of the caster, it would become easier to push or move the object
Here's the deal: Always check the diameter of the caster being replaced as it will give you the cue of the kind of application required. If you purchase a larger caster it will make it easier to move but never select a too large caster as it can increase the load or make the centre of the gravity zero. Keep reading: You can measure the diameter of the caster by laying it on the side and measure from edge to edge across the centre of the wheel.
Consider a wider caster as it will help to bear more weight of the object
Here's the truth: The width of the caster will have a major impact on the capacity it can withhold. We are not going to lie to you……The wider a caster you select, the more weight it will be able to bear. If your major purpose of purchasing the caster is to move machinery or heavy load, it is important to consider wider caster. If the weight of the object is lighter, select a narrower caster. You can measure the width of the caster by standing it up and measure from one edge of the wheel to another.
Select the right bearing type based on the load type and application
Select roller bearings only when you want to use it for heavy loads, as the load is distributed across the bearing.
Select ball bearings only if you are looking for lightweight objects. It is easiest to roll.
Select Delrin bearings only if there is a moisture around the caster. It is not good for high-temperature environments.
Select the casters and wheels in Adelaide after taking into consideration the way casters will be used and the type of environment in which it will be used
You may not want to read this, but here we go…….Selecting a wrong wheel type will lead to more wear and tear making you invest in more casters thereby spending more money.
Phenolic
Durable but won't tear the floor
Lightweight
Can work in higher heat
Steel
Can take stronger loads easily
Performa rubber
Not recommended to be used in an oily environment
Highly recommended in softer, quieter environment
Polyolefin
Affordable option
Works on carpet and most surfaces
Can handle chemicals
The caster should be able to manager extreme temperature for the best results
In case you are working in a high-temperature environment, always watch for the rating of the industrial caster with rubber, phenolic or polyurethane wheels. What's the bottom line here? When these materials are subject to higher temperatures they often begin to flatten out.
Keep reading: If the bearing is not sealed in a high-temperature environment the grease can leak out. This can lead to more wear and tear on caster as time goes by.
In case, if you are working in an extremely cold temperature it is important to check the freezer rating of the caster. There will be a requirement for special lubricants to prolong its life.
For clean environment select a caster that does not have any indentations or crevices where dirt and contaminants get stored
If your industrial casters are to be used in a clean room, you will want to select a model that has a smoother profile. Use chrome to make it easier to clean the caster. Why is this important? The great thing about chrome is that it can help in cleaning chemicals and withstand water that makes it very easy to clean the room.
Choose the caster depending on the floor type where it is to be used for a better life
Check this out: If you have a hard or rough floor, a softer caster wheel like rubber is the best option. It will also lead to quieter operation. On the other hand, if you have a smooth floor, consider using a hard caster wheel in Adelaide for better performance.
Conclusion
We hope that the seven criteria that we have mentioned in this write-up will help you select the best industrial caster. We would love to learn your feedback. Please comment below and let us know whether you can add any other pointers to this list.