Portable DVD players are one of the popular things that one needed for traveling with small kids. No matter whether you are traveling by bus, train, plane, or car, portable DVD players work wonders for all. This small device allows you to watch movies, TV shows, and concerts on your way with your family and children. Modern portable DVD players come with USB ports and SD card slots, which make it easier to watch your favorite movies and songs anytime anywhere.
Portable DVD players are quite lightweight and can be stored easily in any backpack. On the other hand, these DVD players are not as expensive as you think. In this article, we have listed some of the best portable DVD players that you can buy for traveling purposes. Let's move on to our list with no delay!
DBPOWER 9.5-Inch Portable DVD Player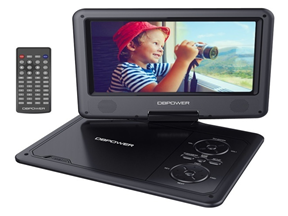 It is one of the best portable players that comes with various added features. Its compact and small size makes it quite good for traveling. It is not just a DVD player but also a CD player. It has the ability to read DVD-RW, VCD, CD-RW, CD-R, SVCD, and DVD-R. It even has a USB port to connect it to other devices.
Pros:
Play games
Long battery life
Car adapter available
Swivel viewing screen
Offers various media options
Cons:
No headrest for cars
Average screen size
Sylvania 13.3-Inch Swivel Screen Portable DVD Player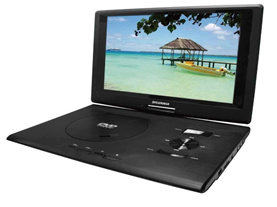 This portable DVD player has a larger screen as compared to other DVD players on this list. However, it does not come with so many features. It has a big as well as swivel viewing screen. It has a USB port and SD Card slot. It reads CDs, CD-R, CD-RW, DVD-R, DVDs, DVD-RW, jpeg, and mp3. You can watch movies, play music, and see pictures from a USB/SD device.
Pros:        
Charges quickly
Large & Swivel viewing screen
Long battery life
Plays various media types
Cons:
SYNAGY 14-Inch Portable DVD Player with Swivel Screen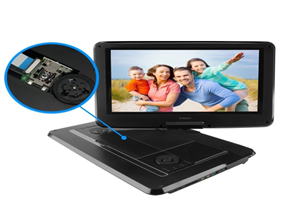 It is a good choice for those who do not want to invest much in their portable DVD player. It has a big and swivel viewing screen. It can be rotated in various directions, which makes it easier to watch movies anywhere with quite an ease.  It supports various formats like CD, DVD, VCD, AVI, MPREG2, S-VCD, DVD-RW, DVD-R, WMA, JPEG, and WAV. It supports SD cards as well as USB drives.
Pros:           
Big & Swivel screen
Supports multiple media
Good battery life
Cons:
No headphones available
Not Blu-Ray supported
Tight Swivel hinges
NAVISKAUTO 14-Inch HD Portable DVD Player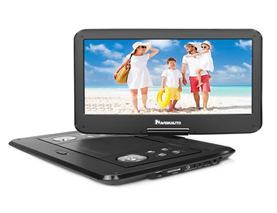 It is a portable HD DVD player that means it provides you with a better viewing experience as compared to other portable DVD players in the market. This DVD player provides a full swivel screen and a good battery that lasts up to five hours. It comes with a remote control, carrying case, AV cable, car charger, and user manual. It supports various formats such as MP3, CD, SVCD, DVD, MPEG, JPEG, AVI, DIVX, etc.
Pros:
Swivel & Large Screen
Long battery life
Various charging cords
Cons:          
No Blu-Ray DVDs support
Charging of batteries take time
ieGeek 11.5-Inch Portable DVD Player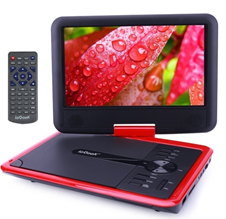 This portable DVD player is good for children as it offers gameplay options. It even comes with a joystick that is much needed to play games. The best thing about this portable DVD player is that its screen is protected with an eye care technology, which makes it quite safe for children. The battery of this device lasts up to five hours. It comes with SD card and USB ports for additional playing options. It supports formats like DVD, JPEG, CD, MP3, VCD, DVD-R, MPEG4, DVD-R, WMA, etc.
Pros:
Good Screen Size
Comes with joystick and games
Connectivity options available
Cons:
5-Inch Display than 11.5"
Here, ends our list of best portable DVD players in 2018. You can choose a portable DVD player based on your requirements. It is going to be really fun no matter what device you go with. A portable DVD player is the best thing to add more fun and entertainment to your boring trips as well as evenings. Go for the best portable DVD player!