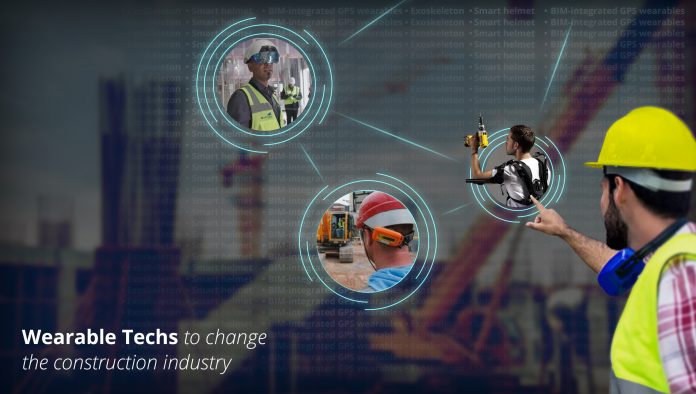 Technology is advancing fast and wearable tech has gained a lot of momentum even in the construction industry. This sector has just started to experiment with the possibilities of smart wearables to increase safety, efficiency and productivity. As per APX Labs, there are approximately 40 million desk-less workers in the U.S. alone. A large chunk of these are construction workers who can gain significantly from the use of wearable technology. A profession often considered one of the more dangerous in the world, where a slight misstep can have huge consequences. That's why it is necessary, now more than ever, to ensure safety for the construction professionals.
Wearable tech can improve field communication, security and drive up the efficiency levels at work. Here are some of the top benefits of wearable:
Construction jobsites are prone to accidents and The Occupational Safety and Health Administration reports that construction jobsite accidents are nearly 20% of all U.S. work-related fatalities & injuries. The causes of these accidents have been broken into the aptly named "The Fatal Four" categories, and include —falls, electrocution, struck by an object and caught-in/between something.
If the Fatal Four can be avoided, close to 500 lives in America will be saved each year! That would in turn save the construction industry billions of dollars spent in workers' compensation and treatment and of more importance, it will save lives. This is where wearable technology can step in to reduce the risks faced by construction workers everyday on the jobsite. Wearables are gradually catching speed for managing the safety and health of workers with technologies embedded in new construction safety ware.
With new wearable devices, construction workers can communicate and collect information. A California based firm, Daqri has developed a smart helmet resembling a traditional hard hat which has a camera attached to it, to capture a 360-degree view of the worker's surroundings. Construction workers' wellbeing and their proximity to danger zones can be monitored with other wearable tech like smart vests. The safety precautions can be augmented in recognized hazardous areas or in situations through collection of data on movements and behavior of the people and workspace with the help of sensors. Construction companies are slowly adopting new technologies to help those at risk and create a secure work environment.
Better Jobsite Visibility
Wearables provide improved visibility of the jobsite. Companies are using BIM-integrated GPS wearables to track the movements of workers. The upside with this system is that supervisors and superintendents can mark safety zones with this technology. Additionally, warnings can be sent through audible alarms attached to the safety vests of the workers. Any company can de-risk themselves a great deal by analyzing real-time data, so their workers can be immediately alerted about a potential risk or when working in a high-risk zone. This way mishap can be easily avoided and used to boost the bottom-line. Even in the case of machine malfunctions, the technical issue can be addressed promptly. The data feed from wearables can identify and solve internal issues and not only make construction work safe but also reduce any unexpected costs or delays.
Construction firms are going paperless and companies are no longer facing the disarray with miscommunications. Issues can be immediately addressed with real-time updates from the jobsite. With technology like camera phones and construction project management apps reports can be generated, and the accountability of workers can be maintained. With multiple license-holders having an account on a single construction management software, GCs can keep themselves and their team on the same page.
Increase Tech Investment:
With the advancement of technology in the construction industry, the productivity level is increasing day by day. So, it can be easily assumed that, investment made to incorporate updated technology can certainly help to uplift the workflow of construction site. In this case, one most important benefit of wearable is it helps to connect to other systems easily. Basically, most of the devices which are used in this field always need some form of integration with any larger platform, which offers bigger and real benefit. If the construction project management software has wearable support, it will extend the effectiveness and productivity in future and also ensure you are getting the most bang for your buck.
For improved reporting and identification of issues, sharing photos and video clippings are becoming the norm, which can be easily captured and marked-up with a comprehensive construction management app like SKYSITE. This makes problem resolution and punch list management easy for faster close-outs.
Now with technological advancements, working anytime from anywhere has become a reality. Documents and information can be shared seamlessly with popular construction project management software. No longer will you be waiting for the right document to reach the right person. With the right software, you can share, track, access and manage all information in real-time.
Improve Employee satisfaction and productivity:
According to the survey of Human Cloud at Work and Rackspace it has been noticed that the introduction of wearable technology in the construction industry helps to increase the job satisfaction by 3.5 percent. As wearable technology helps employees to resolve any kind of difficulties in a much faster speed, thus such technology not only bring satisfaction but also boosts up the productivity level among employees. The fact has been brought to light by a study of Goldsmith; University of London that wearable tech lifts the employee productivity by at least 8.5 percent within a year.
If you want your construction firm to ace the game, then consider investing in innovative tools that can improve the workflow and attract new workers to join your organization.