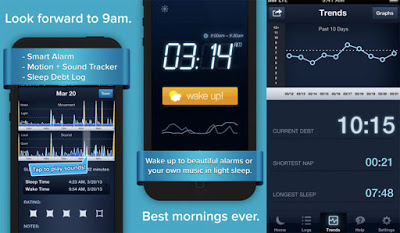 Do you think that your sleep is enough in terms of quantity and quality? Do you know that not enough sleep may lead to concentration problems and even health problems? Imagine what may happen when you ride a vehicle in sleepystate. On average, adults need 8 hours of sleep a day. How do you know that you have get enough sleep?
Technology offers you the solution. Some sleep apps are now available offering different information. Some apps serve as sleep trackers; some work as sleep therapy, and some others work as dreaming tools. Find the difference in your life by using the following free sleep apps.
4 Great Free Sleep Apps
Clock
This sleep app is available for iOS gadgets. You will enjoy this free app if you gadget runs on iOS 10. It comes with a lot of features, including Bedtime, stop watch, timer, and world clock. It lets you set the time to go to bed and the time to wake up. You can also set notification time to remind you before the scheduled bedtime.
So, what makes it different from the classic weaker clock? The app automatically stores your sleep data in Health app that is available on iOS 10. Finally, enjoy a great wake-up in the morning with a gentle music.
SleepBot
This is one of free sleep apps available for android and iOS. SleepBot tracks your sleep activity and wakes you at the pre-set time in the morning. It helps you get a good night sleep, as it is equipped with some great features, which make it different from the usual weaker clock. The smart alarm is triggered based on your sleep activity by making use of the accelerometer available in your phone. It also comes with sleep tracking metric tools that allows you to learn about smart sleeping habits.
Noisli
This is another free sleep application for iOS and Android. This mobile app helps you to relax and calm down using your gadget. It is designed with an offline soundboard that contains various white sounds. You can mix the noise and save a custom sound that relaxes and calms your mind. Therefore, you can mix it based on your personal style. You can create a Noisli account and the app automatically synchronizes with it.
Pzizz
Another free sleep app for iOS and Android, Pzizz stimulates you to sleep gently by using a combination of music, sound effects, words, and binaural beats. These work as de-stressor and re-energizer. Once you are free of any stress and energized, going to sleep is much easier. This app also allows you to set the soundtrack duration, which ranges from 10 minutes to 10 hours.
The app is also equipped with a built-in media, in which you can save a combination of unique soundtrack to help you sleep easier. There are more than 10 billions of possible soundtrack combinations, which include sound effects, music, vocal tracks, and many other audio elements.
Those are some free sleep apps, which you can use to set your sleep and wake-up time. They also work beyond a classical clock, as they come with some nice features. Actually, there are many other options of free sleep apps, and you can explore them before picking one.