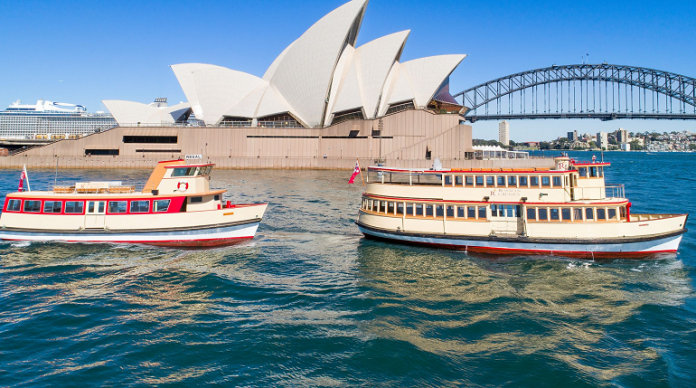 So, you've completely exhausted all your usual avenues for meetings, presentations and office parties, now what? You want to do something different, see something new and excite your clients or staff – but how exactly do you do that without completely blowing out your budget? Although a cruise might not the first place your mind goes when you're planning your next corporate function or meeting, it's actually the perfect spot! Setting sail out on the water with the stunning harbour as your backdrop isn't just a great way to shake up your same-same routine, it's also a way to get ahead in your business! Read on for the top three compelling reasons to jump the gun and book your corporate cruise meeting today…
Your Cruise is a Package
Say goodbye to the stress of booking a function, catering, drinks and other additional expenses piling up! Sometimes, when you're setting up a meeting to try and engage new business, the cost is far higher than the reward – definitely not ideal when you're trying to grow your company! When you book a harbour cruise, you'll find that absolutely everything you need is all in the one place. You'll get amazing service, first-class food, everything you need for your presentation, technology and even stationary to round out your corporate day on the water. This convenience all comes at a one-time cost, meaning that you'll be able to easily book within your budget without the additional man hours and general fanfare.
You will Create a Lasting Impression
Your business needs to be unique and memorable, right? Well, hosting functions, meetings and training days out on the stunning Sydney Harbour is a sure way to stay in people's minds! Whether you want to create a better company culture, staff affinity, client relationships or you're just tired of the same-old-same-old, a corporate cruise is your company's key to memorability.
If your meeting is with an exciting client, there's really no better way to stop them in their tracks than a harbour cruise. With the Opera House to your right, the Harbour Bridge to your left and the stunning Sydney skyline stretched out in front of you, it'll be the meeting to end all meetings! This is especially fantastic when you are hosting professionals from overseas, you get to flaunt your brand and the beautiful city that you call home!
It's a convenient option
Although this really isn't the first point that your mind jumps to when you think of a corporate cruise, it's actually a very valid variable! Convenience is incredibly important, whoever you're inviting abroad. For staff training days or office parties, having everyone easily picked up and dropped off from the same spot is the simplest and best way to ensure that all personnel are getting the most out of an up-skilling session.
An important client will be able to easily locate their city centred pick up spot, meaning they'll be boarding your vessel in a relaxed and happy mindset – the perfect way to put your best foot forward when coming into a big meeting!
These are just three reasons to dive in and book yourself a corporate day to remember out on the water! Book your corporate cruise on Sydney Harbour to really see how powerful a tool it can be! Your company is one of a kind, so you, your clients and your staff deserve an extension of your workplace as exciting, energetic and fun as a cruise out on the harbour.